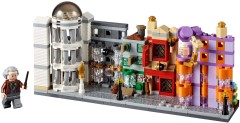 Brickset member Matic has sent us images of a new Harry Potter set, 40289 Diagon Alley, that he found in his local LEGO Certified Store in Ljubljana, Slovenia.
Featuring five models from the street -- Gringotts bank, Ollivanders, Flourish & Blotts, Quality Quiddich Supplies and Weasley's Wizard Wheezes -- it looks as if it will complement the microscale Hogwarts Castle perfectly. It also provides us with a new minifigure of wand-maker Ollivander.
He didn't note the price and it's hard to tell exactly how big it is but I would estimate it'll retail for around $40-$50 or, as is more likely, be a gift with purchase at some point at shop.LEGO.com.
You can view images of both sides of the box, and of it in the store, after the break.