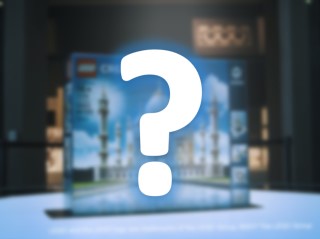 The recent announcement of 10268 Vestas Wind Turbine could suggest that LEGO will continue to re-release popular sets from the past during the next several years. We therefore invited Brickset readers to submit nominations for retired sets which should return and compiled the frequent suggestions in a poll.
More than 7000 votes have been cast and we are now ready to reveal the results of our latest poll...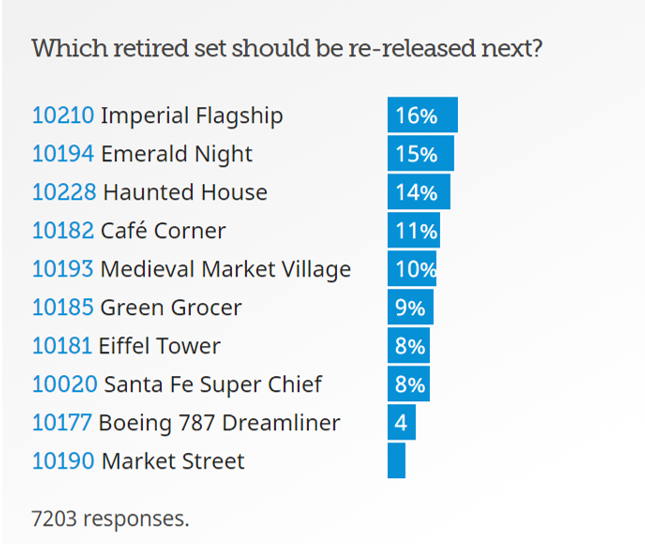 10210 Imperial Flagship is the winner! These results raise a few interesting questions and considerations.
---
Why did 10210 Imperial Flagship win?
10210 Imperial Flagship was released in 2010 and is the largest traditional full-rigged ship that LEGO has ever produced. Pirate-themed sets have been popular for almost thirty years so it is unsurprising that many fans would like 10210 Imperial Flagship to return, particularly given the anticipation which preceded last year's unveiling of 71042 Silent Mary.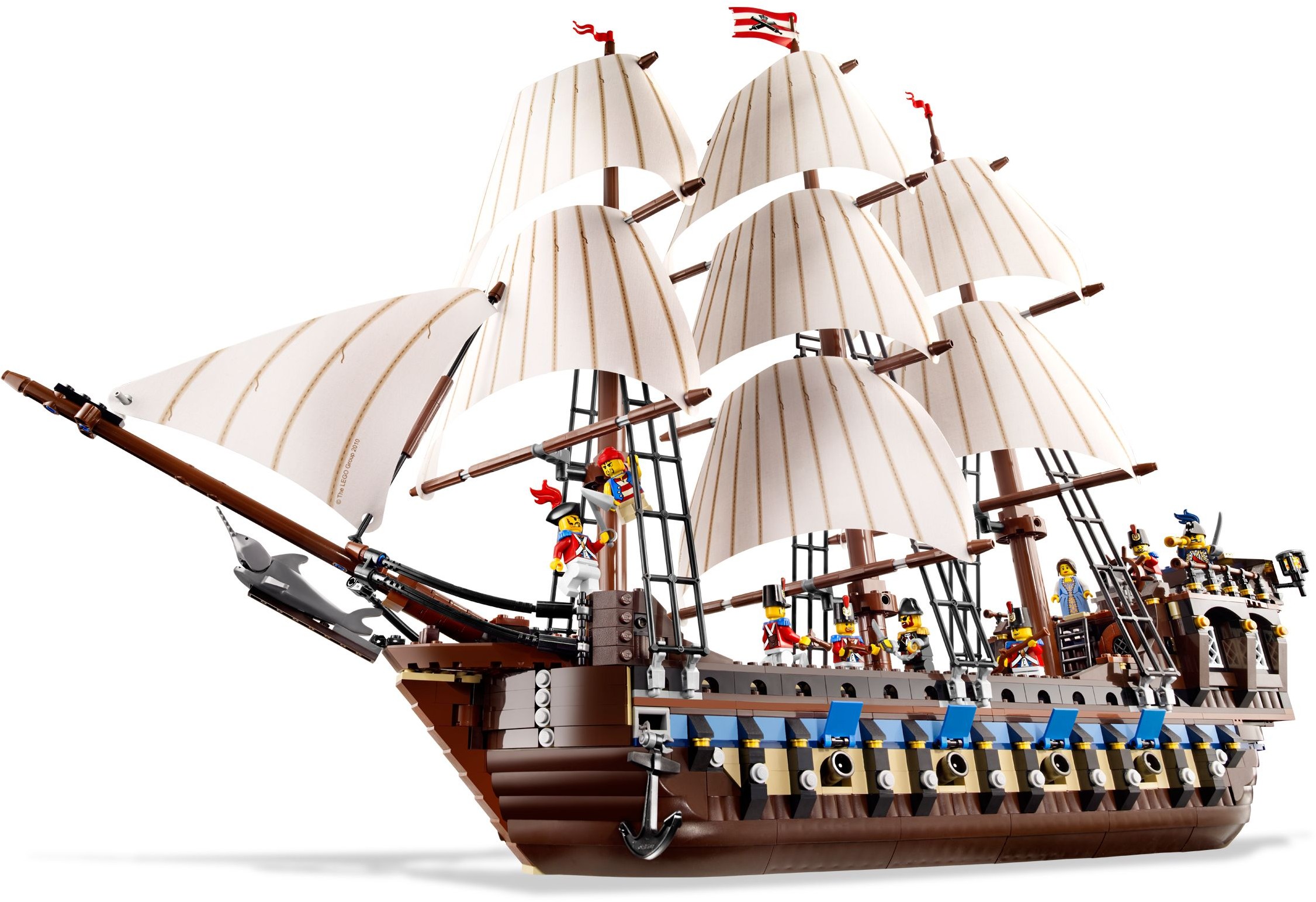 In fact, there was some disappointment when it became apparent that the Silent Mary was a ghost ship rather than a conventional sailing vessel, suggesting that there is considerable demand for such a model to be released. Furthermore, I think 10210 Imperial Flagship looks marvellous, even by the high standards of LEGO products today. A direct re-release could therefore prove very popular.
Could 10210 Imperial Flagship be re-released without an accompanying Pirates theme?
Several different incarnations of the Pirates theme have been released since 1989, the latest of which appeared in 2015. It is possible that Pirates will return in the future, although LEGO has focused more upon modern original themes such as NINJAGO or Friends than Pirates and Castle in recent years. A re-release of 10210 Imperial Flagship may therefore not be accompanied by an entire wave of Pirates sets.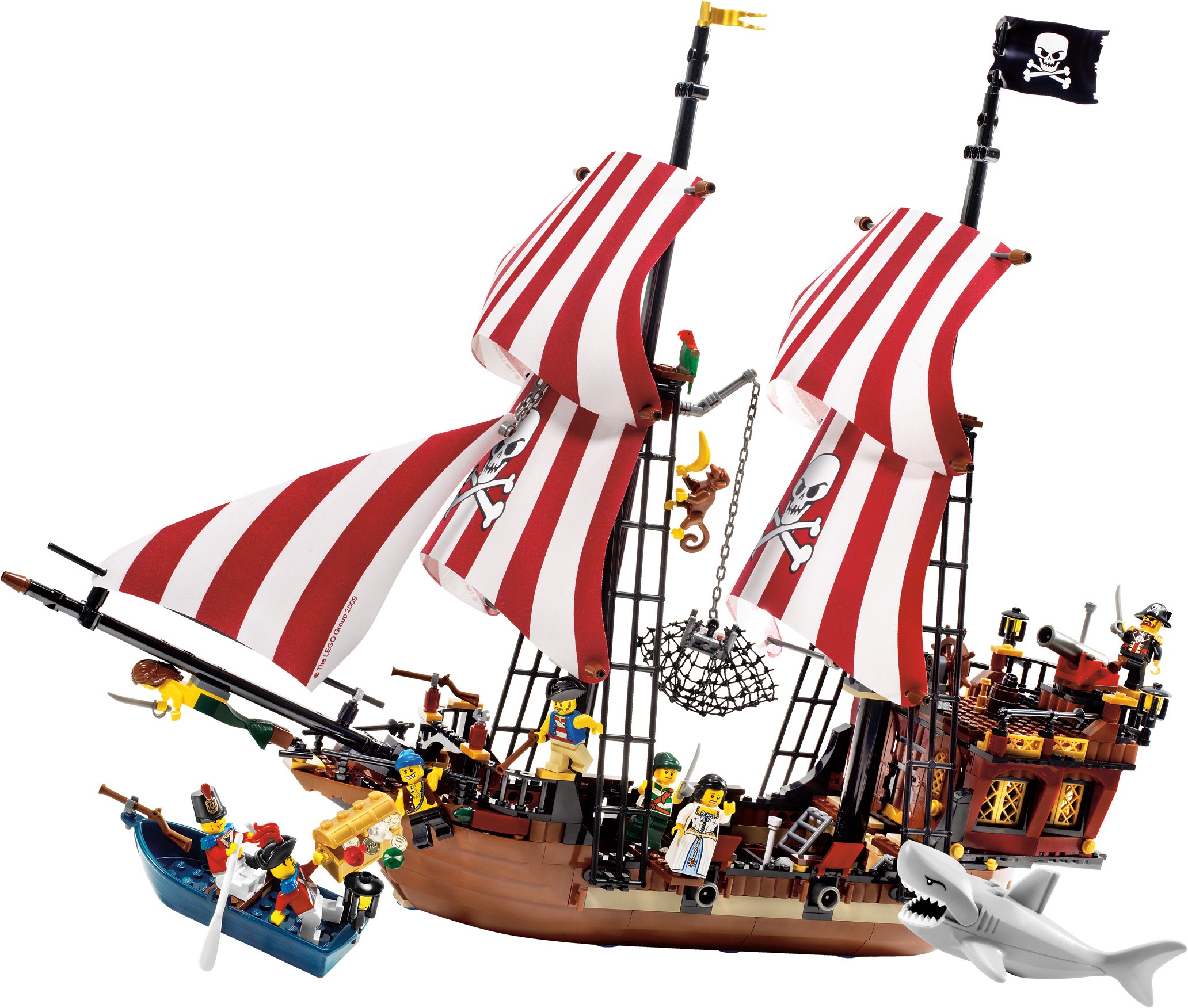 However, this would not necessarily be important in my opinion. 71042 Silent Mary was produced as an independent Pirates of the Caribbean set, intended primarily for display. Perhaps a re-released version of 10210 Imperial Flagship would occupy a similar position in the market.
Why did 10194 Emerald Night rank so highly?
10194 Emerald Night finished just 26 votes behind 10210 Imperial Flagship so there is clearly a great deal of demand for this popular train to return. I think most adults would agree that LEGO Trains have been relatively disappointing in recent years, lacking the impressive detail which is offered by the likes of 10194 Emerald Night or 10233 Horizon Express.

In addition, a sealed copy of 10194 Emerald Night is currently worth about £380 or $500 so acquiring this set on the secondary market is not a viable option for many people. A re-released version of this set therefore has the potential to be incredibly appealing.
---
Are you surprised by these results and have you identified any points of discussion based upon them? Let us know in the comments.
Many thanks for your participation in this poll!
Sponsored content