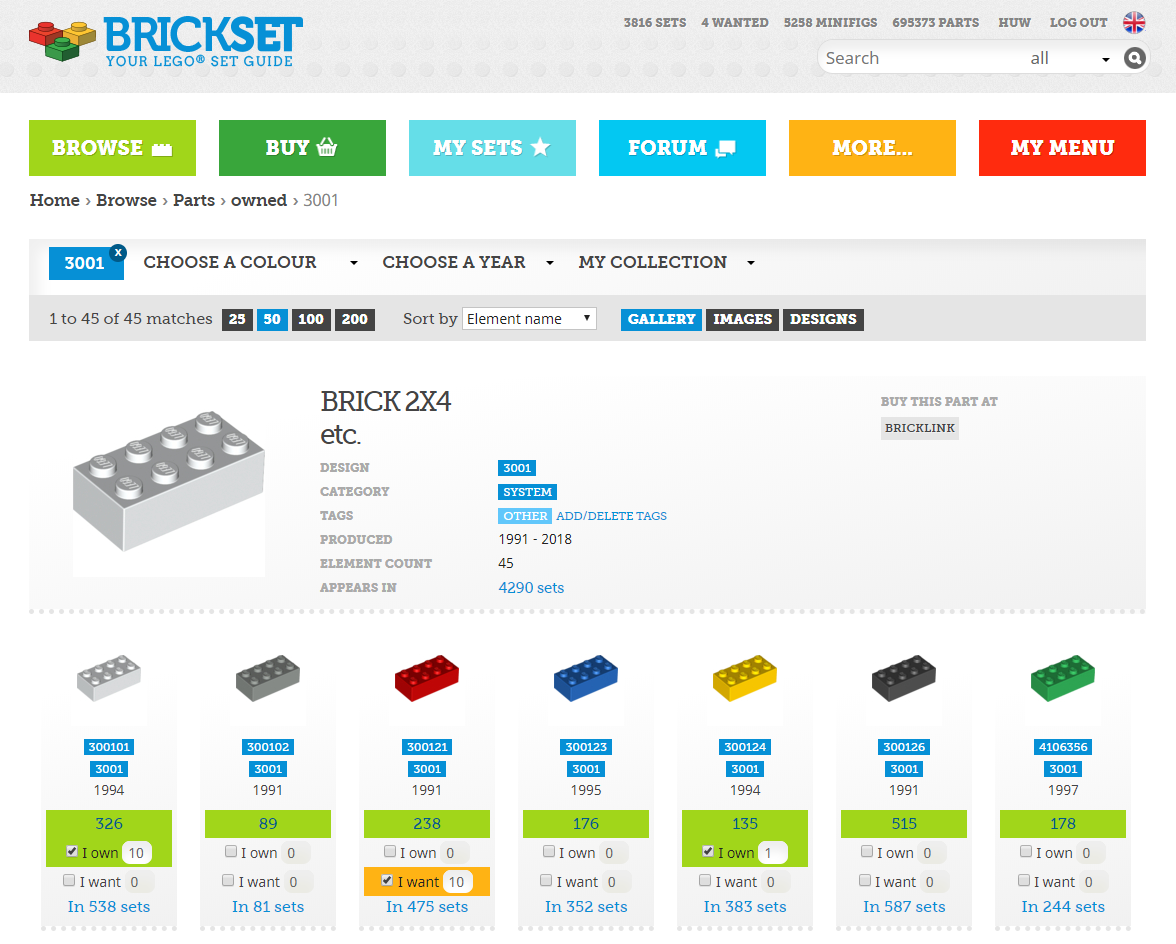 If you record your set collection here at Brickset you will already know that you can view the minifigs that are in the sets you own, and can also log any that you have acquired loose.
It's also possible do to the same for parts. This tutorial explains how to do so.
---
Enabling parts collection functionality
Before you can use the parts collection features they need to be enabled for your account. They are not enabled by default because they generate huge volumes of data and may cause some pages to load a little slower, so if you're not going to use the feature it's best to leave it turned off.
The setting is in your profile. Click on your name at the top of the page to view your profile.

In the menu, click on General Site Preferences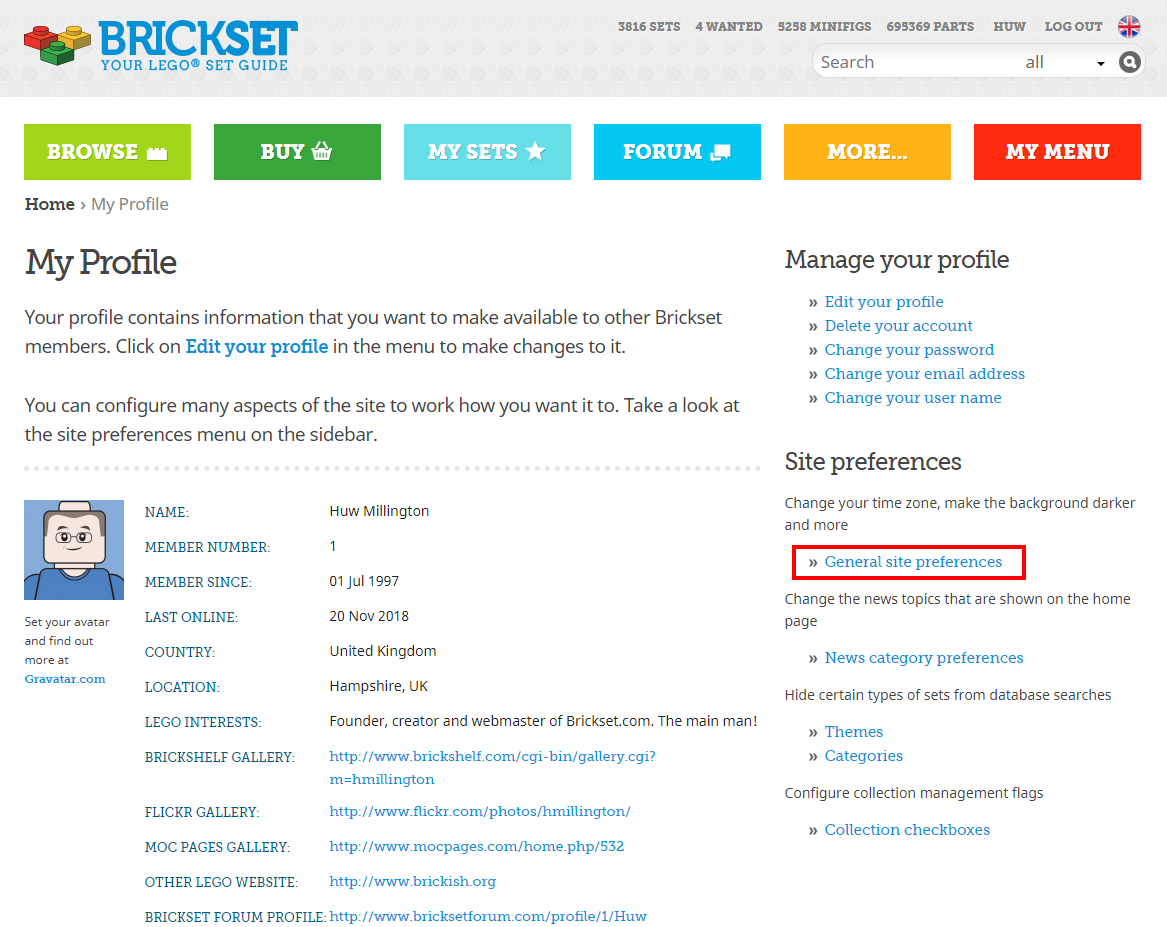 Then, check the box next to Enable parts collection functionality half way down the page, scroll down a bit and press Save.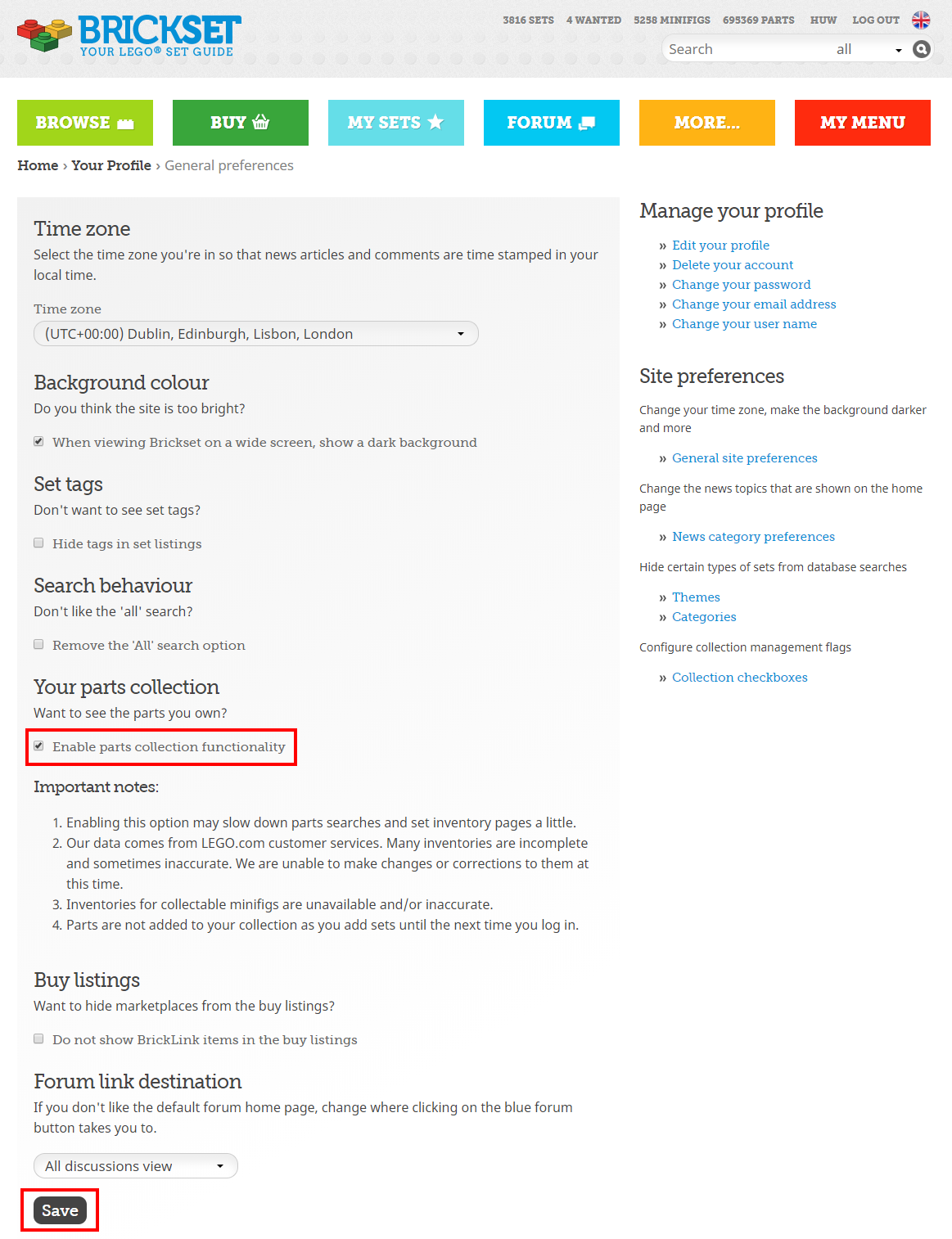 ---
Viewing your parts for the first time
On the My Sets page you will now see a Parts box at the bottom. At first, it won't show any data. Click on Update your collection to populate it.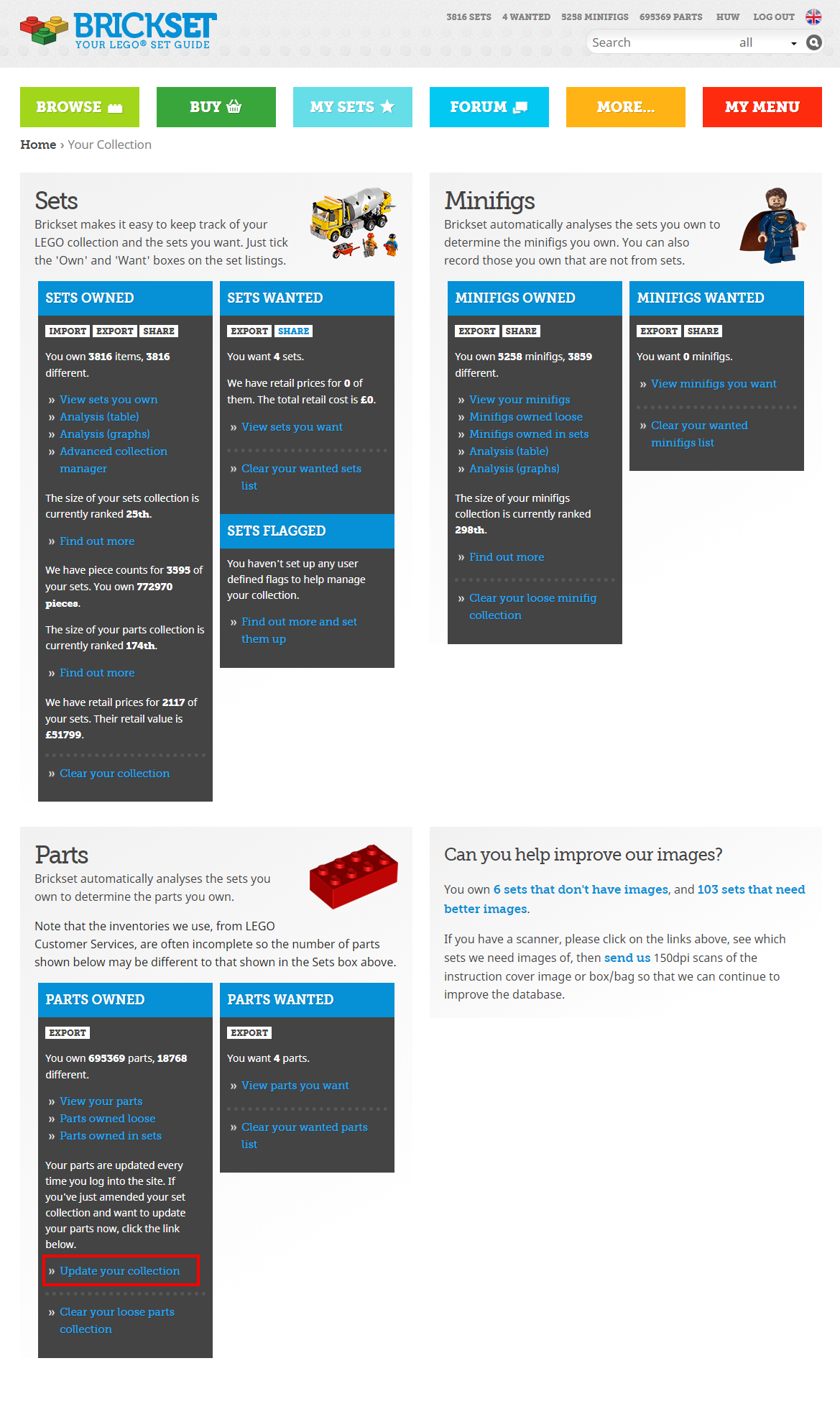 As you add sets to your collection the parts are not added immediately in order not to slow things down. Instead, they are added each time you log in, taking into account any new or changed set inventories as well as sets you've added or removed. However, if you're impatient you can click on Update your collection at any time.
---
Viewing and recording your parts collection
Once that's been done you will now see additional information in parts listings such as this. If you don't, click on Gallery in the controls at the top.
The green line under the part details shows how many of that parts you own in sets. You can click on the hyperlink to see which sets you have them in.
Underneath are checkboxes you can use to indicate that you own the part loose or that you want it. You can also enter a quantity next to each.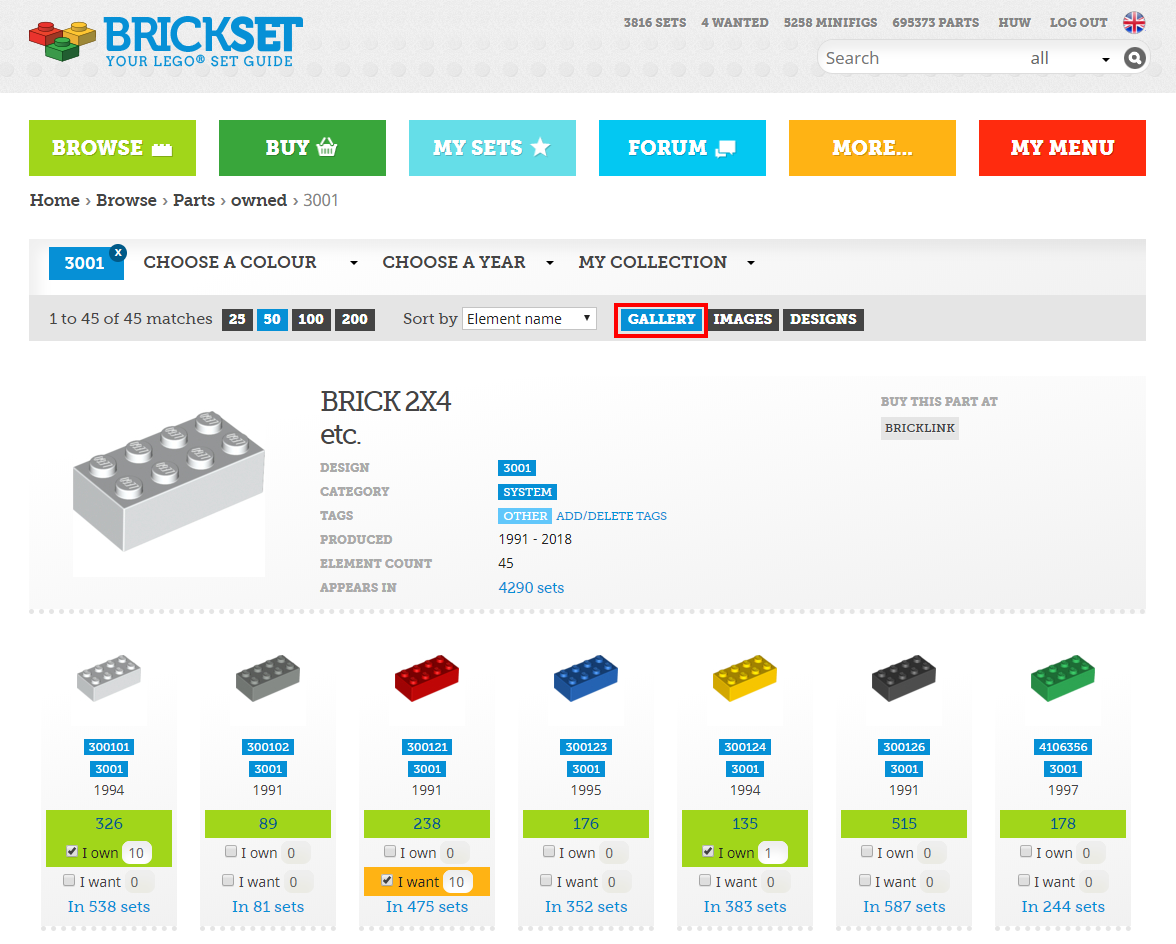 Back on the My Sets page, you'll find links to view all the parts you own, just those you own in sets, just those you own loose, and those you want, in the Parts box at the bottom.
e.g. Parts owned loose: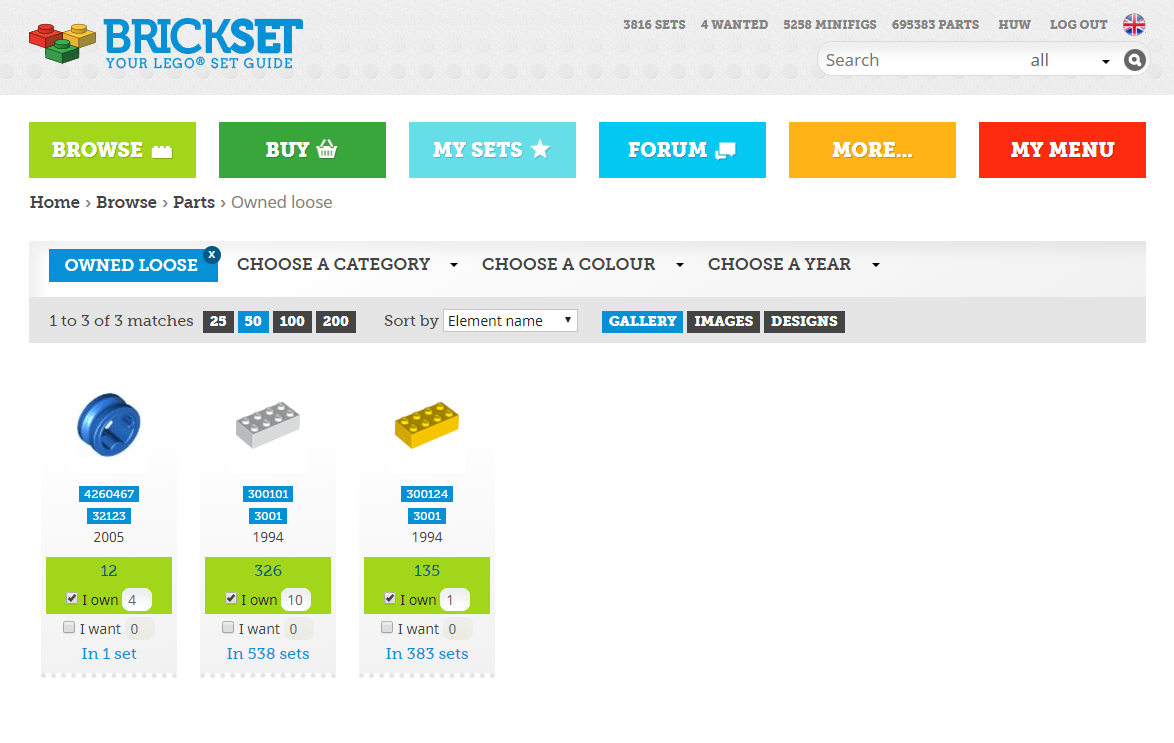 Parts wanted: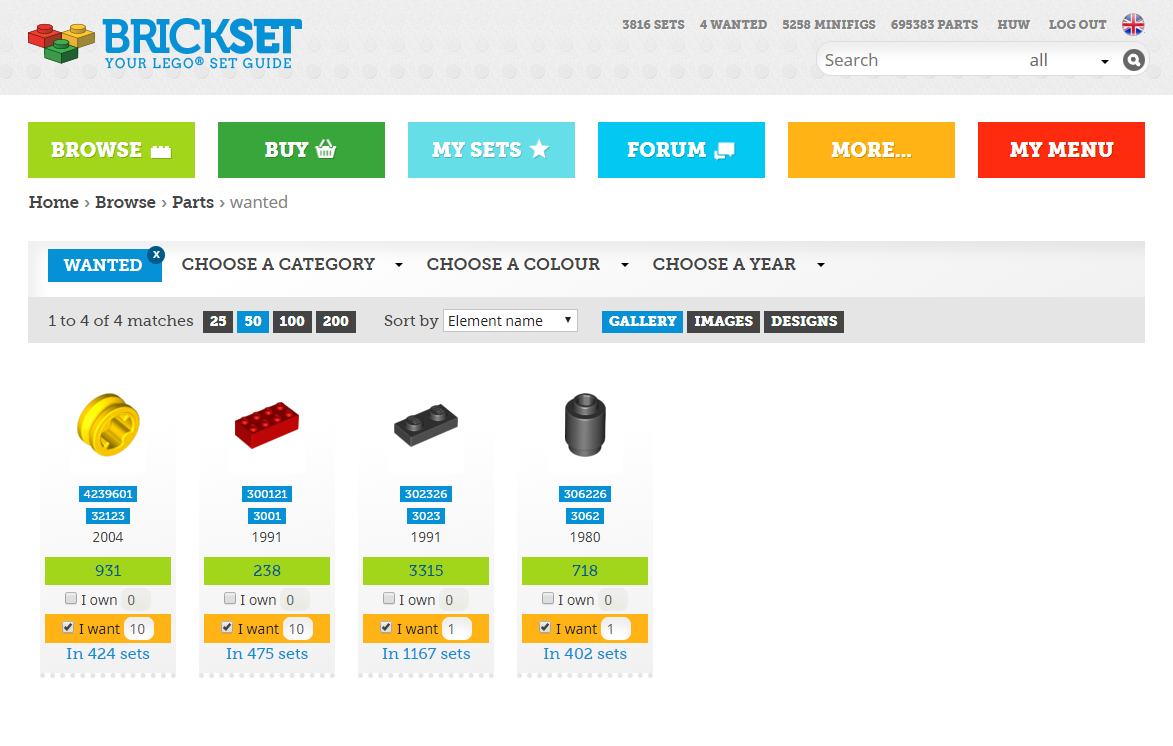 ---
Exporting your data
The parts box on the My Sets page provides options for exporting your data as CSV -- suitable for Excel or similar --, tab separated, or BrickLink XML file, which looks something like this:
    <INVENTORY>
        
                <ITEM>
                    <ITEMTYPE>P</ITEMTYPE>
                    <ITEMID>3001</ITEMID> 
                    <COLOR>5</COLOR> 
                    <CONDITION>N</CONDITION>
                    <NOTIFY>N</NOTIFY>
                    <MINQTY>10></MINQTY>
                </ITEM>

                <ITEM>
                    <ITEMTYPE>P</ITEMTYPE>
                    <ITEMID>32123</ITEMID> 
                    <COLOR>3</COLOR> 
                    <CONDITION>N</CONDITION>
                    <NOTIFY>N</NOTIFY>
                    <MINQTY>10></MINQTY>
                </ITEM>
            
    </INVENTORY>
This can be cut and paste into BrickLink's wanted list upload page to simplify procurement.
---
Limitations
When using these features you should note the following limitations:
Our set inventories are obtained from LEGO Customer Services. They are rarely accurate or complete. We do not make changes to them.
Often parts are assigned a new element ID so there can be seemingly identical parts in the database, e.g. this sand green 24x brick and this one. You will need to decide which one you want to mark as owned or wanted.
We have no plans to address either of these issues at this time.
---
Questions or suggestions?
If you have any questions, or suggestions for improvement, get in touch via the contact form at the bottom of the page.
---
Check out our other tutorials
Be sure to read our other tutorials to learn what else you can do at Brickset.