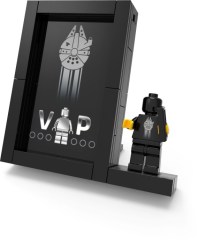 Those who purchased 75192 Millennium Falcon during 2017 received a black VIP card, granting access to some exclusive offers this year. Those promotions have been disappointing so far but a truly exclusive item has now been revealed.
5005747 VIP Star Wars Gift was listed on shop.LEGO.com earlier today. It features a brick-built holder for the VIP card and a unique minifigure with a Millennium Falcon graphic on its torso.
The precise details surrounding this promotion have yet to be confirmed but we will provide more information as soon as it becomes available.
Do you have a black VIP card and are you satisfied with this promotion? Let us know in the comments.