Early December is an odd time of year here at Brickset Towers. The busy Black Friday period is behind us and we're patiently waiting to lay our hands on next year's sets to review. That means I've had time to build a few MISB sets that have been gathering dust in the corner of my LEGO room this week.
I started with 75230 Porg (I loved the way the organic shape and feathery texture have been captured) and 40306 LEGOLAND Castle (a great little microscale set that's packed with details) before finding 40145 LEGO Brand Retail Store from 2015 lurking near the bottom of the pile.
So, I thought I'd crack open the seals and get it built at last. Having done so I thought I might as well build this year's 40305 LEGO Brand Store as well, then see if there's any merit in writing an article about LEGO sets depicting LEGO stores.
So, here goes...
---
3300003 LEGO Brand Retail Store (2012)
This one was given away at brand store grand opening events. It's a very modern looking glass-fronted building modelled in microscale.
View image at flickr
The roof comes off to reveal the interior and the ceiling lighting made to look like the underside of a brick, as seen in most real brand stores.
View image at flickr
Everything you'd expect to see in a brand store is present: pick-a-brick wall, boxes on shelves, till, and window displays.
View image at flickr
---
5001622 LEGO Store Employee (2013)
This polybag containing a store worker minifig was a gift with purchase towards the end of 2013. I do have one I haven't opened it so you'll make to make do with a picture of the bag.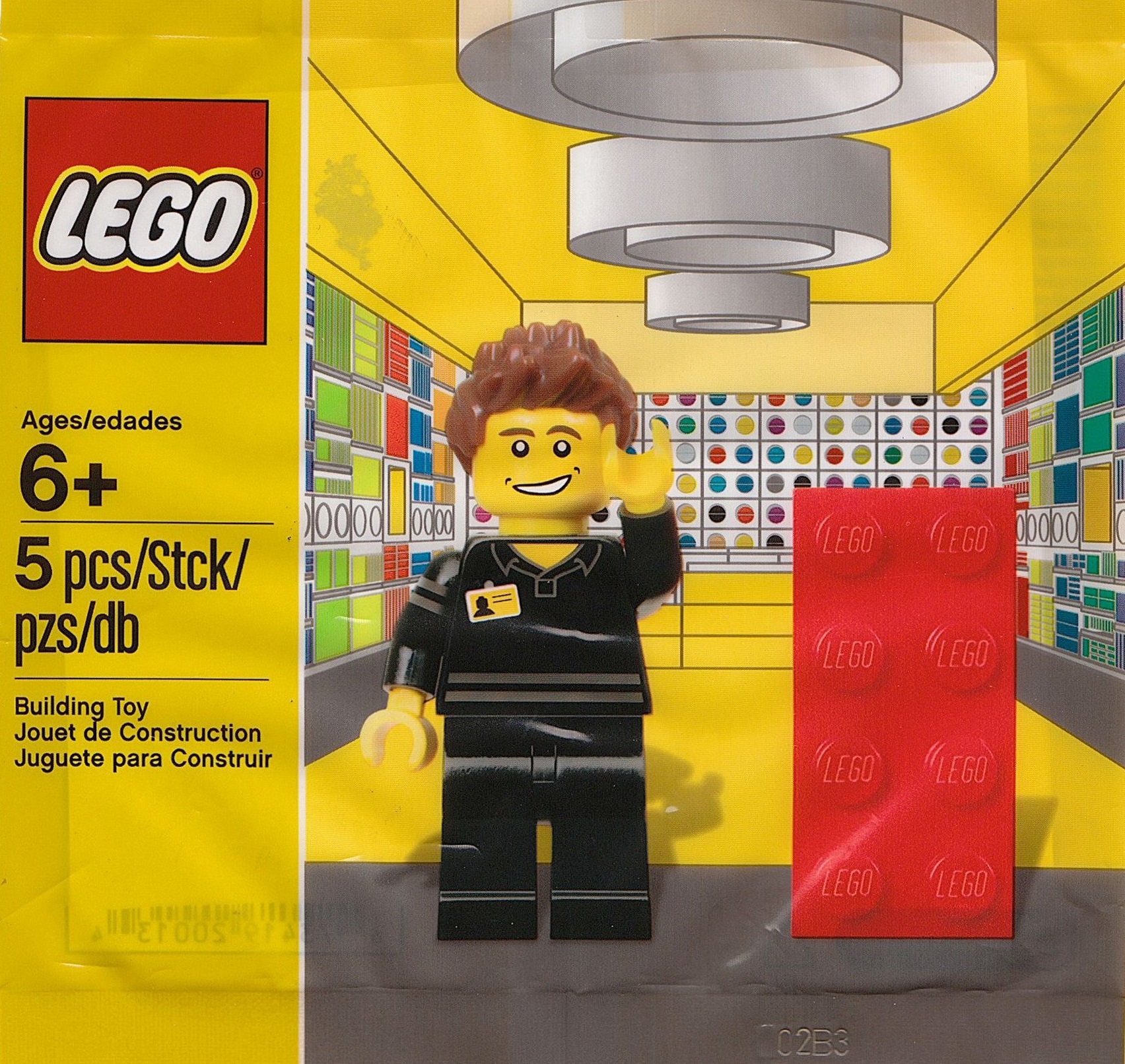 ---
60050 Train Station (2014)
Sets featuring LEGO stores have been tagged for your (and my) convenience and when I first saw 60050 Train Station in the list I thought there was some mistake, given I don't own it. But having checked the additional images, sure enough, there's a small kiosk in the station.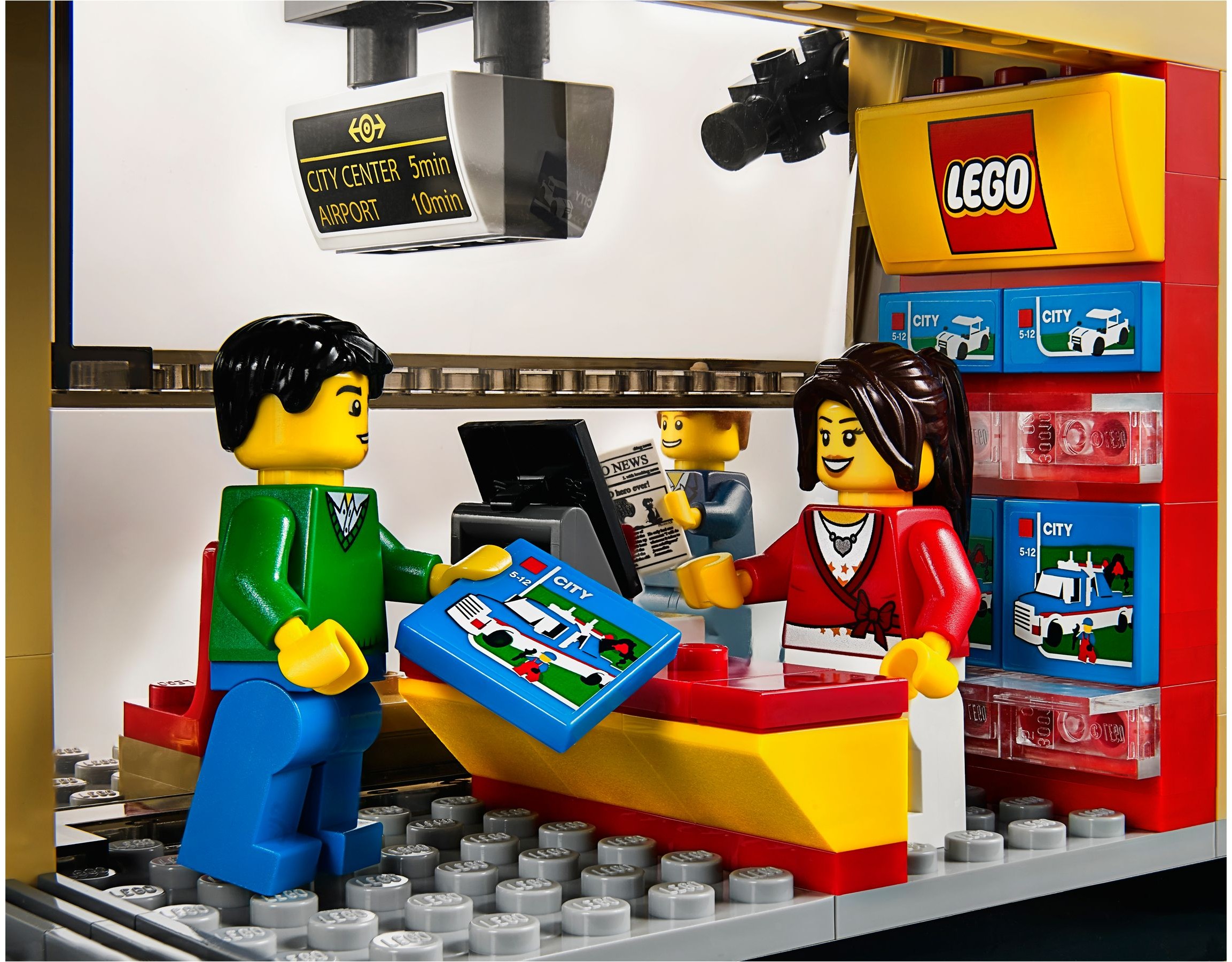 ---
40145 LEGO Brand Retail Store (2015)
This more substantial stand-alone model was also given away at brand store grand opening events, and I obtained mine when the Leicester Square shop opened in 2016. It's been languishing in my 'to be built' pile ever since, which is a shame because it's a really nice, and substantial, model.
View image at flickr
Like 3300003, it's also a very modern-looking building, with a cool Ollie the dragon busting out of the top. I reckon it's probably more likely to be a unit in an indoor shopping centre than a building on the street.
View image at flickr
The side wall is hinged which provides access to the interior. Once again everything you'd expect to find inside a brand store is present and correct.
View image at flickr
It comes with a single minifig, a female shopper, carrying what its clearly a LEGO carrier bag. It's a shame a sticker hasn't been used for the logo rather than a tile.
View image at flickr
---
60097 City Square (2015)
Among the myriad buildings and vehicles in 2015's mega-City set was a LEGO brand store. It looks a bit plain from the front but the interior is full of the details we've come to expect.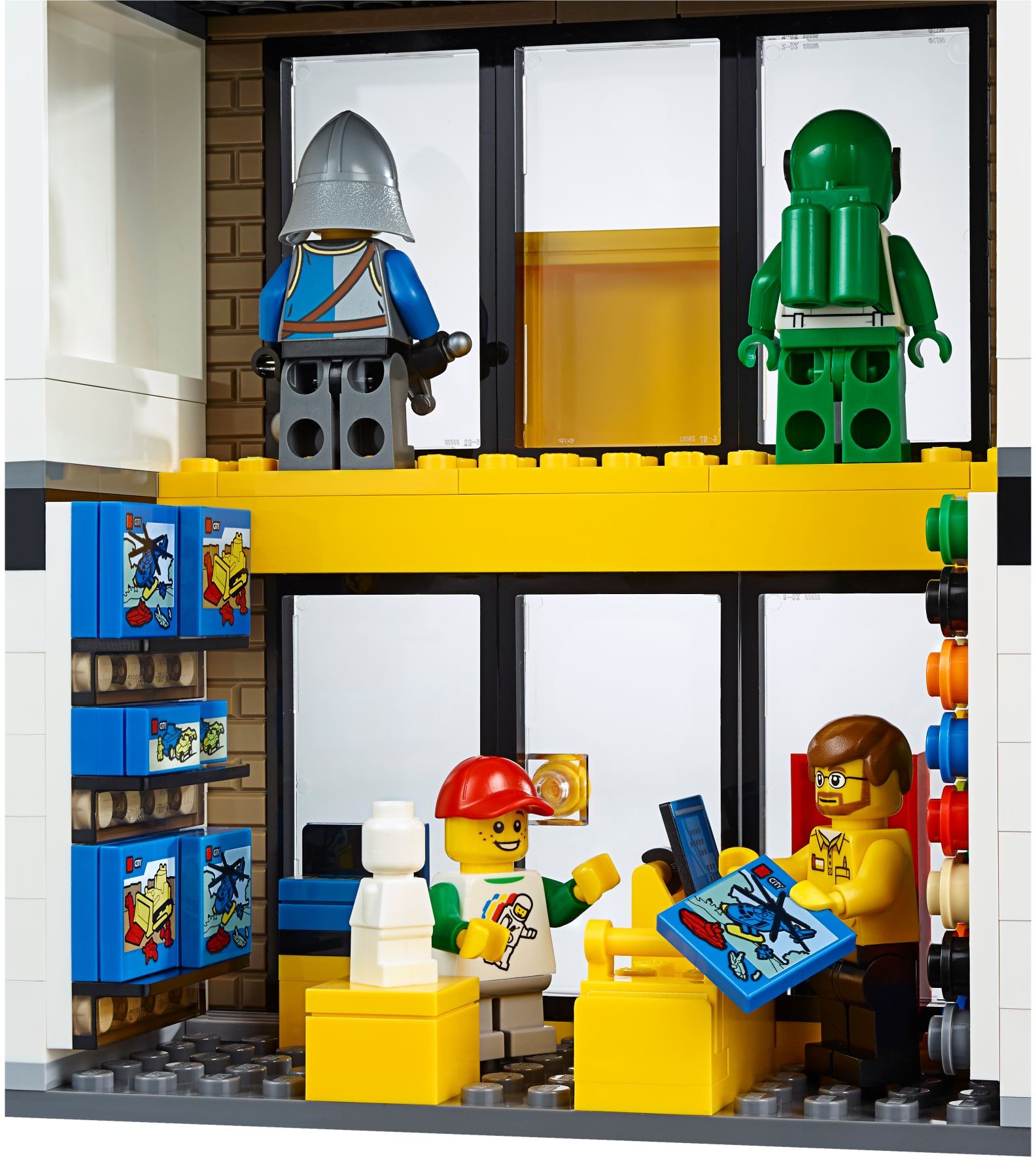 ---
40178 Exclusive VIP Set (2017)
This set was also gift-with purchase, for LEGO VIPs at shop.LEGO.com. We reviewed it last year. Despite its diminutive size, the designer has still managed to pack in the PaB wall, shelves laden with boxes and many of LEGO stores other features.
View image at flickr
---
40305 LEGO Brand Store (2018)
This set is new this year and is available for sale, rather than being a gift with purchase, in brand stores, shop.LEGO.com, and LEGOLAND parks. CapnRex101 reviewed it back in June but I thought I'd take a few pictures of it anyway for good measure.
Like many recent Creator buildings it's a 'mini modular' that can be aligned with others in the series and reconfigured easily.
View image at flickr
Perhaps the most surprising detail is the ATM on the side. Why would anyone need an ATM right next to a LEGO store, I wonder?
View image at flickr
The two storeys of the building provides plenty of space for internal details, including a build-a-minifig station on the first floor.
Interestingly, the sticker sheet containing box front images and the LEGO logo for the shop sign is the same as that in 2015's 40145 LEGO Brand Retail Store.
View image at flickr
The door and some windows are designed to be removed which allows them to be rearranged.
View image at flickr
Here's a version with the door on the end.
View image at flickr
The set comes with two minifigures: an AFOL and his son. The son is dragged into the store just so the staff think dad's buying stuff for him and not for himself :-)
View image at flickr
---
40145 LEGO Brand Retail Store is easily my favourite of the bunch: it's neat, compact, and contains everything you'd expect to see in store. If it came with a store employee as well as a shopper it would have been even better.
Now all we need is a full-sized modular building version. I'm sure we'll see one eventually...
How many do you own? Which is your favourite?