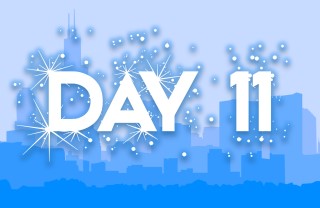 We are nearing the halfway point of the 2018 LEGO City Advent Calendar and the gifts have been impressive on the whole, although some excellent miniature toys that are shown on the packaging have yet to emerge.
Let's find out what will day eleven will bring...
This miniature train undoubtedly takes inspiration from 60197 Passenger Train that was released during the summer. Its flame yellowish orange and dark blue colour scheme looks very familiar and the smooth curve of the locomotive has been replicated effectively. The translucent windscreen is absent but I think capturing that detail would have been impossible without the use of a new printed element at this scale.
View image at flickr
However, the passenger carriage does include a trans-clear 1x2 plate that forms windows. This can be disconnected from the locomotive and there is another coupler at the rear so you could expand the train with pieces from your own collection. In addition, this model contains eight 1x1 round plates with hollow studs, as well as a spare, which have the potential to be very useful elsewhere.
Overall - 4.5 - Miniature versions of official LEGO sets are always enjoyable and this is a superb example.