Andrew Clark's original idea proposing a set based on the 1960s cartoon The Flintstones was posted on LEGO Ideas at the beginning of 2017. It achieved 10,000 supporters in May 2018 and passed review in October that year. Now, just 4 months later, the 24th Ideas set, 21316 The Flintstones, is set to hit the shelves next week.
Let's take a detailed look, and see how it compares to the original submission.
---
Original Ideas submission
Andrew's initial submission included Fred and Wilma Flintstone's house, their car on a section of driveway, along with Barney and Betty Rubble and the iconic Welcome to Bedrock sign.
The couples' kids, Pebbles Flintstone and Bamm Bamm Rubble, were also present. Later updates suggested including Dino, the Flintstones' pet snorkasaurus.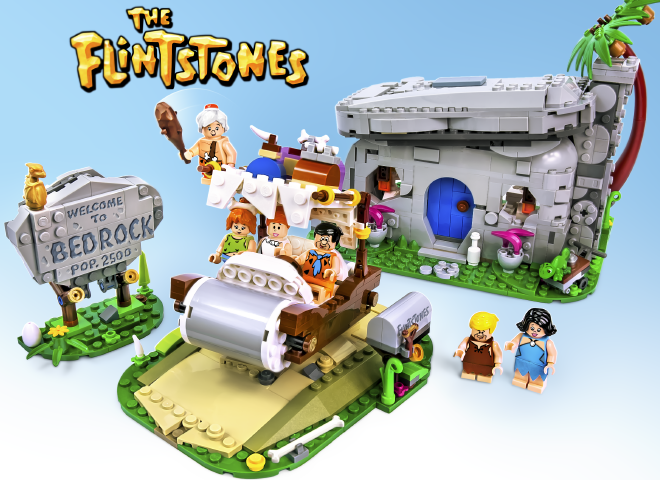 The house had a removable roof to reveal a detailed interior which included a TV, sofa, coffee table and other furniture.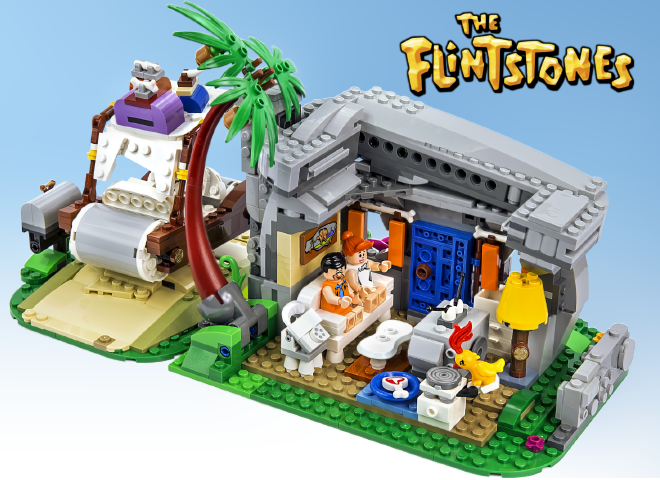 ---
Box and contents
The box is an odd size for a Ideas set, and at 11cm is much deeper than usual. Thankfully, it's flip-top box that isn't destroyed on opening, unlike the last Ideas set, 21315 Pop-Up Book. Its wide rectangular format was presumably chosen to enable it to showcase the model on the front effectively.
We can see straight away that several things have been omitted: the Bedrock sign, the driveway, the kids, and Dino. The rest, however, looks pretty faithful to the original submission.
View image at flickr
The box looks to be larger than is needed as there's a lot of empty space inside.
View image at flickr
Parts are packed in 6 numbered bags which I always appreciate.
View image at flickr
The manual includes information about Andrew; the designers, Ricardo Silva and Crystal Fontan; and the cartoon.
View image at flickr
View image at flickr
View image at flickr
---
Minifigures
Fred and Wilma Flintstone are attired exactly as they appear in the majority of the cartoons and look splendid. The legs are dual-moulded and have been printed on the front to form the rough edges of their clothes. Andrew's figures had cloth skirts, but they limit poseability and prevent sitting so this is a much better solution.
View image at flickr
Both torsos are printed on the reverse and Wilma has a dual-sided head. I guess Fred couldn't have one because his stubble would have shown beneath the back of this hair.
View image at flickr
Barney and Betty Rubble look equally excellent with many of the same features as the other pair. Barney is significantly shorter than Fred in the cartoons so it's a shame that the new 3/4-length leg was not used for him.
View image at flickr
Betty has a double-sided head, with a yawn on the reverse.
View image at flickr
On seeing leaked images of the figures a few weeks ago, many people expressed disappointment that the men's distinctive noses were not printed. I think the 'implied nose', above their stubble, looks just fine.
---
Construction
Car
Fred's car is a robust Technic construction but which still manages to convey the look of something fashioned from wood and animal parts.
A 2x2 round tile with a log-end print has been used for the axles, but I think it looks a bit too big. A 1x1 round tile, as used in Andrew's original, would have worked better.
View image at flickr
The new cloth piece for the roof, however, is far superior to the brick-built solution in the Ideas proposal.
View image at flickr
The roof hinges backwards to enable minifigures to be seated. The seats are wide enough for them to do so without arms clashing.
View image at flickr
View image at flickr
A gigantic rack of ribs, fresh from 'Ed's Mammoth Ribs', is provided and can be attached to the side of the car. The lavender plate used to hold them on looks a bit out of place but it's easily replaced.
View image at flickr
House
The Flinstsones' house is constructed on green baseplates upon which tan ones are applied for the interior. Two hinged sections at the back will allow easy access to the inside
View image at flickr
To start with the dwelling is built in time-honoured LEGO fashion with flat walls and right angles. The window and door openings are bordered with slopes and arches to give them an organic look.
View image at flickr
The right-hand side has a chimney which has been clad in various shapes and sizes of round and curved tiles to give it a rock-built look. On both sides of the house long curved slopes are applied to give the building a rounded appearance.
The palm tree extends out of the ground at an angle and gracefully curves towards the house.
View image at flickr
The interior is furnished with a sofa, TV, sink (by the window), coffee table (a Unikitty collectable figure stand), standard lamp and telephone. The picture on the TV and the painting on the wall are printed.
Bowling is a popular pastime in Bedrock so a crate of 3 pins and a ball has been provided.
View image at flickr
Finally, the roof is built. It's a hefty construction with interesting curves that looks much better than the roof on Andrew's original model. It fits securely but can be removed with ease to provide access to the interior.
View image at flickr
View image at flickr
Overall it has a nice rounded and uneven look and the animal-skin print on the orange curtains looks fantastic. The flowers and milk bottles outside the front door make it look very homely!
View image at flickr
We're not done with building yet, though: there's still the mailbox to do. It sits on a small green plate. The round brick at the top is printed. Personally I don't like separate subassemblies like this; I would have preferred it to have been attached to the house.
View image at flickr
---
The completed model
Inside and out, it's packed with cool details, nice parts and interesting building techniques.
View image at flickr
View image at flickr
Playability is limited to sitting Fred and Wilma down on the sofa and perhaps a spot of bowling, but I'm sure that's not much of a problem for most of us.
View image at flickr
View image at flickr
View image at flickr
View image at flickr
---
Verdict
I think it's an excellent set that fans of the cartoon in particular will appreciate, and 750 pieces for £55 / $60 doesn't sound too extortionate.
View image at flickr
However, Ideas sets give us an opportunity to consider what's been changed or is missing -- or, what could have been -- when comparing the boxed set to the original submission. Often the finished article exceeds expectations but in this case I don't think it does.
Many features I was hoping to see have been omitted: the Welcome to Bedrock sign, the children and the pet dinosaur. The driveway is no great loss given it adds little to aesthetics or playability, but I think the Bedrock sign in particular is.
Conversely, many aspects have been improved: the roof in particular, the fold-out aspect of the house, and the car looks much better with its cloth roof.
What we are given is great, there's no disputing that, and if you were not aware of the original proposal, there would be nothing much to complain about. But if you are, you can't help feeling that it could have been better.
I also think it's a shame that Barney is a regular height minifigure given he is noticeably shorter than Fred, but perhaps LEGO felt that because he's an adult his minifig should have regular adult-sized legs like all the others.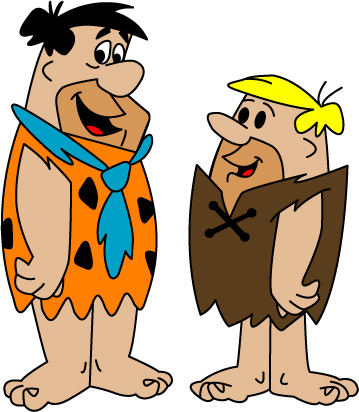 Overall, then, it's an excellent set but one that could perhaps have been just a little better.
It will be available from 20th February from shop.LEGO.com priced at US $59.99 / CA $79.99 / €59.99 / UK £54.99 / AU $99.99.
We'll be publishing an exclusive interview with Andrew Clark, in which he gives his opinions of the set, tomorrow.
---
Thanks to LEGO for providing the set for review. All opinions expressed are my own.