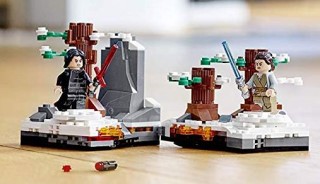 Amazon.it has published a couple of 'lifestyle' images showing 75236 Duel on Starkiller Base. This set is based upon the climactic lightsaber duel during Star Wars: The Force Awakens so features Rey and Kylo Ren minifigures.
Moreover, the set contains 191 pieces so may cost around £19.99, $19.99 or 19.99€, although comparable Star Wars sets have featured higher prices recently. The functions include two rotating platforms for the duelists and a hinged base that recreates the shattering crust of Starkiller Base from the movie.
Are you looking forward to this set? Let us know in the comments.