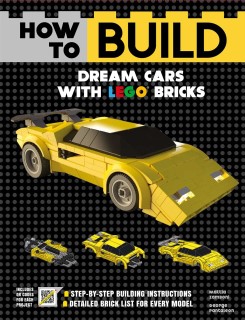 If you're a fan of Speed Champions but wish the cars were a bit more realistic then this book is for you. It contains step-by-step instructions for building twelve dream cars, which with the help of building techniques not seen in official sets, makes them far more faithful to the original vehicles.
It's the result of a collaboration between Mattia Zamboni, who has authored or contributed to several LEGO books in the past, including Tiny LEGO Wonders and Amazing Vehicles, and George Panteleon who I understand designed the models.
Mattia has sent me a copy to review, and also some sample spreads, which you can view after the break.
The 204-page softback book is roughly A4 sized and printed on exceptionally high quality glossy paper so is surprisingly heavy. The pages have a black background so the text and graphics leap off the page as a result.
The twelve cars featured are:
Dodge Charger R/T '70
Porsche 911 Turbo
Corvette Stingray C3
Ford Mustang GT Fastback '67
Pagani Zonda Cinque
Lamborghini Countach
Ferrari F40
Ford GT
Bugatti Atlantic Type 57SC
Shelby Cobra 427 S/C
Ferrari 458 Italia
Datsun 240Z
The instructions are accompanied by the history and specifications of the cars and fantastic photo-realistic renders of the real vehicles.
View image at flickr
View image at flickr
There are also renders of the LEGO versions which look stunning, too.
View image at flickr
The instructions themselves are well presented and clear. Printed parts list are provided but more useful ones, in XLS or BrickLink wanted list format, can be downloaded via QR codes printed in the book.
View image at flickr
View image at flickr
After the instructions you'll find renders of the model in alternative colour schemes.
View image at flickr
They say the proof is in the pudding, so I thought I had better have a go at building one of the models before passing judgment on the book. I chose the Porsche 911 and, for expedience, wanted to build it from parts I already had so did so in white rather than the blue as seen above.
It's certainly an interesting build: the way it combined studless Technic and regular parts is particularly ingenious and Mattia later told me it's one of the more complex constructions in the book. Nevertheless, the instructions are clear so it was easily completed, and it looks a darn sight more like a 911 than LEGO's Speed Champions efforts.
View image at flickr
View image at flickr
Overall then, this is a well produced, attractive and quality book that has clearly been a labour of love for Mattia and George. Whether you fancy building the cars or just want to flick through and admire the layout, renders and graphics, I can highly recommend it.
It's currently available at Amazon.co.uk (£15) and Amazon.com ($13)
Thanks to Mattia Zamboni for sending me a copy of the book to review. All opinions expressed are my own.