Yesterday's announcement of the new LEGO Education platform SPIKE Prime revealed several new elements that are worth examining in closer detail as it's likely that many will find their way into Technic sets in future.
In fact, one can be purchased from LEGO's replacement parts service already...
---
The electronic components
View image at flickr
The heart of the system is a new hub, which has 6 i/o ports and a 5x5 LED array on the top for displaying faces or other patterns. I'm told it can be operated while tethered via Bluetooth to a tablet, and autonomously like Mindstorms, which is great news and something sorely missing from Boost.
There are two sizes of motor, the larger of which at the back looks to have independent outputs on two sides, much like the Boost hub.
The three sensors appear to be a touch switch, a colour/light sensor and a ultrasonic distance sensor.
They connect to the hub using the same plug as WeDo and Boost and the inventory on the box lid, below, suggests that there is also an extension cable included.
View image at flickr
---
New Technic elements
Several pictures taken at a launch event yesterday were posted on Facebook by Coffee For the Brain, including this one of a poster showing the new elements:
View image at flickr
A vIdeo posted on YouTube yesterday shows them in more detail:
2x4 brick with three axle holes
This will make it mch easier to interface System and Technic parts and it looks as if all the 2x4s in the set will be this type.
View image at flickr
New wheels
They are fitted with low friction tyres which will make them move more predictably.
View image at flickr
Biscuit
This 3x3 part which has already been given the nickname 'biscuit' looks to be exceedingly useful for multi-directional building.
It can already be ordered from LEGO's replacement parts service in magenta and black (design ID 39793) and was the subject of an elaborate not-April-Fool's joke by New Elementary.
View image at flickr
Technic baseplate
This is not something I've ever felt the need for but I can see that it will be useful to get going with building quickly rather than faffing about working out how to connect things securely. It looks to be 11x19 in size.
View image at flickr
Frames
These appear to be 11x7 and 15x11
View image at flickr
Ball and socket
This isn't shown separately in the video but it's designed for use as a follower castor wheel on robot chassis.
Wire clip
A useful piece for keeping wires tidy, something that's hard to do in Boost, for example.
View image at flickr
New gear
The new grey gear which, again, is not shown clearly in the video has 28 teeth, so half-way between the existing bevelled 20-tooth and 36-tooth ones.
---
Among the photos taken at the event is one of an expansion pack which looks to contain more of the same sort of elements. You can see the ball and socket castor wheel on the corner of the model.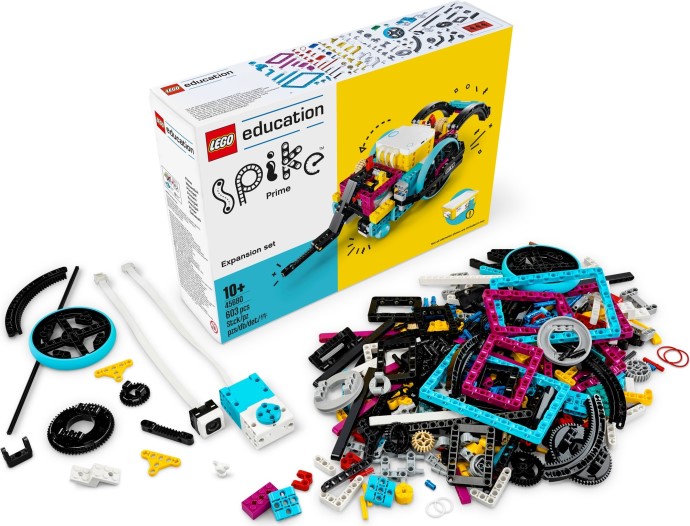 Expansion set
45680
---
This is all very interesting and almost certainly shows what a Mindstorms replacement (if this isn't it) might look like and also perhaps what the motors in the new Technic Control+ models might be like.
From an education perspective It looks to be excellent. I help run a computer club for kids ages 7-12 and we currently use WeDo, which is great, but a bit restrictive as it only has one motor and two ports. We've considered using Boost but the models are too complex to build and program in a 1.5 hour session. There's also a bit of a learning curve with the software, although to be fair not much of one.
Spike addresses both these issues: models are quickly assembled, then programmed using software every child in the UK is familiar with: Scratch.
I therefore can't wait to get my hands on it!