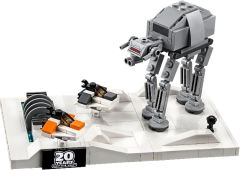 Full details of the May the Fourth offers this year have yet to emerge but pictures of the gift with purchase, 40333 Battle of Hoth - 20th Anniversary Edition, are now on LEGO's server.
As you can see, it contains a neat brick-built base, the likes of which are more often seen in MOCs than official sets, a microscale AT-AT and Snowspeeders, and a 20th anniversary printed tile.
You can view an image of the box after the break.
Are you looking forward to adding it to your collection? Let us know in the comments.