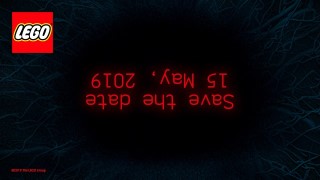 LEGO has published a couple of teasers for the upcoming Stranger Things launch event which will be taking place at the Leicester Square LEGO Store at midnight on the 15th of May.
The first of these advertises a mysterious LEGO police cruiser, apparently from the 1980s, while the second provides some information about the set and what the London launch event will entail. You can watch the video advertisement and information about the set after the break...
Something STRANGE is happening at the LEGO Store Leicester Square…
ALL to be revealed at midnight, Wednesday 15th May 00.01 – 03.00.
LEGO invites you to the midnight opening:
Be the first in Europe to see and buy the new set
Meet the LEGO Designer, Justin Ramsden and get the set signed
Netflix and Build - take part in a special building experience
Hang out and engage with fans of LEGO bricks of the most popular Netflix series
Enjoy some "totally tubular" refreshments
Last but not least... dress to impress! Show your best 80's swag!
Some useful "How-To" for you to plan your trip accordingly:
How much does the set cost?
The set price will be £179,99.
How big is the set?
It measures over 12" (32cm) tall, 17" (44cm) wide and 8" (21cm) deep.
How can I guarantee an access to the event?
The event is limited to 400 participants who wish to purchase the set. Wristbands will be provided on the day, confirming your full access to the event. The store will have capacity for additional participants to attend, but there will be no guarantee on sets being signed
How many sets can I purchase and get signed during the event?
The number of sets and signatures for this event is 2 per person.
Only the sets will be signed!
Psst! @NXOnNetflix
-.-. --- -- .. -. -- . / ... . / ... --- --- -. pic.twitter.com/GnQrA5k4e3

— LEGO (@LEGO_Group) May 9, 2019
The above Morse code reads 'COMING SE SOON'. I am not certain what the 'SE' means so would assume that is an error.
---
A similar event will be taking place in New York at the Flatiron District LEGO Store, albeit without Justin Ramsden to sign sets. This begins at 9pm EDT on the 14th of May, two hours after the midnight launch in London.
Will you be attending the London or New York launch events? Let us know in the comments.