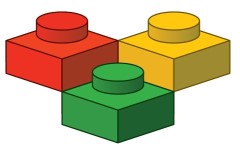 Next week, Chris/CapnRex101 and I will be attending the annual Fan Media days in Billund, along with representatives from many other fan media sites. We will have the opportunity to interview designers from various franchises and we invite you to suggest questions that you'd like us to ask them.
Before you do so, bear in mind that they are unable to answer questions about future products and plans so we will not be embarrassing ourselves, and them, by asking.
Find out who we'll be talking to after the break and let us know your suggestions in the comments or, if you prefer, in this thread in the forum.
We'll be talking to designers from the following teams:
Creator Expert
Technic
Overwatch
Star Wars Boost
Jurassic World / Harry Potter
Speed Champions
Powered Up!
LEGO (digital) Games
We will record the interviews, transcribe them, and publish a series articles over the summer.