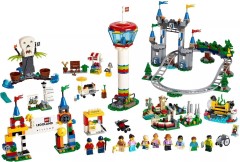 Hoth Bricks has found a new LEGOLAND exclusive set, 40346, listed on a Danish classified ads site.
The set contains many rides and landmarks present at most of the LEGOLAND parks and while the sign above the gate proclaims that this is Billund the graphic at the bottom right of the box suggests that a sticker sheet with the names of the other parks is included so you can label it as you wish.
I suspect it's already for sale at the Danish park; I'll hopefully get a chance to find out when in Billund next week.