Brickset recently attended the annual Fan Media Days in Billund and had an opportunity to speak with Jamie Berard, design manager for Creator Expert, about the new 10266 NASA Apollo 11 Lunar Lander!
Brickset: Why have you decided to mark the fiftieth anniversary of the Apollo 11 Moon landing with this set?
Jamie: We are delighted to celebrate these major world events and the Moon landing was especially placed on our radar following the great success of the 21309 NASA Apollo Saturn V. There is also plenty of conversation surrounding space at the moment and this is the ultimate icon of an important moment, when we accomplished something as a species.
There have been numerous sets focused upon NASA and space exploration recently. Why do you think they are so popular?
I think the Saturn V rocket demonstrated that our projects can be enjoyed beyond the existing LEGO fan community, although we always seek to design models for the LEGO fans primarily. However, the rocket reached an enormous range of children and adults, far exceeding our expectations. For that reason, we are certainly hoping that 10266 NASA Apollo 11 Lunar Lander will draw new fans to the Creator Expert theme.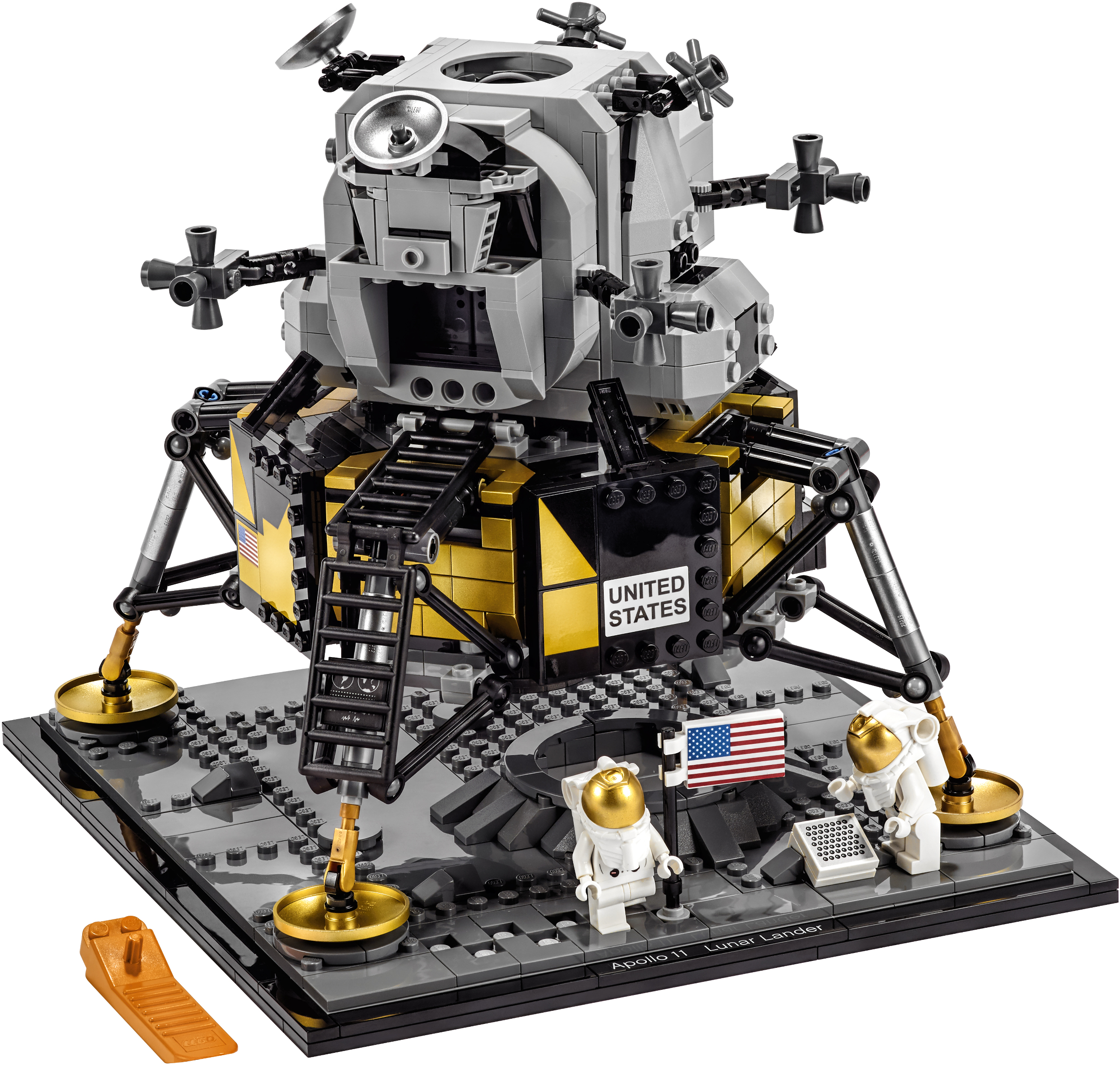 What can you tell us about 10266 NASA Apollo 11 Lunar Lander?
We have an incredible opportunity to target authenticity within the Creator Expert range, capturing every possible detail of the original subject matter. This set is focused upon the Lunar Module which can be detached from its pedestal very easily and that can be further separated into the descent and ascent stages, revealing the underneath.
There is also some interior which has been designed as accurately as possible, even featuring the tight space through which the astronauts needed to leave the Lunar Module in reality! Furthermore, the base includes a fun detail as you can see some minifigure footsteps. These attracted enormous attention in testing the set during development and I always enjoy these humorous inclusions.
A couple of hidden compartments are located within the model as well. You can deploy the television camera beside the ladder, recreating the moment that the first images of Neil Armstrong descending onto the lunar surface were recorded. Another panel opens to reveal a small reflector. This remains on the Moon today, enabling scientists to use lasers which measure the precise distance between the Earth and the Moon.
The set also contains numerous metallic gold elements. Why were those included and was it difficult to justify including so many in an unusual colour?
Foil of various colours was used to protect the Lunar Module from dramatic temperature differences. We used plenty of drum-lacquered gold pieces along with some reflective stickers and there are some silver examples too. There was some debate concerning whether pearl gold or these drum-lacquered pieces should be included but we decided upon the metallic finish as that appears more authentic. You can find some new parts in this colour here, including the 2x2 corner tile with a cutout.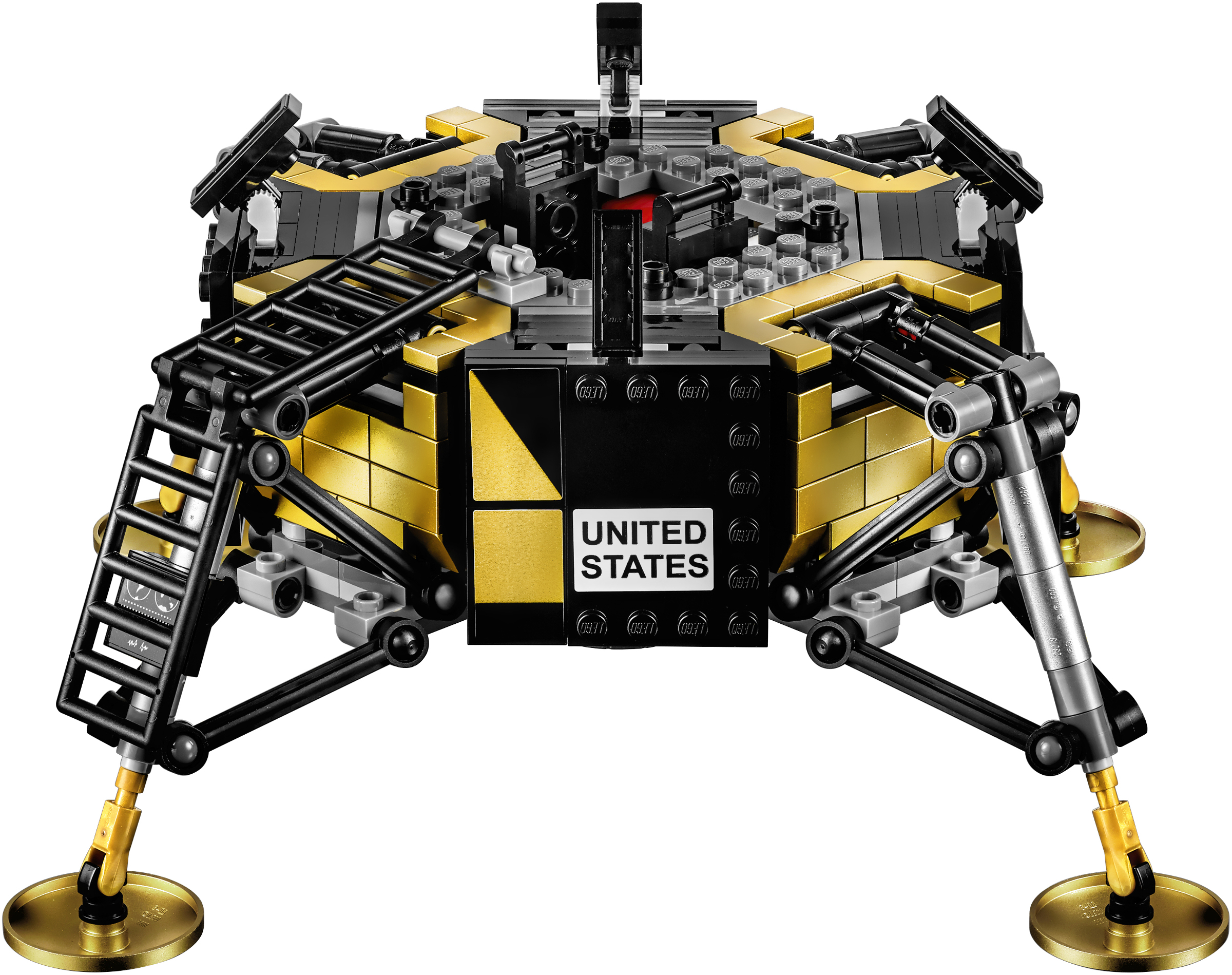 The actual spacecraft also features some bronze foiling but we chose to exclude that as introducing additional colours to the model might result in a design that looks chaotic. A few pearl gold elements are scattered throughout the Lunar Module too as not every piece is suitable for the drum-lacquering process, although I think the reflective foil effect has been achieved.
Does this set take any inspiration from 10029 Lunar Lander, the 2003 Discovery set?
There is relatively little connection between this product and the 2003 Lunar Module, other than their scale being similar. They probably occupy a similar market space though, depicting a subject which inspires passion among adults and one that LEGO is becoming increasingly aware of, particularly following 21309 NASA Apollo Saturn V.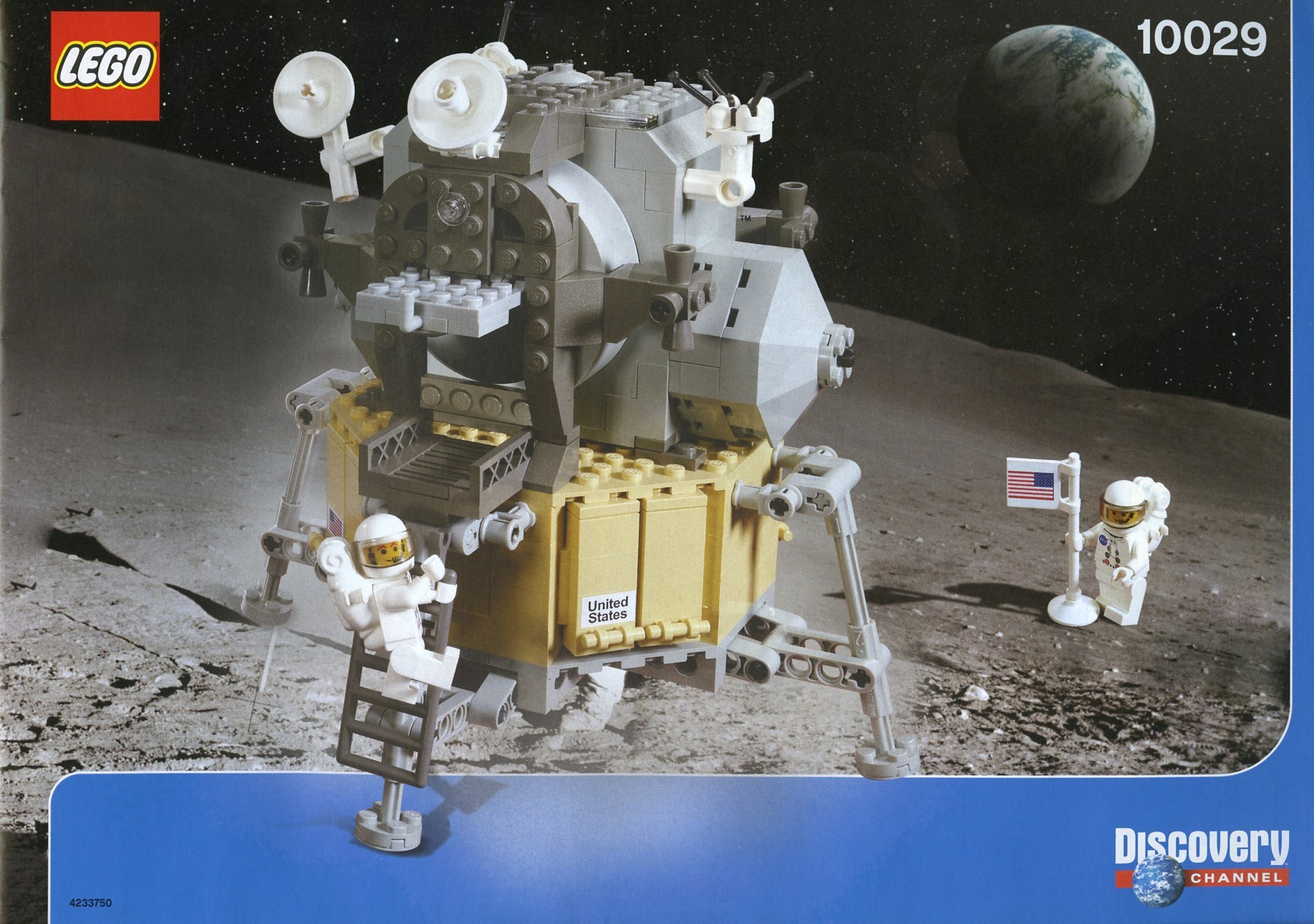 10213 Shuttle Adventure was released in 2010 and that was the last space set from Creator Expert, before the theme was even known by its current name! I think this set could inspire subsequent space sets from Creator Expert in the future, assuming the product performs well and we can find additional source material. We already have series of Modular Buildings, Seasonal and Vehicle sets so perhaps space could join that group in the future.
This model is displayed on an impressive base. Does this correspond with the real lunar surface where Apollo 11 landed?
We have taken a certain degree of artistic liberty because the actual landing site was relatively smooth. In fact, Neil Armstrong was required to manoeuvre the spacecraft and avoid landing on craters like this one. However, we hoped to connect people with the lunar environment so we felt compelled to include one crater!
There are certain parallels with LEGO Architecture in how the Lunar Modular is displayed as a printed tile is placed on the base. In addition, the dark packaging seems quite reminiscent of the Architecture theme. This was simply our attempt to create a product that someone would most enjoy displaying in their home or office.
Many thanks for speaking with us!
---
You can find more information about 10266 NASA Apollo 11 Lunar Lander here and our review is available here.
Are you looking forward to 10266 NASA Apollo 11 Lunar Lander? Let us know in the comments.