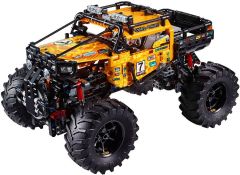 German toy store Wagner's Spiel+Technikwelt GmbH has published pictures of the box of 42099 4x4 X-Treme Off-Roader on Facebook.
The vehicle will ship with the new Control+ hub, two XL motors and one L one and will be controllable using a new Control+ smartphone app. via Bluetooth.
The box gives us our first look at the new Technic Control+ logo.
You'll find more pictures after the break.
News via Promobricks.
View image at flickr
View image at flickr
View image at flickr
View image at flickr