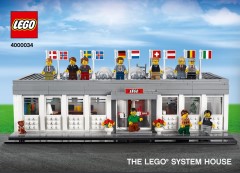 Now that this week's LEGO Inside Tour in Bilund has ended we can reveal that the exclusive set given to attendees is 4000034 LEGO System House.
I believe it's based on the building on the corner of Systemvej and Hovedgaden in the centre of Billund that is nowadays known as the Idea House, which you can see in this Google street view image.
Unusually for Inside Tour sets, LEGO has published the instructions so you can download them and try and build it yourself.
The instructions show the building's internals which consist of an office with a desk and drawing board on one side and a conference room on the other. Clearly, then, the model is depicting the building as it was used in the past because now it houses a small private museum for LEGO employees.
Update: the model depicts the opening of the System House in 1958 as seen in this photo and explained on this page at LEGO.com. It explains why people are standing on the roof! Thanks to Laz and Tsi for pointing this out in the comments.
There's a unique piece in it which you can see on page 57/step 65 of the instructions: the sand green part on the drawing board, a mechanical drafting arm. I'm told that it's a 3D printed piece so we are unlikely to see it elsewhere.
The instructions also show a timeline of all the Inside Tour sets, but of course you know what they are already because we have them listed here on Brickset.
What do you think of it? Which Inside Tour set would you most like to own?