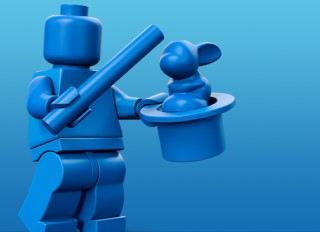 After we reported on the update to LEGO's VIP program last month, many of you encountered problems and raised questions and concerns about it in the comments.
Most of the initial teething troubles have now been sorted out but there's still a lot about the update that's unclear, so we collated your questions and asked the Director of the VIP program to provide some answers.
"The premise behind the new program", he tells us, "is to put us on track where it's possible to make significant improvements over time. Previously, that wouldn't have been possible. We are aware that there are current pain points, but these will be improved, as well as new aspects added that we're really excited to roll out over time."
You'll find answers to the specific points you raised after the break.
---
Some people have reported losing their existing VIP points.
No member should have lost any points/value, although accounts that shared points have had their balance split across the shared accounts. Some accounts that were moved had issues that may have initially resulted in missing points but most of these issues have been resolved.
Some members with multiple accounts and card numbers may have seen these accounts combined under the last used account/card. If they try to use the other account/card, they won't see their points or may even have issues with access. They will need to log in using their other account.
There are a small number of accounts that are being addressed on a case by case basis but these either had some missing information or are in countries that we don't support.
For most of our members they should see an accurate points balance at this time.
The relationship between the amount of money spent and the VIP points which are accrued is more confusing than it was originally, despite perhaps being fairer.
This is true for some countries where the earning rate was 1 for 1, but this was not the case across the globe. For example, members in Australia were earning 1 point for every $1.50 spent and 100 points was $7.50 discount.
The intent of the new points earning rates was to set all points to the same baseline (We chose DKK). This allows us to offer our new rewards for the same number of points to all our members regardless of their home country. For example tickets to LEGOLAND are the same number of points no matter where you live.
In addition, the points you earn on purchases are based on where you buy. A member from the US shopping in London will earn 8 points on every pound spent.
Now that VIP point values have been altered to reflect the value of different currencies, will those values continue to change with exchange rates?
No. The intent is to leave this the same going forward. The points value reset is to allow new rewards to be equalized, not adjust for currency valuation changes over time.
The value of points seems rather uneven when redeeming rewards.
The points cost of rewards are based on a number of factors. Sometimes it is based on the price of the item, other times it's based on the cost to us, and sometimes we will get access to something really special and we decide to offer it our members at a significantly lower points cost. This is true for some of the partnerships we will be bringing in later this year.
The one rule we try to follow is that you will receive more value from the points you use towards physical and experiential rewards.
Making 5004590 Bat-Pod available for such a limited time caused consternation.
Understood and we've heard the feedback!
We have a number of unique/hard to find items that we are bringing to the new reward centre and we wanted to go big on opening day. We had found a limited number of these in storage and said "Let's give them to our members".
In hindsight we should have waited until all the bugs were worked out. Lesson learned.
Many of the rewards which are available in the Rewards Centre are merely previous promotional items with remaining stock.
We received feedback from members that they wish we would bring back these type of items for those who wanted more or missed out the first time. If we have some of these available, we thought providing access to them would be appreciated. These are usually limited in numbers and there's no guarantee they will always be available.
As they are desirable and limited, you may find that we have to limit the quantity you can redeem. Access to these is one of the benefits we really wanted to bring to our VIP members.
The presence of those promotional items has caused some people to wonder whether standard promotions will end to be replaced by redeeming items using VIP points.
No. We will continue to run promotions such as free gifts with purchase.
The ability to merge points between different accounts has apparently been withdrawn.
This is correct, for now. We are looking to bringing this feature back with some added benefits.
Redeeming vouchers for purchases in store appears more complicated than the previous system.
The new process has created an extra step for those that wish to use their points for discount. There are a number of reasons this was done that relate to future plans for the program, however if you choose to use your points in store, the process after making that selection remains unchanged.
After converting your points, you go in store, scan your card, and the discount will be applied to your transaction. If you are in store and have access to the internet, redemption can happen on your device and be ready for checkout right away.
For online purchases you will need to enter a code during checkout. This code is delivered instantaneously in the reward centre and a copy is sent to your email. We are looking at options to streamline this process in a future update.
The resultant thirty-day expiry following redemption of a voucher causes several issues. For instance, you might redeem a voucher with the intention of making a purchase in store but learn that the item you intended to purchase is unavailable. You would therefore be under some time pressure to use that voucher.
We have done a lot of work to help reduce out of stock situations but this specific scenario could happen from time to time.
There are a few underlying reasons for the expiration policy that relate to how the program must operate across the globe. We understood this may be a bit of a challenge which is one of the reasons we decided to extend the life of the points themselves.
That being said, we have discussed this issue and we will honour rewards for 60 days where possible. This includes discount rewards in our LEGO Stores, via consumer services, and on shop.LEGO.com. We will now work to change the terms on the reward descriptions to reflect this.
There may be exclusions to this policy such as rewards that are redeemable with our partners or where legally we cannot change the terms (i.e. Sweepstakes).
Some people have expressed confusion between turning VIP points into vouchers that can be spent in stores and those which can be spent online.
In tandem with the relaunch of VIP we made some changes to our web shop to help create a better checkout experience. This affected how VIP discounts are applied resulting in one process for in store and one for online.
We are currently working on a way for you to use the same reward in-store, online, and via phone.
The options for earning points by performing tasks are extremely limited at the moment.
We will be bringing more opportunities to earn in the future.
With regard to the differing values of VIP points around the world, adjusting these to correspond with currency values further highlights the disparity between prices internationally. Purchasing the same products from different countries will still earn different quantities of VIP points.
The intent of the points changes were only to normalize the value of points in order to provide global rewards and treat members of the program equally.
---
Thank you!