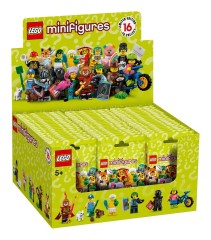 At the end of their shelf life, LEGO started selling complete boxes of Disney series 2 minifigures at LEGO.com and I had assumed it was only doing so because it had a surplus of stock.
However, that might not be the case because you can now buy a complete box of series 19 there now, too.
It'll cost you a little under £180 and 240€ so there's no saving to be had over buying 60 individual packets, but at least you'll be guaranteed of getting 3 complete sets of 16 without the need to fiddle about feeling packets in store.
It's been given the set number 66605 and you can purchase it via these links:
UK | Germany | France | Netherlands | Austria | Switzerland