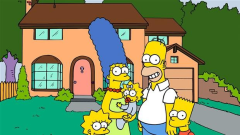 I've been in denial of this story all day, and didn't want to believe it, hence not posting it until now. Everywhere else has reported it, and I guess it's likely to be of interest to many of you, so, here goes...
"LEGO will produce Homer and Marge" claims the Danish newspaper website DR.dk. I guess, thinking about it, it would seem a natural fit given their skin colour, and it's a wonder they've waited this long to acquire a license for the hit TV cartoon.
It's rather surprising that news that negotiations are taking place has become public as normally such things are veiled in secrecy until the contract is signed. But, "LEGO marketing director, Mads Nipper, confirms that the company is negotiating with the people behind the Simpsons, but cannot say anything about when an agreement is expected to be in place."
I can honestly say I've never watched an episode of it and it doesn't appeal to me whatsoever, but I suspect I'm in the minority.
Does this fill you with dread or excitement?
Sponsored content