The tenth LEGO Ideas set, 21302 The Big Bang Theory, is on display to the public for the first time today at San Diego Comic Con. We've been sent one to review to coincide with this ahead of its release at shop.LEGO.com on 1st August.
The LEGO Ideas project was submitted by Alatariel and Brickset's Ideas correspondent GlenBricker. It was revealed that it had passed review in November 2014. Many observers, including me, were surprised at that decision given that it was based on a TV sitcom that was somewhat obscure outside of the USA, while the model itself consisted of not much more than a couple of walls and a bunch of minifigs.
Eight months later, the set is in my hands and I've still not seen an episode of it so I've enlisted the help of my daughter Alice who's watched every episode countless times when she probably should have been studying at university. This review is therefore a collaborative father-daughter effort.
Box and contents
As is usual for Ideas sets, the box is a higher quality than normal LEGO boxes. At 19x35 cm it's the same size as the Birds and Ghostbusters boxes.
The front shows the room with the seven minifigs sitting round the table -- more on that later.
The rear shows details of the room and the minifigures.
The flapped box can be opened without damage.
As well as the construction instructions, the 100-page perfect bound manual provides background information about the show and the characters, and a page about GlenBricker and Alatariel.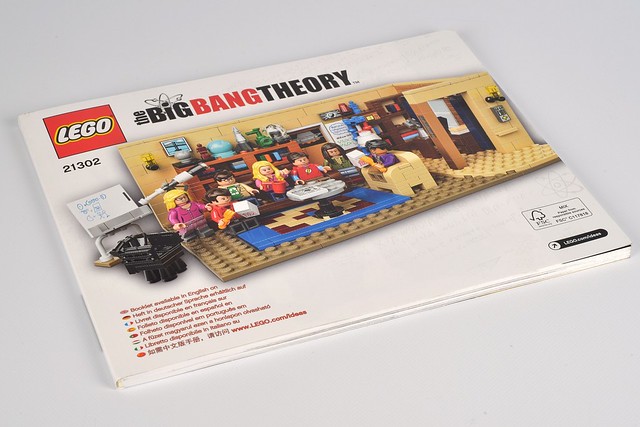 The sticker sheet contains just two decals.
Parts are divided into bags numbered 1 and 2.
The dark tan baseplates are loose in the box.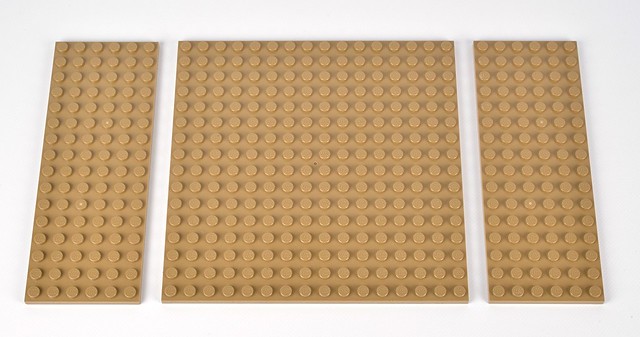 Thankfully the majority of the decorated parts are printed, including two whiteboards, takeaway containers and a couple of poster tiles, one of which isn't shown below.
The micro-figs that appeared in the UCS Helicarrier crop up here in blue and dark red and are used as trophies.
Minifigures
There's no doubting that the minifigures are the highlight of the set so we'll deal with them first.
First, the males, from left to right: Howard, Sheldon, Leonard and Raj. All are printed with an impressive level of detail. Sheldon's arms are fabricated using two colours of plastic, a technique first used for The Simpsons minifigs.
Alice tells me:
Sheldon is always wearing his Flash T-shirt, so the minifig looks perfect.
Leonard is very often seen wearing his green recycle logo shirt and wears a beige jacket so a good similarity there too.
Raj's outfit is his favourite look from the earlier series, a purple and yellow sweater with a purple jacket over the top.
Howard is the least similar of the minifigs. His iconic look is usually an outfit with a matching colour scheme. He is often seen wearing a turtle neck with a cowboy plaid shirt over it, with clashing colour trousers. For example, in episode 23 of season 5 'The Launch Acceleration' he is seen wearing an all blue and green outfit. The minifig's outfit seems too simple compared to his usual attire. He has a large collection of belts with fancy buckles so it's good to see him wearing one here. He's the only male minifig to have a printed leg assembly.
All four are printed on the reverse.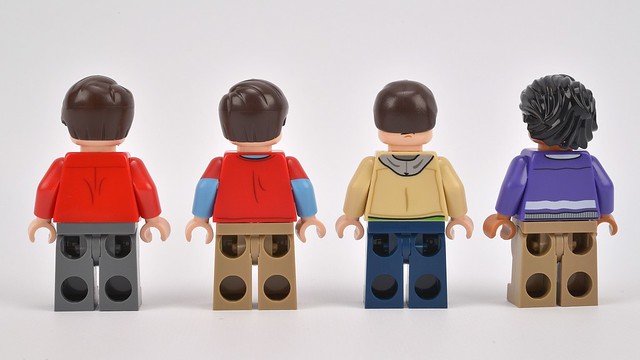 All four have alternative expressions. Raj is exhibiting his 'selective mutism' face, I'm told. Leonard's hair piece is new in dark brown but the others have all appeared before.
The three females are, left to right, Penny, Amy and Bernadette.
Amy and Bernadette's legs are moulded using two colours of plastic.
Once again Alice sheds light on their outfits:
The Amy minifig looks very similar to her character, she usually wears dull old fashioned clothes like the green knitted cardigan seen here.
Bernadette's minifig is quite similar as she is often seen wearing cardigans done up making her look very 'busty'. I'm assuming her outfit is based on the pink and white dress she is seen wearing on the opening cast shot of season 6 onwards.
Penny's often seen in more skimpy clothing than her minifig is wearing, but she is sometimes seen in a shirt. Her hair is long like her character, before the actress cut it short before the latest series.
They are all printed on the back.
Like the males, they all have alternative expressions, Penny's and Bernadette's appear to be disapproving smirks.
There's no doubt that a lot of effort has gone into the minifigs and it's great that all seven main characters from the show have been included. I guess fans would not have been happy with anything less.
Construction
Bags #1 provide parts for the room's walls and office area which represent part of Leonard and Sheldon's apartment.
Construction is all very straightforward. The two stickers are applied to the door at the back and the door frame at the front. Alice says the one on the door is a boxing ring poster
The sticker applied to the 1x1x6 brick had Alice stumped for a while but she thinks it's a fuse box or holder or something like that.
The bookcase houses a number of books and what looks like a wireless which is a new printed tile. The books are attached to the sides of the shelves by 1x1 Technic bricks and a stud-pin which unfortunately makes it look like they are floating above the actual shelf.
The back is very plain, I guess it doesn't need to be anything else.
A computer and lamp adorn the desk.
Bags #2 contain parts for the large bookcase, the seating, rugs, and Sheldon's DNA helix model (the blue and red thing at the back), which Alice says has moved around the apartment a bit but is usually seen in this position.
About the printed tile under the lamp on the wall at the front of the model: Alice thinks it might be the thermostat. A picture would usually be in its place but as Sheldon is very particular when it comes to the room temperature it might have been included as an integral aspect of the show. For example, in Season 3 episode 22, he and Leonard argue as Leonard tries to turn it up but Sheldon states it must be kept at 72 degrees at all times, in accordance to their roommate agreement.
Alice tells me that the items on the top shelf -- Sheldon's green lantern, globe, rocket and glass globe -- are all faithful to the show, as is the picture of the Golden Gate (?) bridge on the wall.
The rug's pattern is very similar to that in the show.
A whiteboard, and a black chair are built last. The chair looks a bit out of place and unlike those on the show, Alice thinks it's more like a director's chair. Neither fit within the main model and feel a bit superfluous, which is a shame. Note the lipsticks used for marker pens. The illustrations should have been in red to match.
The completed model
The completed model looks great and captures the sitcom's set -- Leonard's and Sheldon's lounge, where most of the action takes place -- well (compare to these images at Google).
Although the characters have been seen to be sitting in the positions shown on the box (e.g here) Alice has changed them round: Sheldon remains in his usual spot at the end of the settee near the window, but after Amy, his girlfriend, joined the show she usually sits next to him.
Leonard is often sat in the arm chair with his girlfriend Penny perched next to him or sat on an extra chair. Bernadette usually takes the last spot on the sofa with her husband Howard, taking an extra chair or perching on the side of the sofa. Raj is usually the unlucky one that has to sit on the floor.
The group indulge in takeaways every night. Today it's either Chinese or Thai so we can conclude that it's either a Friday or Monday, because Sheldon's OCD dictates that they eat the same thing on the same night each week.
We haven't mentioned Raj's beloved dog, Cinnamon, a Yorkshire Terrier, which can be seen in the floor next to him above. Not that it looks much like a Yorkie, but still...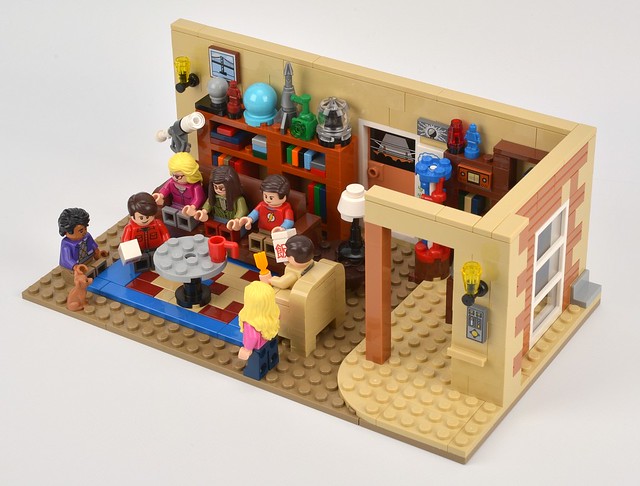 Verdict
So, what do I think of it, as someone who's never seen the show but who's built a fair few LEGO sets in my time?
It's a room, an incomplete one at that. Two walls and some furniture. A group of minifigs sat round a table. Nothing moves, nothing can be played with. Construction is simple, there are no new parts and not many exciting ones. It hasn't got a lot going for it...
Yet somehow I like it very much. I think the main reason is because of the effort that's gone into the design to pack it full with fan-pleasing details, both of the minifigs and the sitcom set. Although the details mean nothing to me I've been able to ask Alice about them and she's known straight away what they are.
It's also very faithful to the original submission, apart from a few colour changes, as you can see by comparing it with the picture below, which also counts in its favour.
(Looking at the picture now, it answers the question about the black chair: it should have been brown and looks much more like it belongs to the set in that colour.)
As a non-fan would I buy it? As a collector of LEGO Ideas sets, yes I definitely would, but if I wasn't one, I'm not sure. At US$60 / €60 and (probably) £50 it's not cheap: better value for money, and more excitement, can be had elsewhere in LEGO's range.
However, there's undoubtedly a lot in it that will appeal to fans and if you are one then it's a no-brainer if you can afford it.
One purpose of LEGO Ideas is to produce sets that LEGO would not normally make and in doing so attract new customers. In this case they will be TBBT fans who might not have played with LEGO since they were kids, of which, given the show's nature, there are likely to be plenty of. There's no doubt that this set will be highly successful in capturing their interest.
And what does mega-fan Alice make of it?
"I really enjoyed building it! I love the attention to detail. When I built it I was like 'oh yeah that's Sheldon's green lantern' and so on. It would have been even better if it had the kitchen set too, though!
"I think it's a great set for TBBT fans that are not already LEGO fans because even I, who hasn't played with LEGO for 10 years, wanted to build it just so I could recreate the set. It was also very cool to see all of the characters in LEGO form. I'd want it for myself because I love the programme, having seen it a 'million' times.
"As I said before Howard's character could've been more alike but other than that the figures are pretty close to their originals.
"Finally, it's a shame there aren't enough takeaway boxes for all of them!"
So, there you have it. 21302 The Big Bang Theory goes on sale on August 1st at shop.LEGO.com and in brand stores priced at $59.99 | €59.99. The UK price is not yet known but it's likely to be around £49.99.
Many thanks to LEGO's CEE and Ideas teams for providing the set for review.
Sponsored content