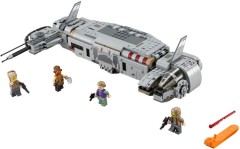 The last few days have yielded a great deal of news about the 2016 range but we now have our first substantial batch of images courtesy of the usual suspects, Just2Good, CM4sci and whung on Eurobricks. The majority of these images have been acquired from the LEGO servers but there are a few which we do not currently have set numbers for, so those have not yet been added to the database.
You can see all 97 of the sets which now have images in the list of sets to be released in 2016.
The most intriguing one for me is the mysterious Star Wars set featured above. It resembles the B-wing Starfighter from Episode VI but did not make an appearance in the trailer released for season two of Star Wars Rebels a couple of days ago, leading me to wonder whether it is a set based on The Force Awakens. Whatever its origin, it looks fantastic to me and I can't wait to get it!
Are there any sets which particularly stand out to you? Let us know in the comments and stick around; today is going to be a busy and exciting day for news.