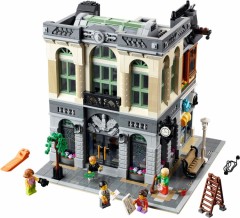 Earlier today LEGO unveiled the next modular building at BricKorea: 10251 Brick Bank. Here is the press release:
10251 Brick Bank, 2,380 pieces
US $169.99, CA $219.99, DE 149.99€, UK £119.99, DK 1399.00 DKK
Available January 01, 2016
Make a safe deposit at the Brick Bank!
Make a secure deposit at the highly respected Brick Bank, featuring an array of intricate details and hidden surprises. Easy-to-remove building sections provide access to the detailed interior, comprising a bank with an atrium foyer, tiled floor, arched windows, ornate chandelier, lockable vault and a transaction counter with security glass; a laundromat with printed window, tiled floor and 4 laundry machines; plus 2 second-floor offices with an array of detailed furniture, fixtures and accessories. The exterior of the building features a detailed sidewalk and an elaborate façade with carving and statue décor, decorative roofline, large arched windows, central balcony, clock and an accessible roof terrace featuring a large skylight.
Includes 5 minifigures: a bank manager, secretary, teller, and a mom with child.
The Brick Bank features a bank, secretary's office, bank manager's office, laundromat and a detailed façade and sidewalk.
Bank features an atrium foyer with wide, arched entrance, triangular-patterned floor tiling, ornate chandelier, oxidized-copper colored skylight, transaction counter with hidden alarm buttons and security glass, and a bank vault with safe deposit boxes and a large round door.
Laundromat features a printed window, tiled floor and four laundry machines.
Secretary's office features a wall clock, desk, typewriter, cabinet with opening drawers, fireplace and an espresso machine.
Bank manager's office features a large desk with banker's lamp and approval stamp, leather-look chair, printed portrait, statue and a cabinet.
Accessory elements include a mug, document, camera, candy, blank white paper, chrome-golden coins, 1 chrome-golden bar and bank notes.
Remove the building sections to access the detailed interior.
Unlock the bank vault to access the safe deposit boxes.
Visit the laundromat for a spot of laundering.
Stack coins with the coin counting machine.
Special elements include a printed prize check, printed ground-floor windows, a special printed portrait in the bank manager's office, plus rare sand-blue and dark-green bricks, and sand-green window frames.
Collect and build an entire town with the LEGO Creator Expert Modular Building series 10243 Parisian Restaurant and 10246 Detective's Office.
Brick Bank measures over 10" (26cm) high, 10" (25cm) wide and 10" (25cm) deep.
You will find more images on the set details page. We will add the designer video when we know its URL.
I like the 'money laundering' that's going on in the launderette next door!