Star Wars: The Clone Wars forms an enormous part of Star Wars canon, with a total run time of over forty-three hours divided across six seasons. The associated LEGO sets also represent a significant proportion of the complete Star Wars range, with fifty five sets based on the latest series and one from the original which was first shown in 2003.
I would therefore be remiss to omit Star Wars: The Clone Wars from the 'What's Missing?' series, although it must be acknowledged that we are unlikely to see many more sets based on either show. Nevertheless, I found it interesting to note which seemingly obvious characters and vehicles have not been seen in sets as well as the far less appealing ones which have.
I am going to approach the series based on the chronological ordering of its episodes, beginning with Cat and Mouse and concluding with Sacrifice. The Clone Wars opens in orbit over Christophsis where Admiral Trench is blocking the Republic's attempts to resupply freedom fighters on the surface. Admiral Trench is an important character in the show and he looks incredibly menacing so it would be interesting to see him as a minifigure. Luckily, Anakin Skywalker is able to break through the blockade using a stealth ship which also appeared in LEGO Star Wars III: The Clone Wars and looks great in the video game so might be appropriate for an official set which could include Anakin, Admiral Yularen and a couple of Stealth Operations Clone Troopers.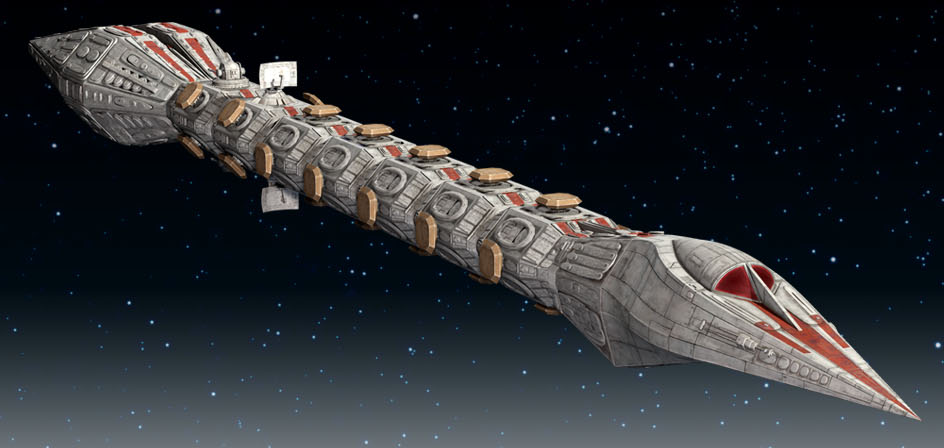 After a brief encounter with a turncoat Clone Trooper, the Battle of Christophsis continues on the ground and Ahsoka Tano is introduced as Anakin's new padawan. After defeating a column of Separatist forces which consists of AATs, Corporate Alliance Tank Droids and LR-57 combat droids, the planet is quickly secured for the Republic. The LR-57 combat droid only appears a couple of times throughout the series but it would be nice to see one included in a Battle Pack as they add some welcome variety to a droid army. A large Octuparra Droid would also be interesting but I suspect it would have to be scaled down as the legs are extremely spindly and difficult to render in LEGO. The model seen in 75036 Utapau Troopers is probably the best we can hope for.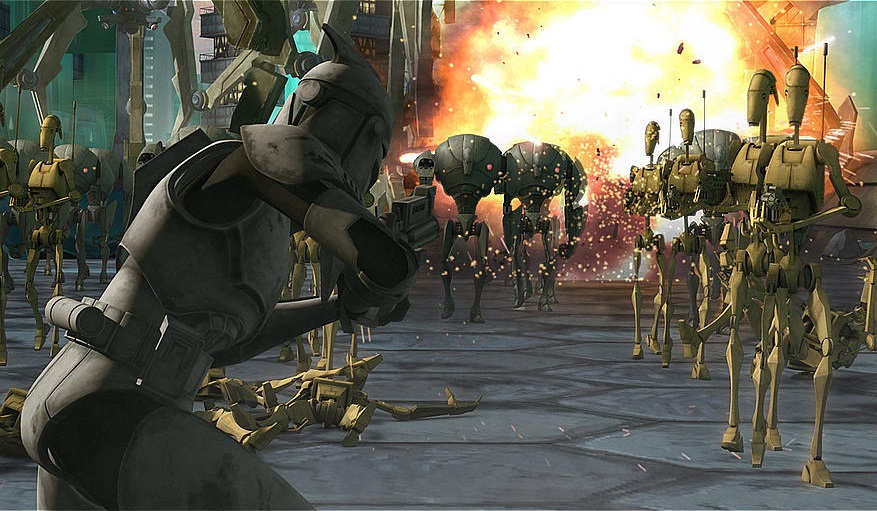 The Jedi are then called away to rescue the kidnapped son of Jabba the Hutt, who is being courted by both sides in the war in the hope that he will permit access to hyperspace lanes which run through Hutt Space. The Battle of Teth reveals that the Separatists are behind the abduction and Rotta is safely returned to his father, as represented in sets such as 7675 AT-TE Walker. I think the events of the Star Wars: The Clone Wars movie have been adequately represented on the whole, although the extravangant Ziro the Hutt has yet to be seen which is unfortunate.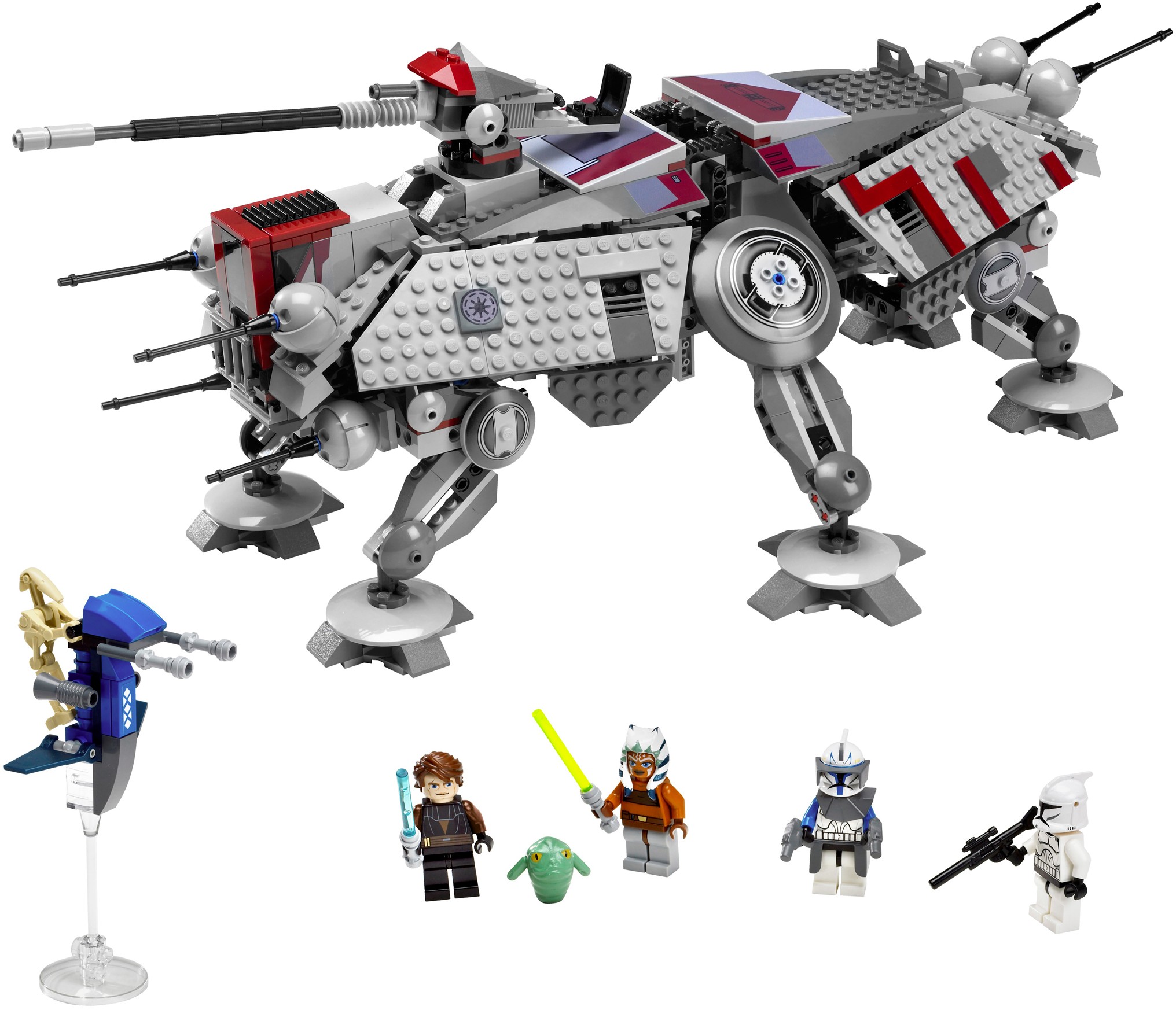 More Clone Troopers are pressed into service as the war continues and we meet the five cadets of Domino Squad during their training on Kamino. The Kaminoan military education complex is aesthetically impressive but the scale exceeds anything that could fit into a set of a realistic size. Kamino is later invaded despite the best efforts of Echo, Fives, Hevy, Cutup and Droidbait on the Rishi moon, although they are able to alert the planet to the threat and the surviving squad members later assist in its defence.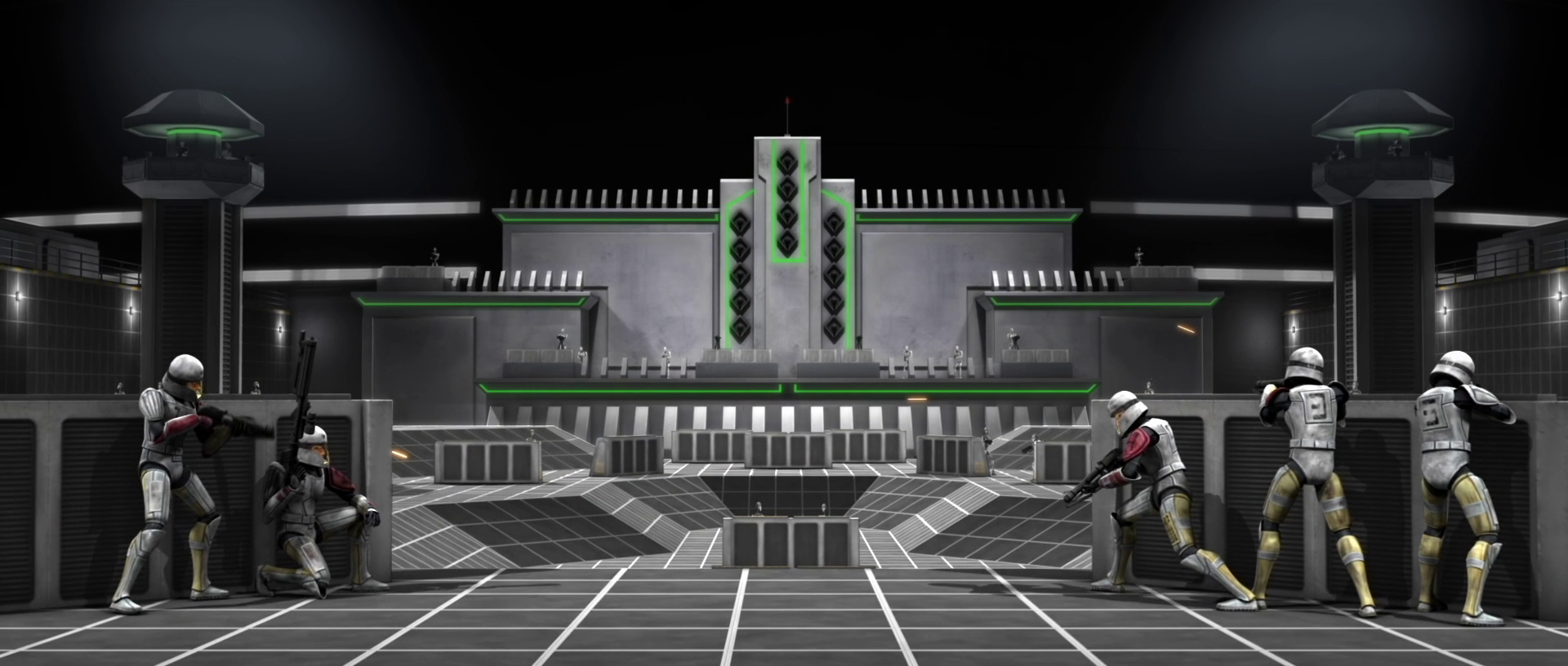 The Malevolence trilogy of episodes is excellent in my opinion and 9515 Malevolence is a decent representation of the enormous vessel, although the Padmé Amidala minifigure is notoriously poor. I would be delighted to see larger scale versions of some of the Republic and Separatist cruisers from the Republic era but a UCS version of the Venator-class Star Destroyer or General Grievous' Invisible Hand would be preferable to this Subjugator-class Cruiser, so 9515 Malevolence will have to suffice.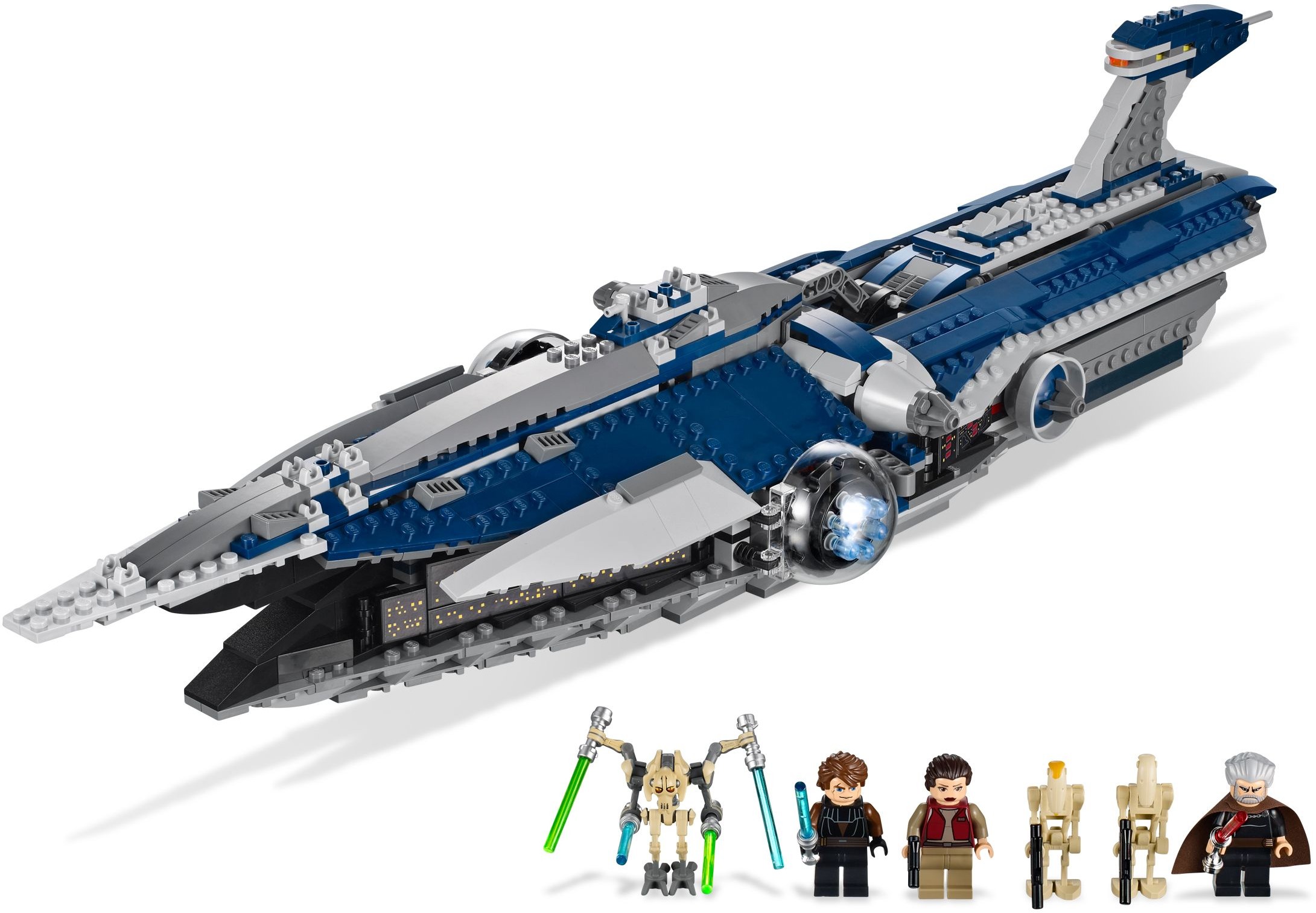 R2-D2 is involved in the destruction of the Malevolence but he really gets to shine in subsequent episodes as he is lost at the Battle of Bothawui. Anakin's search for his droid companion leads him to the Trandoshan scavenger Gha Nachkt and later to General Grievous' Skytop Station, where R2-D2 is recovered. Unfortunately, Padmé falls into the hands of Nute Gunray on Rodia soon after, a scene represented by 8036 Separatist Shuttle. Thankfully Jar-Jar Binks assists in her release and he later rescues Anakin and Obi-Wan from Hondo Ohnaka, one of the best characters to emerge from the series who has also been seen in Star Wars Rebels.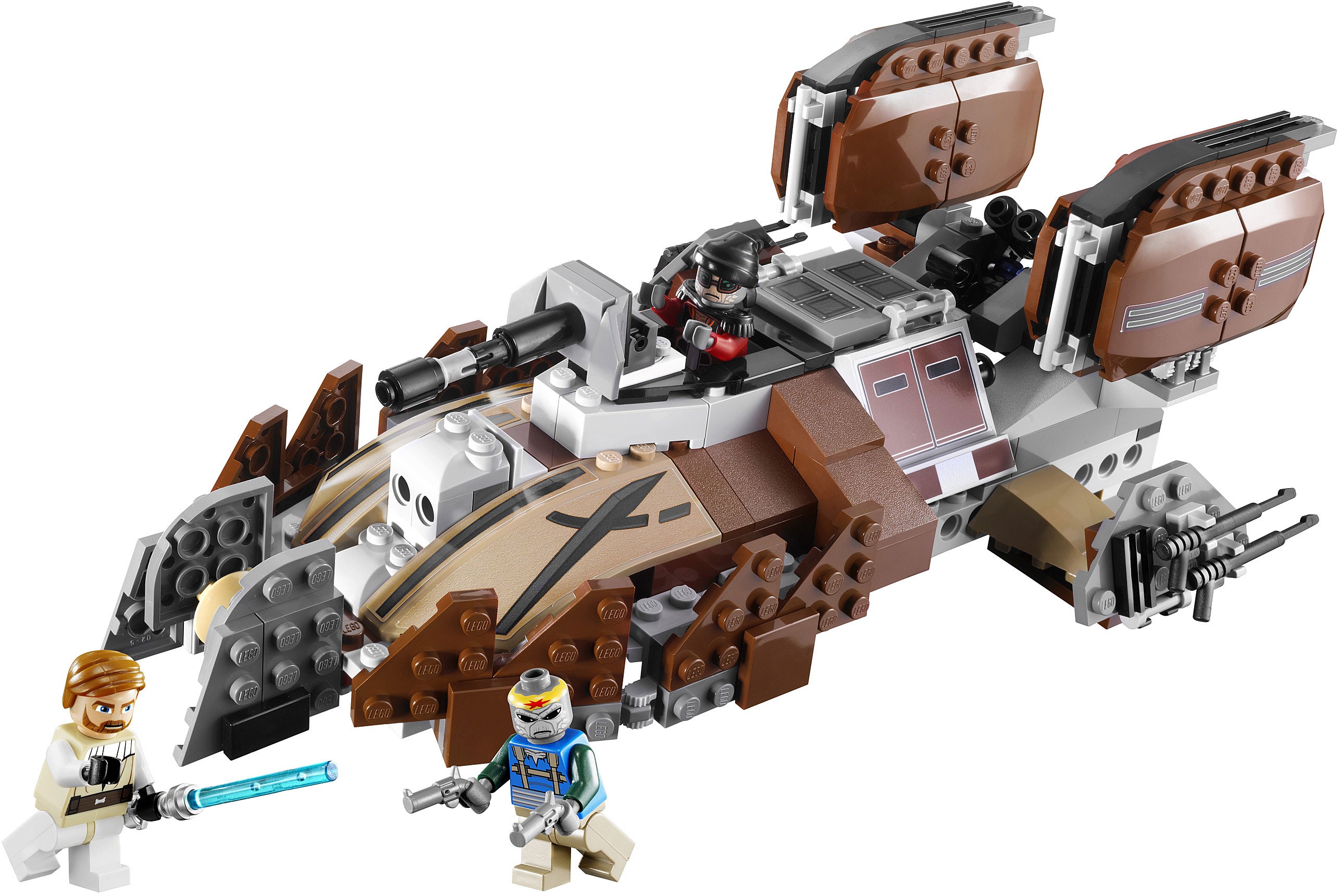 The next possible set appears on the planet of Maridun where the Separatists are testing a new weapon known as the defoliator. This enormous piece of artillery is mounted on an adapted AAT and I think the design has some potential as a set, although there are many more vehicles which I would rather see. The Blue Shadow Virus story arc, which follows Padmé's investigation into Separatist activity on Naboo, also includes a vehicle which could be transformed into a nice model, the S-130 Shelter Speeder. This is an unusual craft and its bright colour scheme would contrast nicely with the typically muted shades of many Star Wars sets.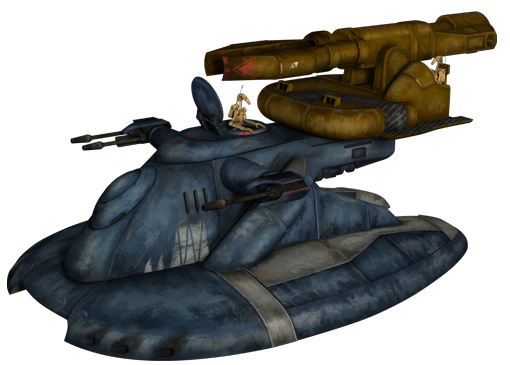 The action moves to Orto Plutonia where Clone Troopers encounter the native Talz. The Freeco Speeders which dominate the episode appeared in 8085 Freeco Speeder but Senator Chuchi and the Clone Cold Assault Troopers have yet to be recreated as minifigures which is a shame. Concurrently, Ryloth is dominated by the Separatists and the Republic are forced to launch a full planetary invasion. Cham Syndulla first appears in the second episode of this story arc and later in Star Wars Rebels but he does not yet exist as a minifigure which is unfortunate. However, the events on Ryloth have already been covered by other sets so it is difficult to find an appropriate set in which Cham could fit.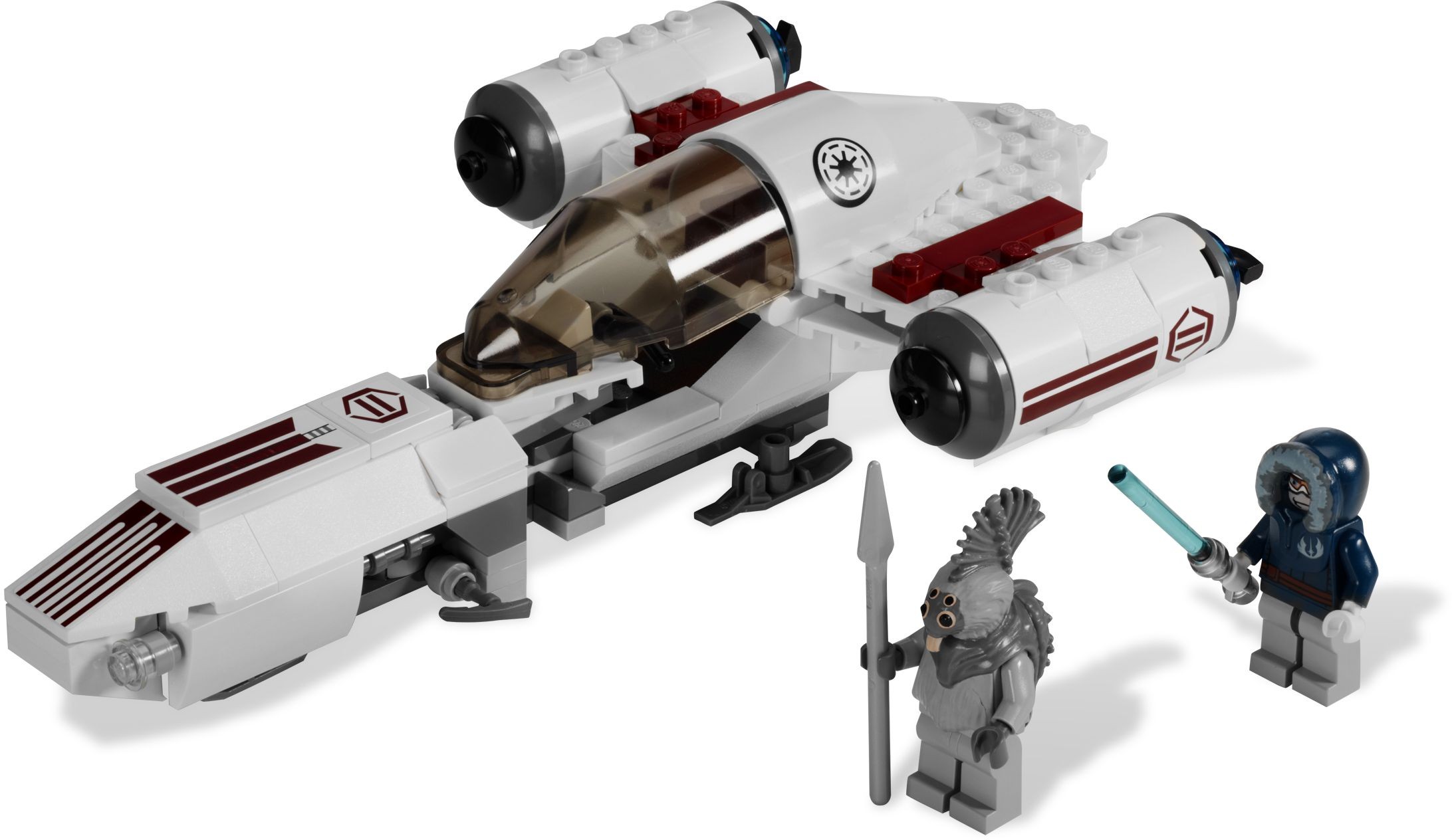 Bounty hunters dominated the second season and the next four episodes according to the chronology of the series all focus on their actions during the Clone Wars. Cad Bane's introduction is hugely important and I am delighted that he appeared as a minifigure in three sets, although I would also like to see Rumi Paramita, Bric, El-Les and Cato Parasitti. Unfortunately it would be difficult to fit them into appropriate sets and there are other characters which are more important that have yet to be represented in minifigure form.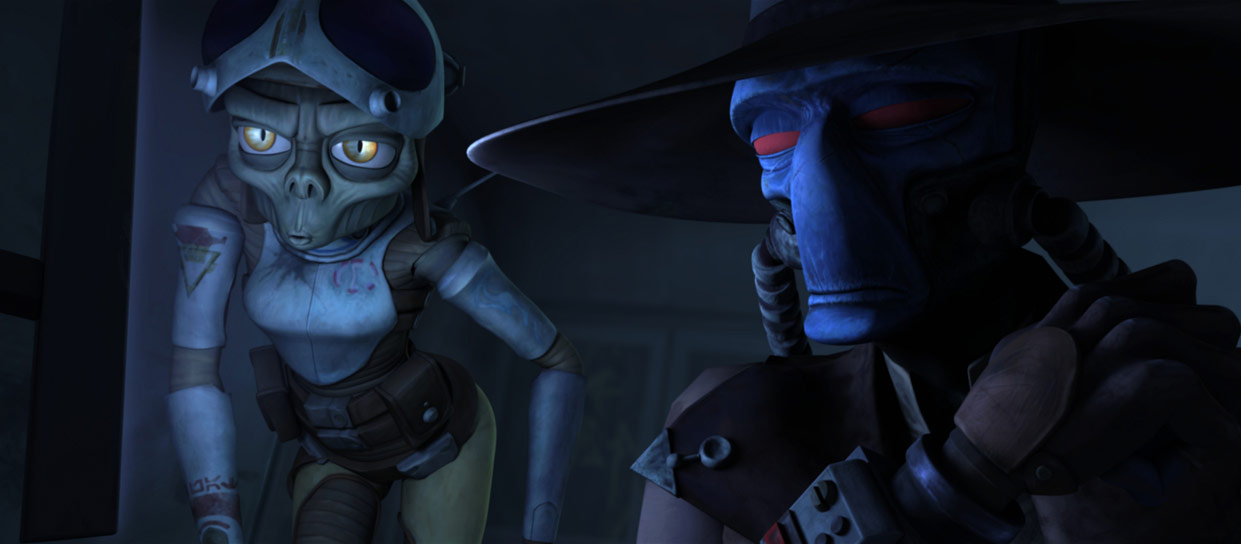 Star Wars: The Clone Wars brilliantly combines large and small scale stories and following the Republic's efforts to acquire fuel for their fleet is a perfect example of this feature of the series. What starts as a mundane operation on Malastare quickly develops into something more serious as the Zillo Beast emerges and causes havoc against the Clones on Malastare before rampaging across the surface of Coruscant in the next episode. Unfortunately the Zillo Beast is far too big to be represented in an official set but it is nice to imagine what such a model might look like. According to my calculations a minifigure scale Zillo Beast would measure over two metres in height!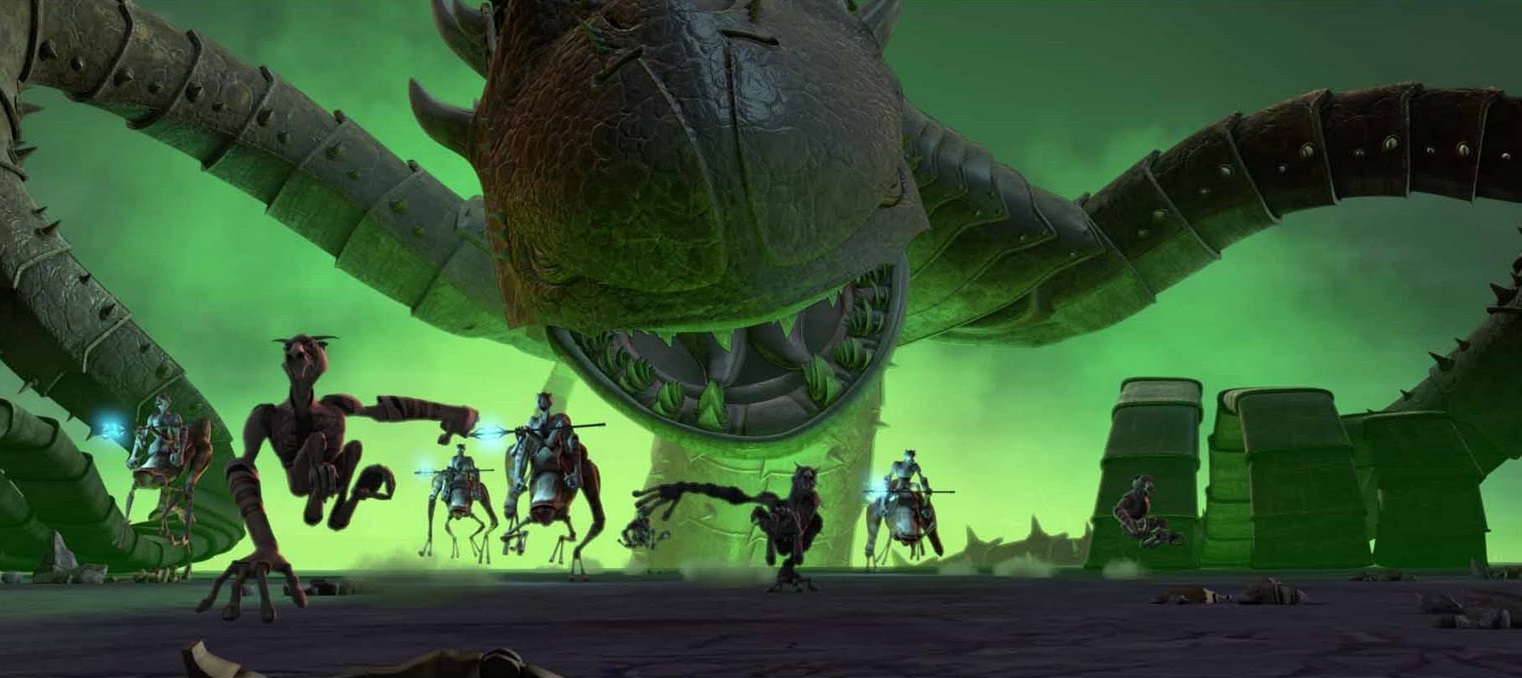 While the Zillo Beast would be too big for an official set, the Republic's RX-200 Falchion-class assault tank is ideally sized. The limited appearances of this vehicle may reduce its appeal but it resembles the SPHA-T from Attack of the Clones and might prove to be an acceptable substitute for some. Furthermore, the tank, like the Stealth Ship, appeared in LEGO Star Wars III: The Clone Wars so we have seen what an official model might look like and I like it very much.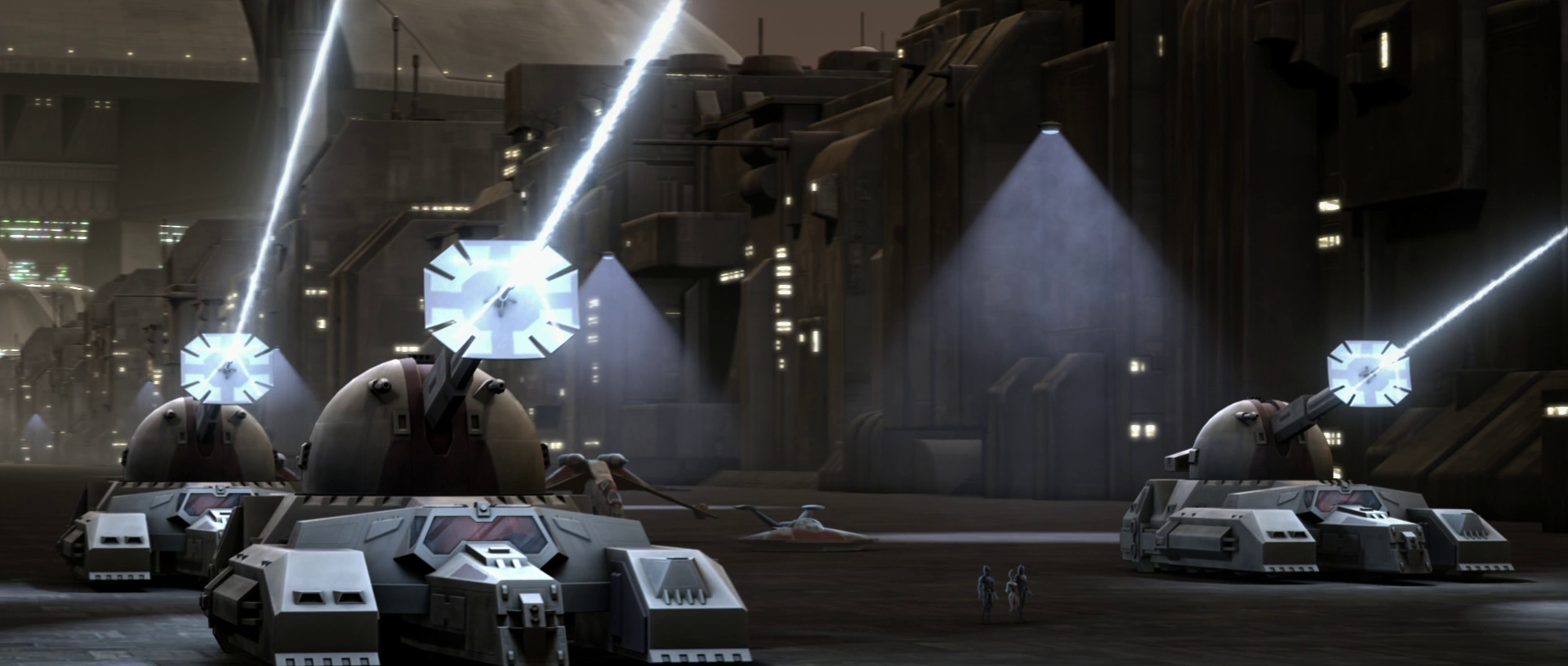 The Second Battle of Geonosis includes some of the most exciting action scenes of the series, offering a broad perspective on the nature of a full planetary invasion. This story arc is only represented in 7869 Battle for Geonosis, 7959 Geonosian Starfighter and 9491 Geonosian Cannon but both are splendid sets and offer a fair representation of the battle, although I would like to see a Geonosis ARF Trooper as well as the Pelta-class frigate. The latter could be squeezed into the Rebels range too as it has also appeared there.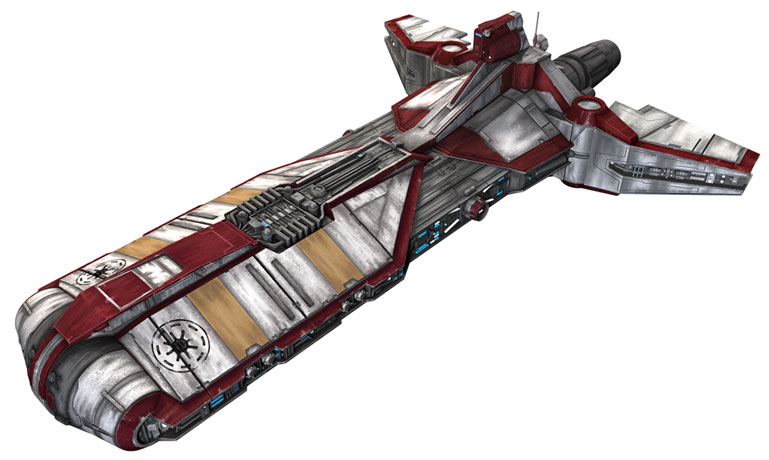 Following the Geonosian campaign Obi-Wan is dispatched to rescue the captured Jedi Eeth Koth, who appears in 7964 Republic Frigate, while Ahsoka loses her lightsaber and must track it through the Coruscant underworld, aided by Tera Sinube. Sinube would be another good minifigure, although his few appearances across the series might lessen his appeal.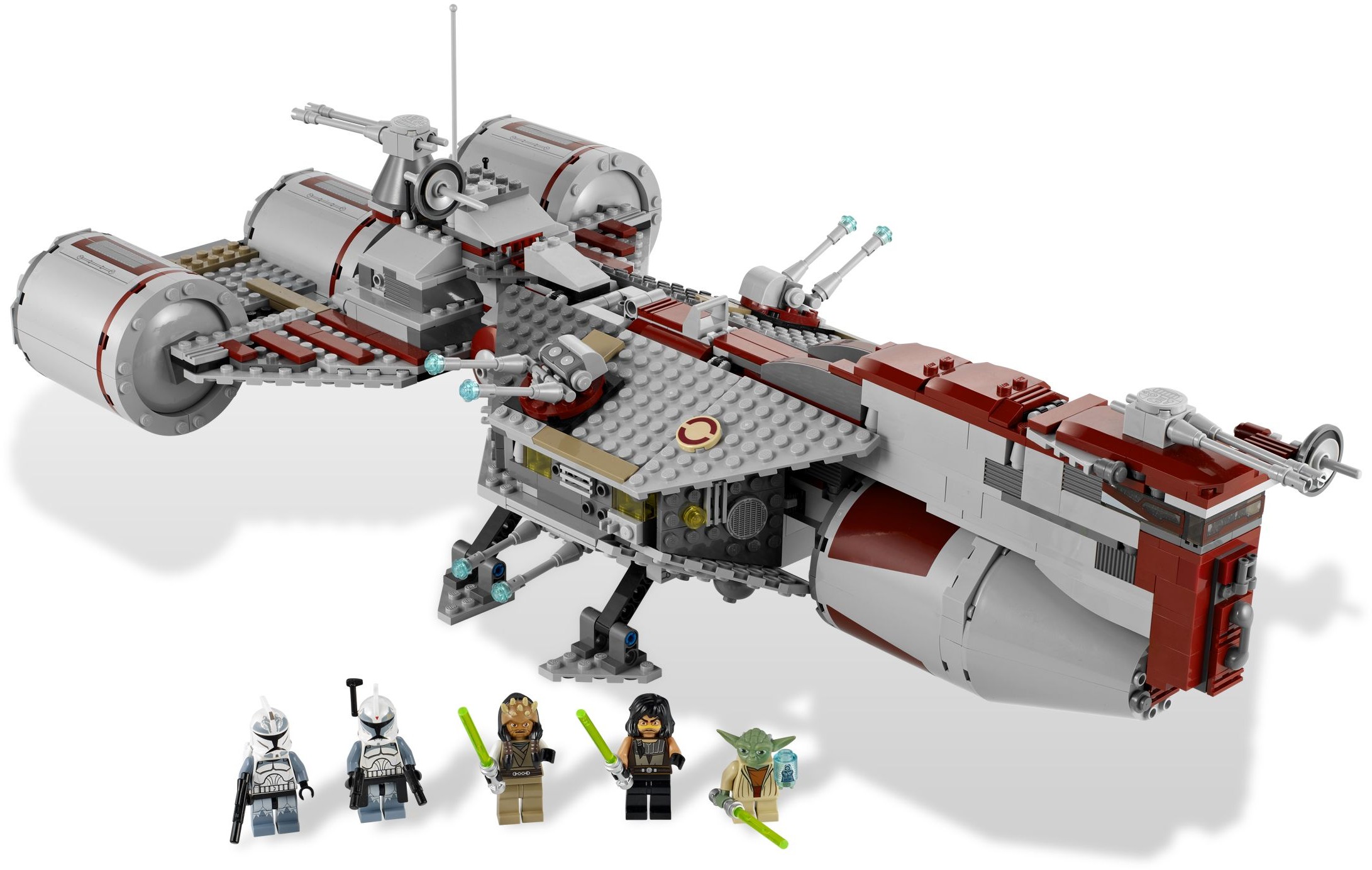 Mandalore is often visited throughout the Clone Wars but its first appearance is among the most memorable as Duchess Satine comes under threat from the Death Watch, a Mandalorian splinter group. Anakin and Obi-Wan travel to the planet and escort the duchess back to Coruscant, but not before exciting scenes aboard the Coronet, a beautiful and unusual vehicle which would make a brilliant display model. Sadly its shape would not allow for much room inside, reducing the play value. Duchess Satine appears on numerous occasions throughout the series and her romantic character dynamic with Obi-Wan is particularly interesting, so I would be delighted to see her appear in minifigure form at some point.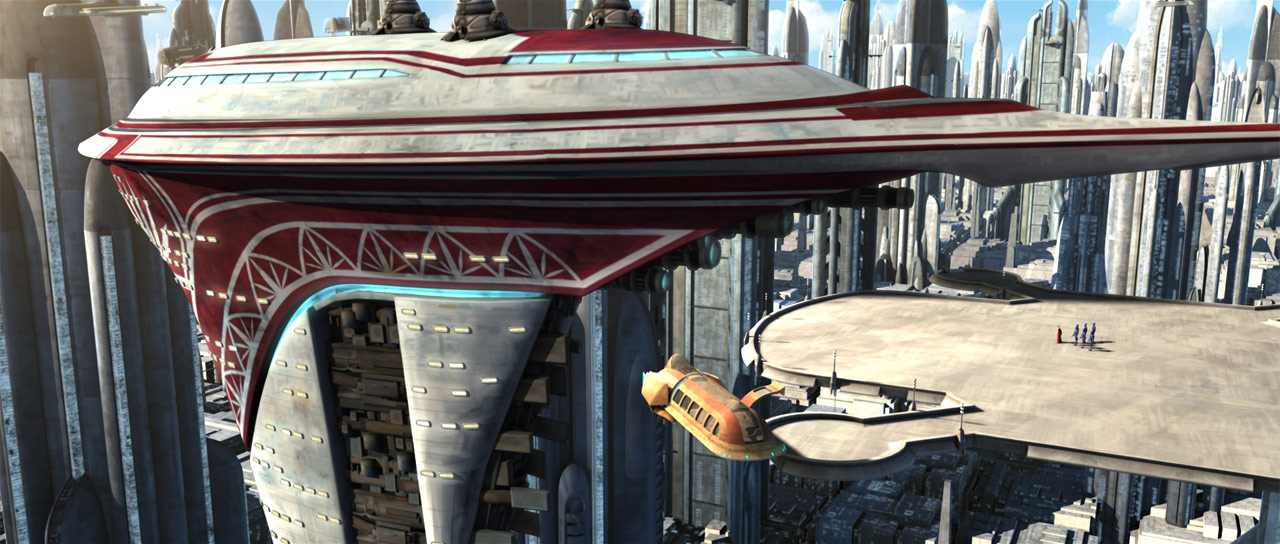 The young Boba Fett's earliest appearance in the series is one of my favourite story arcs. Boba sabotages a Venator-class Star Destroyer while disguised as a Clone cadet, attempting to kill Mace Windu in order to avenge his father's death. Despite the support of Aurra Sing, Bossk and Castas, R2-D2's ingenuity saves the Jedi and Boba is imprisoned. The Slave I has passed into Boba's possession by this time but still retains its dark blue, white and yellow colour scheme. This would therefore be a perfect opportunity to release the Prequel era version of the craft and it could come with some great minifigures too!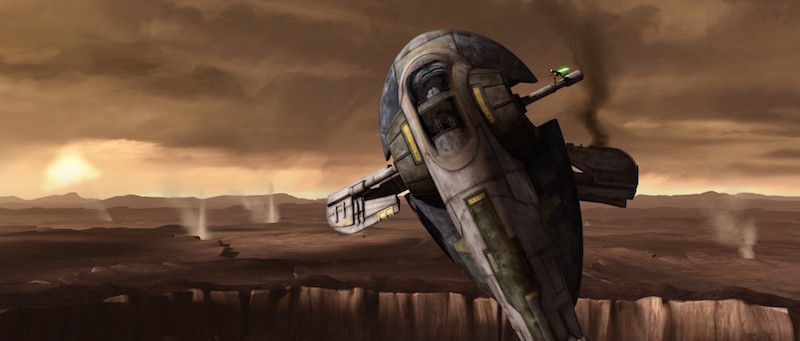 Aurra Sing makes another appearance a short time later as she attempts to assassinate Padmé Amidala and we return to Mandalore with Ahsoka who uncovers corruption on the planet. However, it is the Battle of Kamino that dominates this period of the war as it is packed with interesting characters and vehicles such as the Trident-class assault ship as well as the deadly Aqua Droid. Neither have been represented in LEGO and I would be pleased to see them both, although there are other vehicles and minifigures which are more important that have yet to be seen in an official set.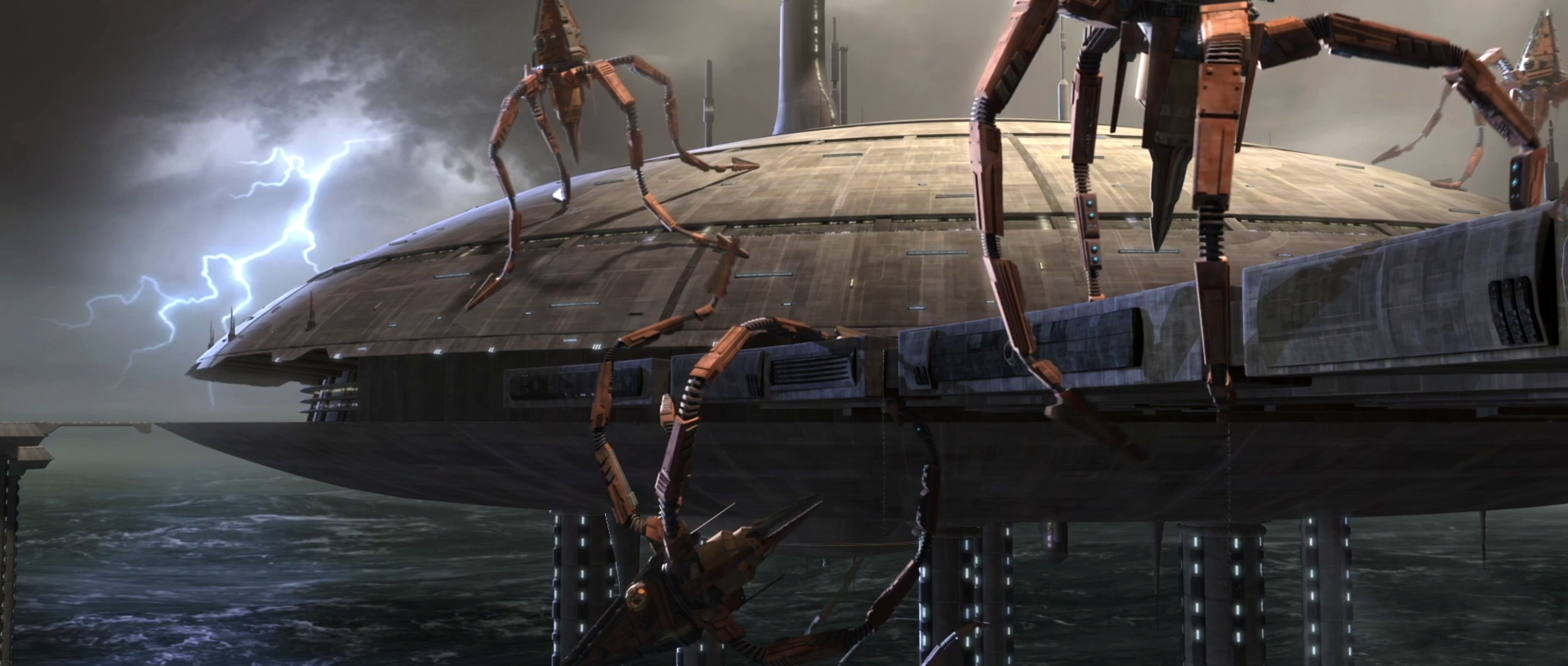 Bounty Hunters return to the fore once again in subsequent episodes as Baron Papanoida's daughters are kidnapped by Greedo. I would be delighted to see a Baron Papanoida minifigure as the character was originally played by George Lucas in Revenge of the Sith. The Baron seems like an ideal candidate to appear in an exclusive polybag or with a book as a nod to the creator of Star Wars. Hostage Crisis is one of the best episodes of the entire series in my opinion and 8128 Cad Bane's Speeder is still among my favourite Star Wars: The Clone Wars sets as I remember playing with it for hours on end. It is unfortunate that this opportunity was not taken to include Ziro the Hutt in a set and he is still a notable absentee from the range, but the inclusion of minor characters such as Shahan Alama is pleasing nonetheless.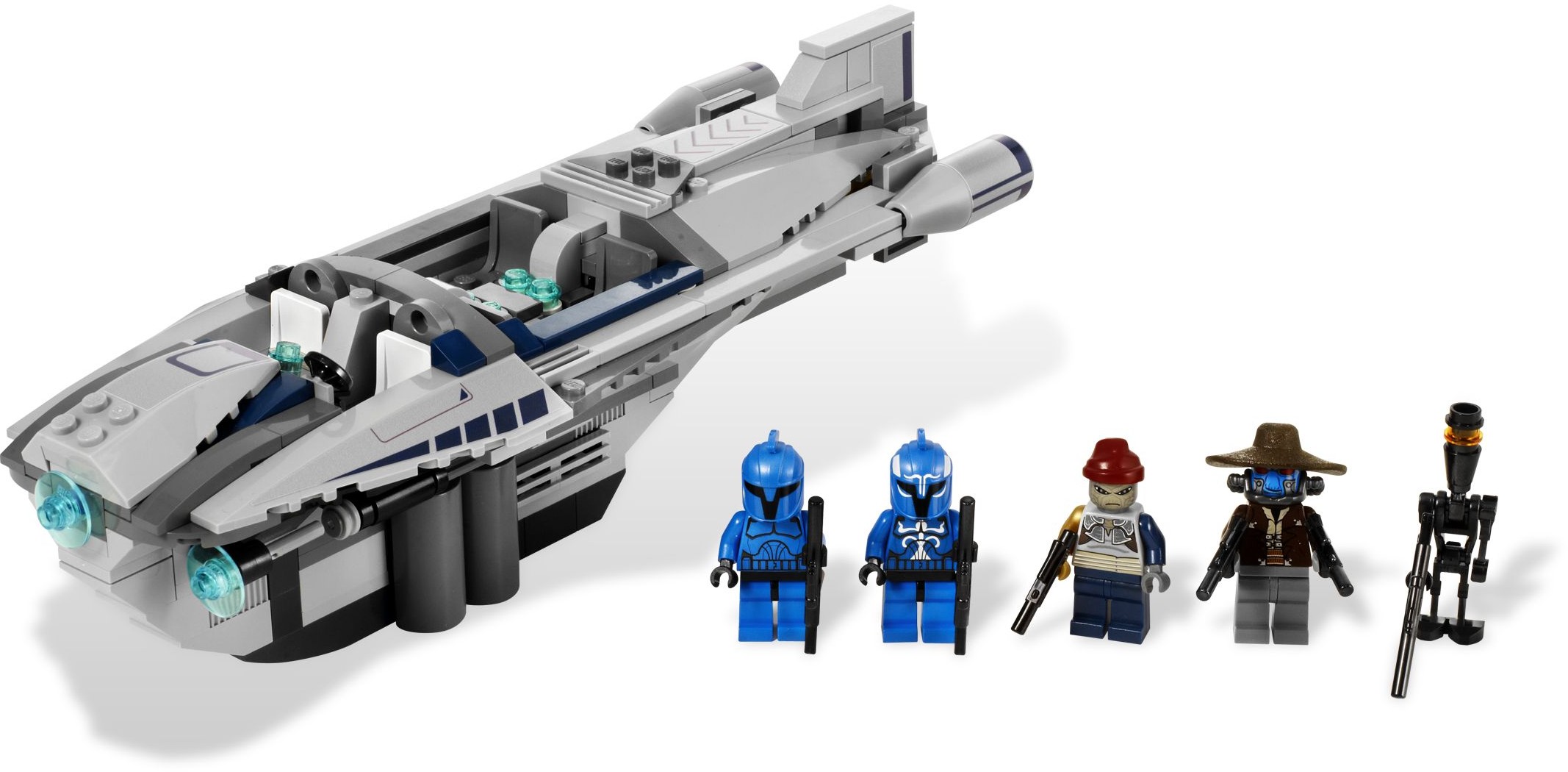 Ziro's finally meets his end at the hands of Sy Snootles and the two could appear together in a small set with a swamp speeder seen on Nal Hutta, although Sy Snootles' bizarre form might not be suitable for a minifigure. The subsequent political episodes which take place on Coruscant may also be ill-suited to LEGO sets but they offer a fascinating insight into the world of Star Wars and Heroes on Both Sides is still one of my favourite episodes as the Banking Clan maneouvres to increase their war profits.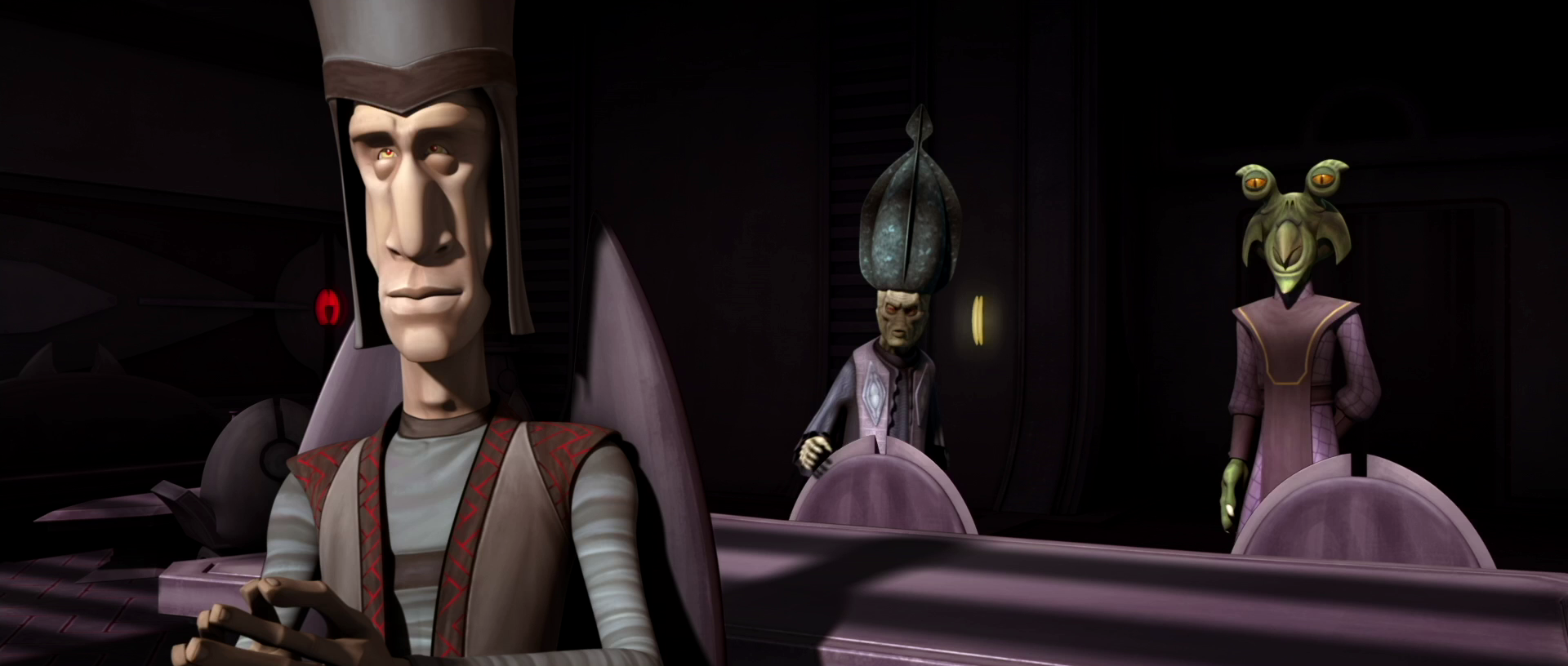 The Nightsisters are introduced next as Asajj Ventress is cast off as Count Dooku's apprentice and is replaced by Savage Opress, who appeared in 7957 Sith Nightspeeder. Mother Talzin is a glaring omission from the range of minifigures but it might be difficult to find an appropriate set for her as she is rarely seen with vehicles or other structures which are typically appropriate for official sets.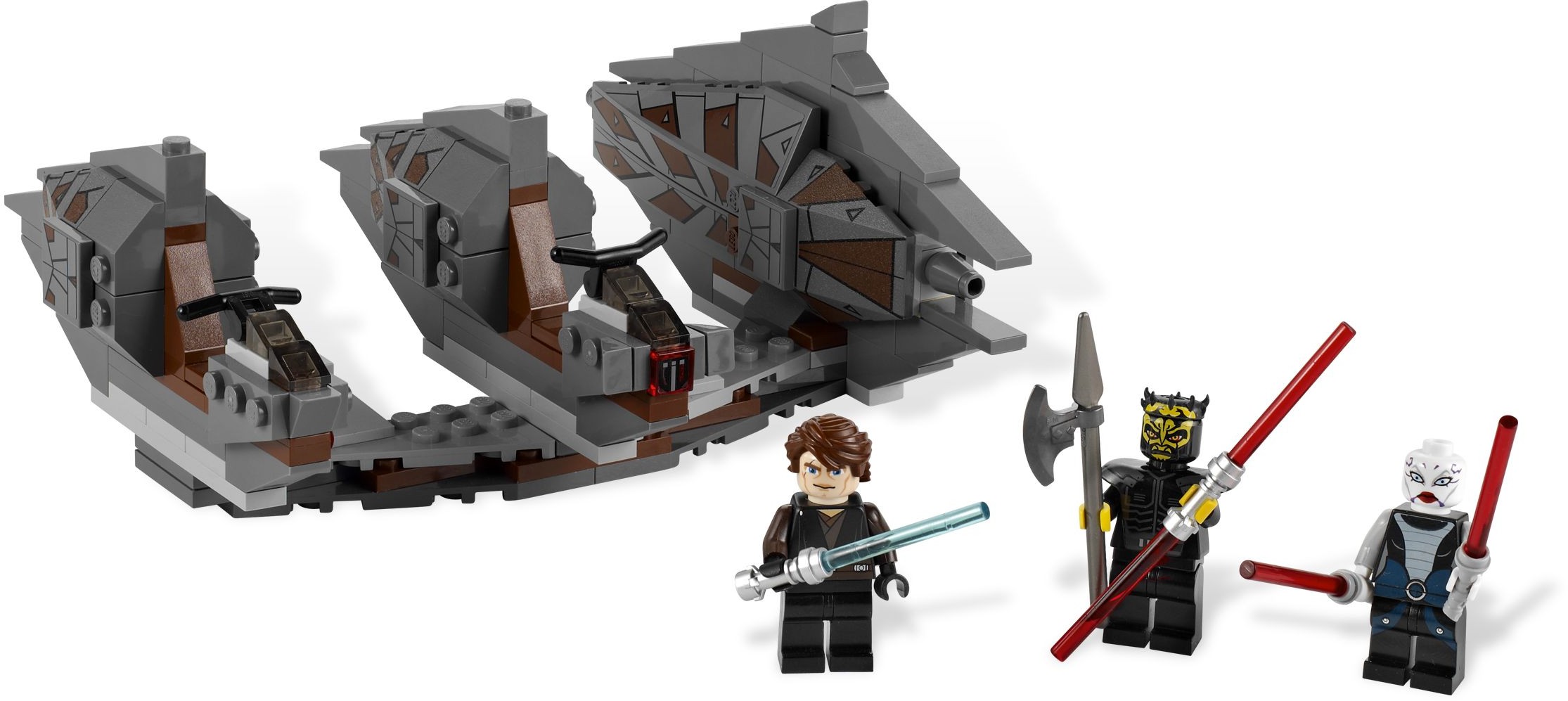 While the Nightsisters story arc looks at one interpretation of The Force and how it can be harnessed, subsequent episodes set on Mortis delve even deeper into the mythology of the energy field. These purely character-driven episodes are often the trickiest to recreate in LEGO but I would be pleased to see minifigures of the Daughter, the Son and the Father, mystical characters who embody The Force. Anakin, Ahsoka and Obi-Wan next travel to Lola Sayu in an attempt to rescue Even Piell and Captain Tarkin from the Citadel, a Separatist prison which is believed to be impenetrable. This offers a stark contrast between stories as the latter is firmly grounded in the reality of war while the former scarcely makes mention of it.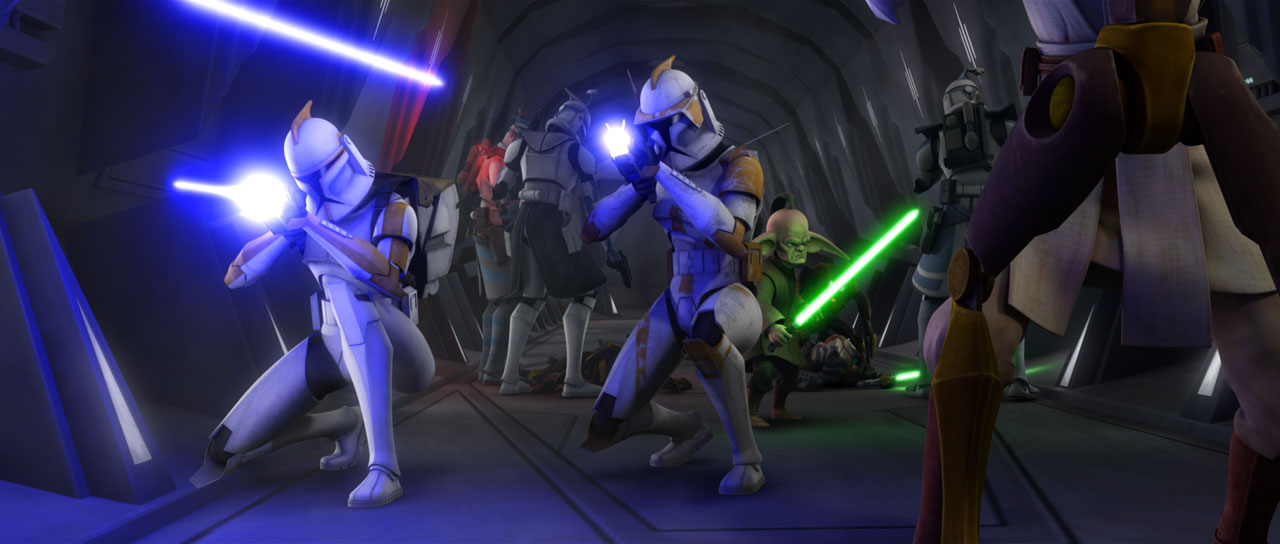 The same can be said of Ahsoka's storyline on the Trandoshan moon of Wasskah, where she and a small group of Jedi younglings fight for their lives against a Trandoshan hunting party, assisted by Chewbacca and his Wookiee friends! I like the Trandoshan hunting pods and they would be well suited to a small set but there are other vehicles which I would be more interested to see and few new minifigures could be included as we already have multiple versions of Ahsoka and Chewbacca.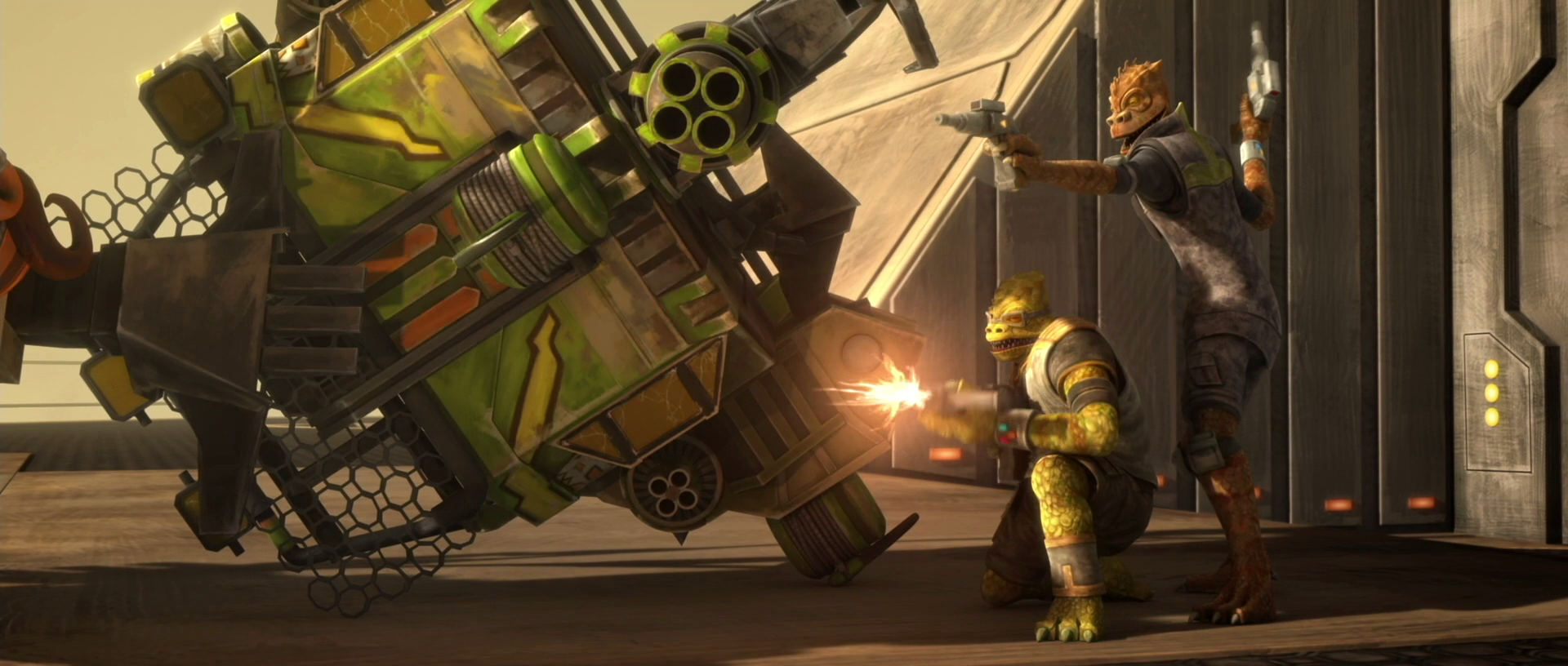 The planet of Mon Calamari has fascinated Star Wars fans since the arrival of the Mon Calamari cruisers in Return of the Jedi, so the episodes centred on the war between the Mon Cala and the Quarren, helped by the Republic and Separatists respectively, are particularly exciting. The brutal Riff Tamson would be a great minifigure and there are some impressive underwater environments and vehicles which could also be represented brilliantly in LEGO such as the Hydroid Medusa or Republic Assault Submarine.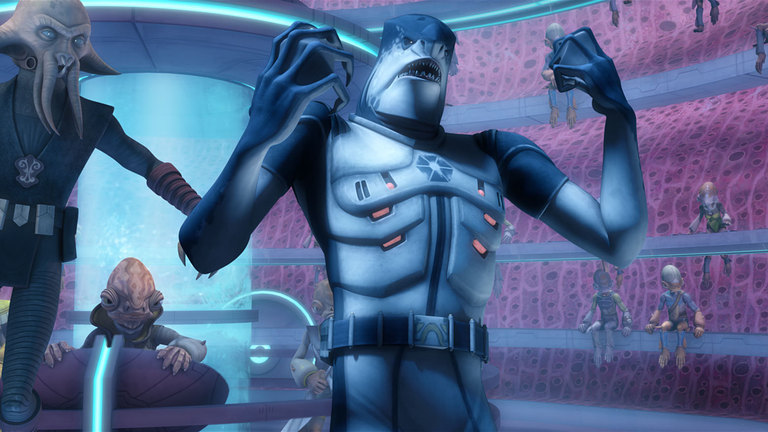 Following the brief capture of General Grievous on Naboo and an adventure with R2-D2 and C-3PO we are thrust back into the thick of the action as an invasion is launched on Umbara. 75004 Z-95 Headhunter and 75013 Umbaran MHC are currently the only sets based on this exciting story arc which is surprising as each episode is packed full of interesting new craft which would make excellent sets in my opinion. The Umbaran Starfighter features particularly heavily and might offer a splendid opportunity to include minifigures of Hardcase, Jesse and Fives, three Clone Troopers who frequently appear during The Clone Wars but have yet to be seen in a set.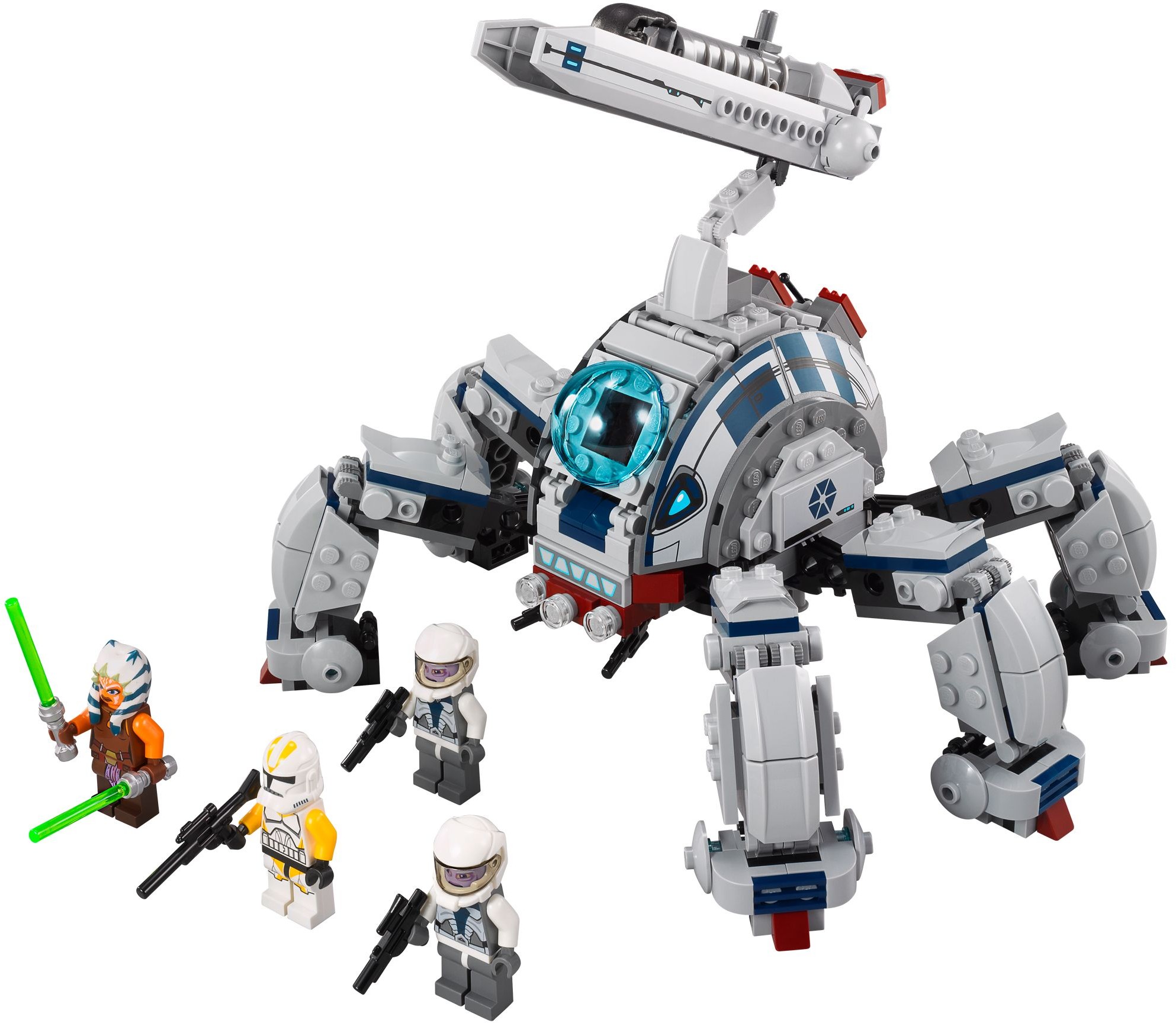 The Jedi next move on to defeat the resurgent Zyggerian slave empire and Obi-Wan is forced to go undercover as a bounty hunter when rumours surface of an attempt to kidnap Chancellor Palpatine. Scenes from these episodes have been represented in 75012 BARC Speeder with Sidecar and 75024 HH-87 Starhopper, although important characters such as Queen Miraj Scintel, Moralo Eval and Derrown are notable by their absence which is a shame. Perhaps a little set representing the attempted abduction of the Chancellor would be a good place to include some of these desirable characters along with another version of Palpatine, who has only appeared in a single Star Wars: The Clone Wars set.
After being cast off by Count Dooku, Asajj Ventress turns to bounty hunting and appears alongside Boba Fett, Bossk and Dengar in a season four episode, Bounty. This is another example of the series taking a break from the major events of the war to focus on minor characters and these episodes are often among the best. The subtram which is the setting for much of the action looks absolutely spectacular but would be almost impossible to include in an official set due to its size and unusual design. However, if I had the opportunity to choose any vehicle to be replicated in LEGO, this would be a contender.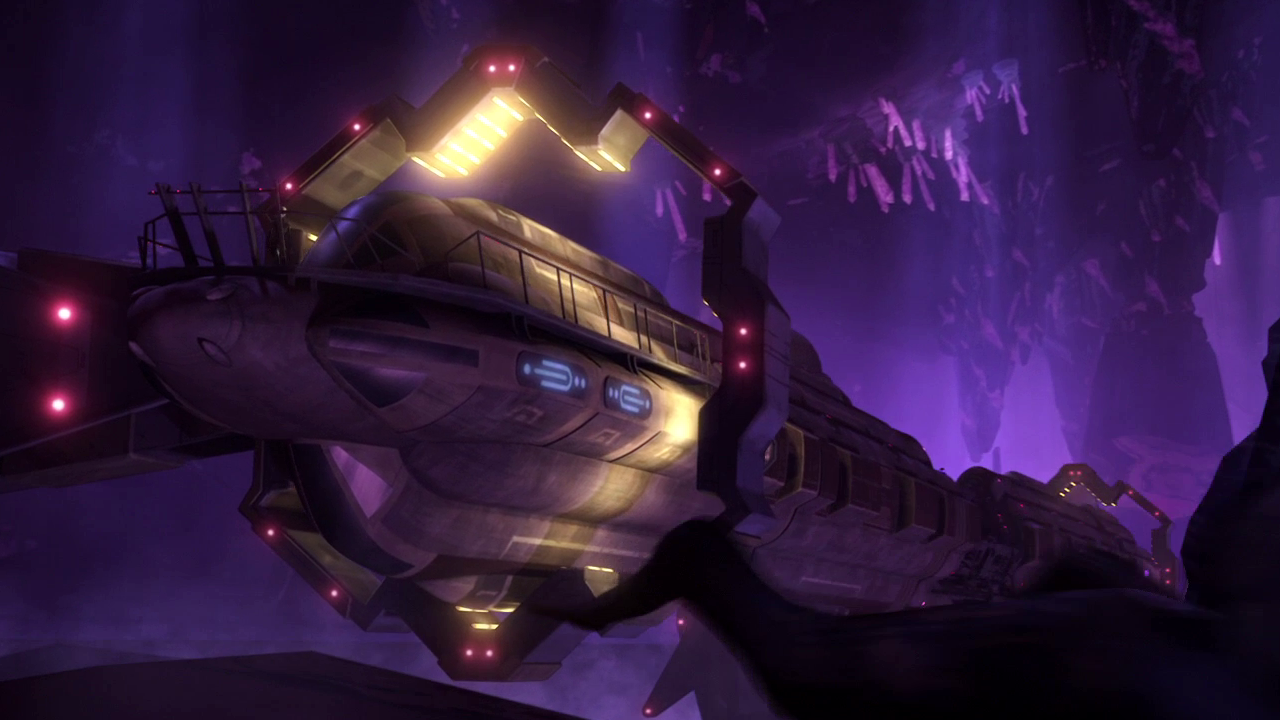 Savage Opress, having left Count Dooku's service, goes in search of his brother Darth Maul in the next episode. Some Nightsister magic restores Maul's sanity and he resolves to take revenge on Obi-Wan Kenobi. With the help of Savage they lure Obi-Wan into a trap but he escapes thanks to an unlikely alliance with Ventress, who is attempting to collect a bounty on Savage Opress. It would be interesting to see a version of Darth Maul with his hastily constructed legs but the key characters appear in other sets so you can replicate these events without the need for a new set.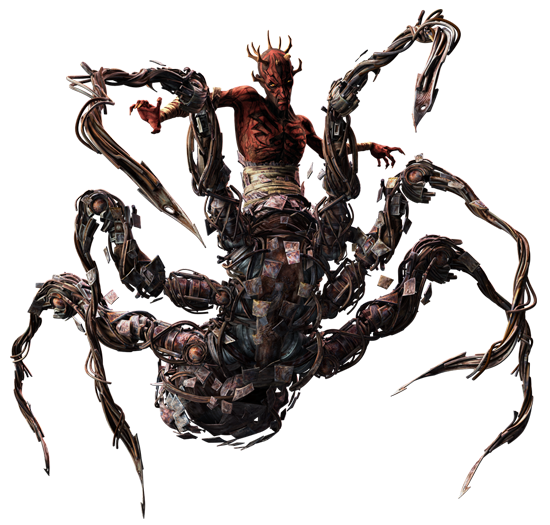 Meanwhile, Onderon has been captured by the Separatists but the political situation on the planet forces the Republic to remain distant, only sending Anakin, Obi-Wan and Ahsoka to train rebellious citizens. This story arc marks the first appearance of the Droid Gunship in the Clone Wars but it may be difficult to improve upon 75042 Droid Gunship released in 2014. The next episode in which we follow a group of Jedi younglings on their journey to Ilum is widely thought of as one of the best but it is hard to see how the story might be replicated in LEGO. Perhaps the Crucible, the vessel on which the younglings travel and build their lightsabers, could form a large set which might include minifigure versions of Ahsoka, the younglings and Huyang, a droid which assists during the construction of each lightsaber.

R2-D2 and D-squad are at the centre of the next story arc as they recover a Separatist encryption module under the command of the diminutive Colonel Gascon. I would love to see a nanofigure of Gascon and he would fit nicely into a set based on the Maxillipede Shuttle which is stolen by the droids as they escape from the Separatists. Clone Commando Gregor could also be included along with the droids to complete the set.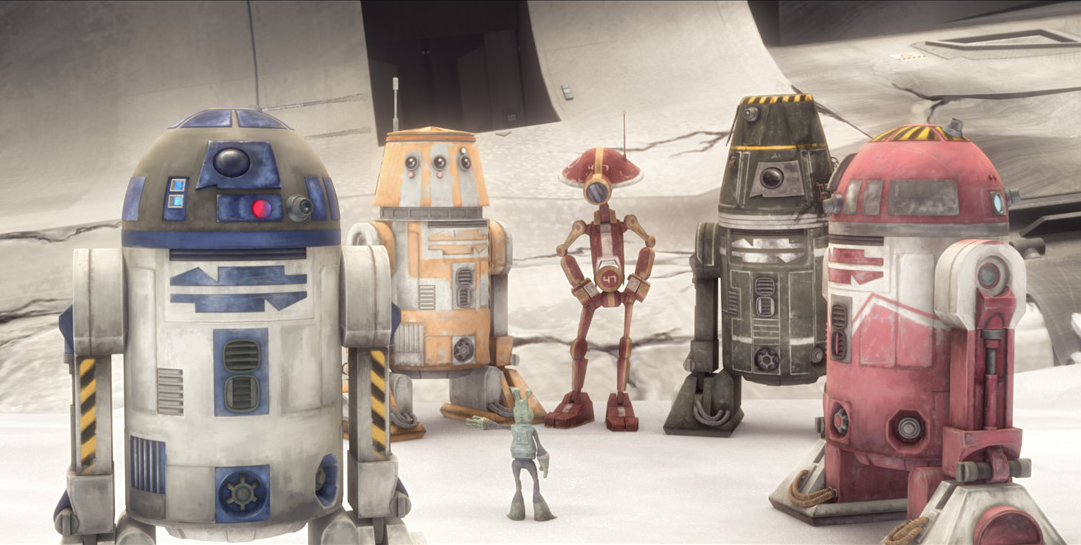 Maul makes his second attempt to punish Obi-Wan as he invades Mandalore, with the help of a criminal syndicate and the Death Watch. Duchess Satine is executed before Obi-Wan's eyes and Pre Vizsla, the leader of the Death Watch, also perishes at the hands of Maul. However, he quickly gets his comeuppance as Savage is murdered by the cackling Darth Sidious. The lightsaber duel between Maul, Savage Opress and Darth Sidious is among my favourite scenes from the entire Star Wars saga and I would be delighted to see a small set representing the battle which might include the three combatants along with the Mandalorian throne and some scenery.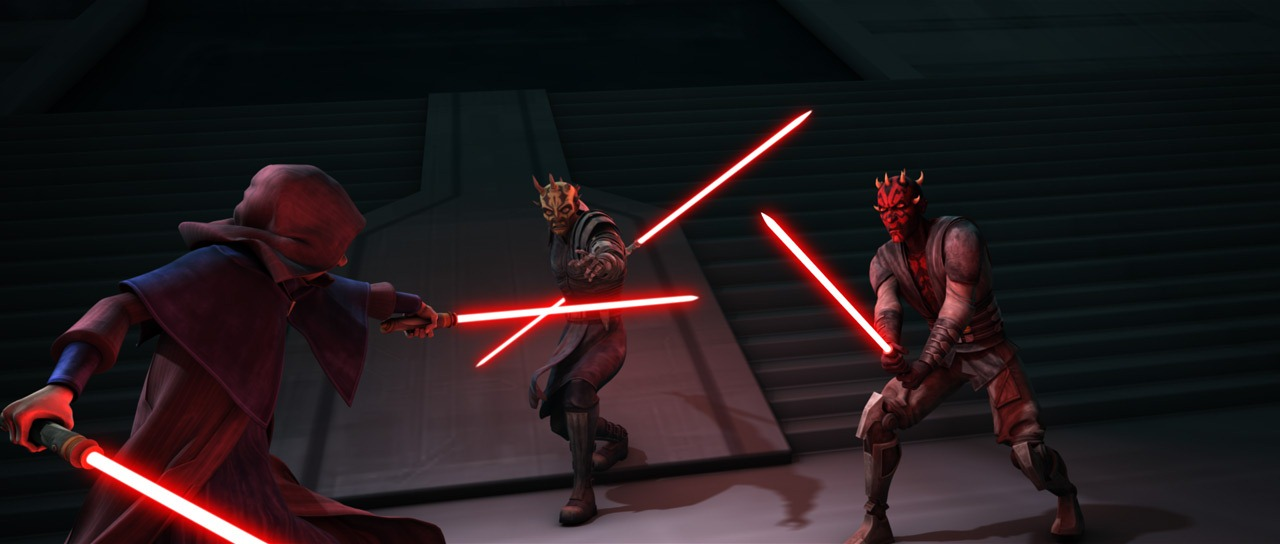 Following the duel between villains on Mandalore we see a battle between heroes in the next episodes as Ahsoka is accused of bombing the Jedi Temple. 75046 Coruscant Police Gunship was released alongside this storyline and includes most of the elements required to replicate the pursuit of Ahsoka, with the only significant absentees being Asajj Ventress in her bounty hunting attire and Barriss Offee, although Barriss appears in 9491 Geonosian Cannon.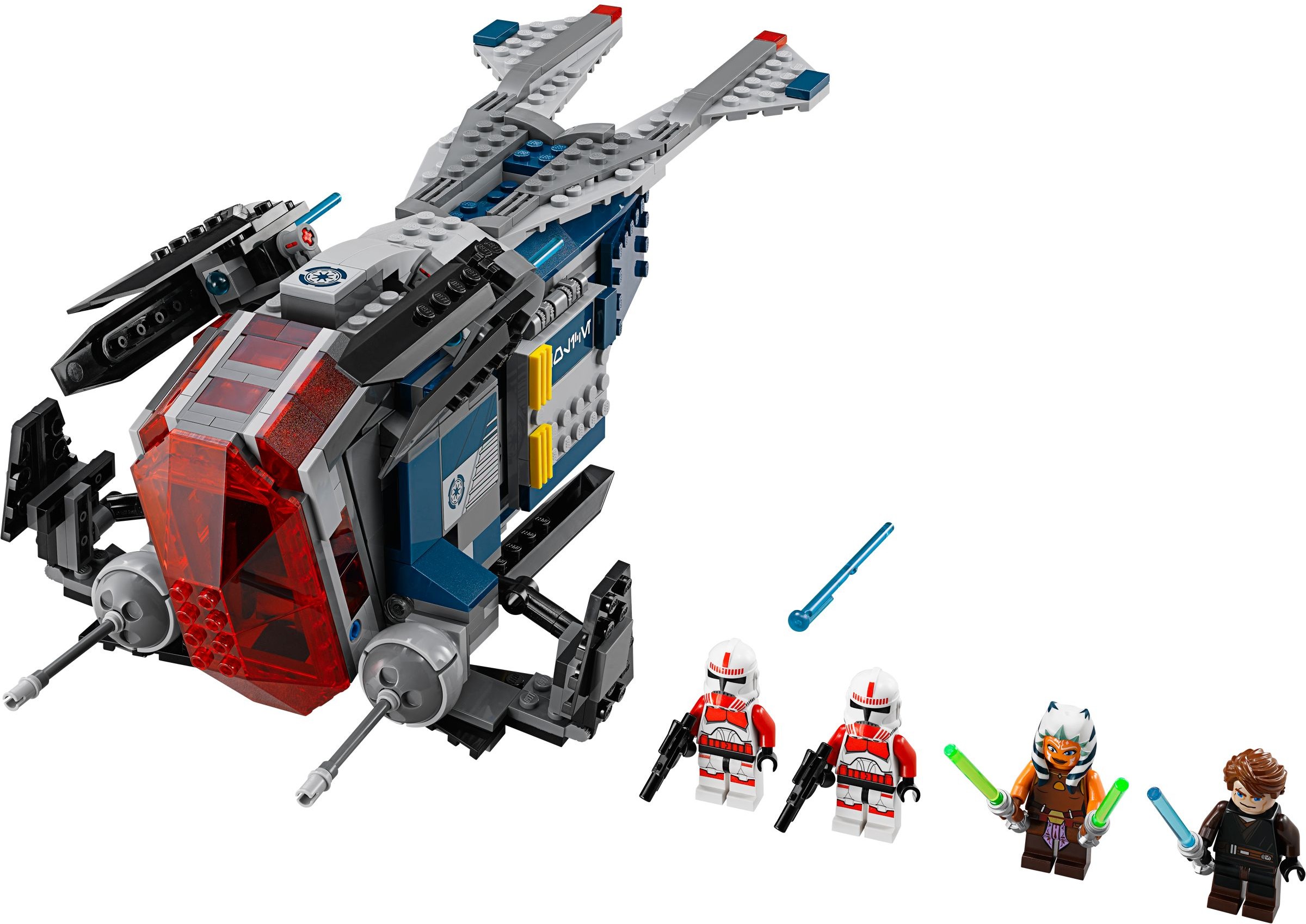 Star Wars: The Clone Wars concludes with an exploration of Order 66, Palpatine gaining control of the Banking Clan and Yoda taking a spiritual journey which leads him to recognise the futility of the Clone Wars. All twelve of the episodes which make up the sixth and final season are focused upon characters rather than vehicles or locations and it is therefore almost impossible to recreate their events in LEGO. However, characters such as Nala Se, Clone Commander Thorn and Rush Clovis have yet to be recreated as minifigures which is disappointing and I would be very pleased to see them included in future sets.
---
As usual I am going to conclude by pitching set descriptions for three sets which I think would be most appealing. I have used some artistic license where necessary to create what I believe to be plausible sets and tried to spread them across various price points.
75206 Mandalore Duel - £11.99, $12.99, €12.99 - Darth Sidious, Maul, Savage Opress.
Ignite your lightsabers and leap into battle!
Launch Maul's lightsaber from beneath the Mandalorian throne.
Show off your Force powers with the Force lightning included.
Includes throne and three minifigures!
75207 Umbaran Starfighter - £49.99, $59.99, €59.99 - ARC Trooper Fives, Clone Trooper Hardcase, Clone Trooper Jesse, Umbaran Soldier (x2).
Continue the Clone Wars on Umbara!
Take cover from the Umbaran Starfighter or hijack the ship and use it against the enemy.
Seat a minifigure in the cockpit and adjust the wings for takeoff.
Rotate the laser cannon turret and launch the spring loaded missiles together for maximum firepower.
Includes Umbaran Starfighter and five minifigures!
75208 Slave I - £89.99, $99.99, €99.99 - Boba Fett, Aurra Sing, Bossk, Castas, Mace Windu, Anakin Skywalker, R2-D2, Admiral Killian.
Take revenge on the Jedi with Boba Fett!
Climb aboard the Slave I and launch the hidden spring loaded missiles.
Pull the lever to release the seismic charges.
Store the speeder bike in the cargo bay or unfold the handlebars and race into battle.
Place Admiral Killian in the prison cell.
Includes Slave I, speeder bike and eight minifigures!
Also, if you have not taken a look the two previous installments then you can do so by following these links:
I will conclude by saying that if you are a Star Wars fan and have not seen Star Wars: The Clone Wars, then you are missing out. The series is brilliant on the whole and offers a huge amount of additional material relating to all aspects of the Star Wars universe so I highly recommend it.
The next installment, focusing on Revenge of the Sith, will be posted on the 5th of June.
Sponsored content