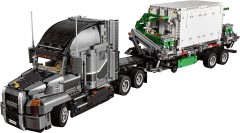 Dutch LEGO shop Brick Fever has revealed pictures of 2018 Technic set 42078 Mack Anthem, which will retail for 142.99€ when it's released early next year.
Update: Brick Fever has kindly sent us hi-res photos which you'll find on the set details page.
The site has also posted images of 42077 Rally Car, 42075 Fire Truck and 42076 Hovercraft.
After a relatively lacklustre year for Technic this year, things are definitely looking up!