At the start of the month we reported the discovery of a new range of polybags in brand stores. The article generated a lot of interest and from the comments it seems that the return of small accessory packs is something many of you think is long overdue.
However, it also seems that it's been hard to actually get hold of them. We understand that each European brand store received an initial batch of 30 of each which, of course, did not last long, and they are yet to appear in US and Canadian stores.
Now I've returned from holiday I've had a chance to open mine and have discovered that a further three sets are due to be released, although they are not likely to be as sought-after as the others.
I've also scanned the polybags so you can view high quality images in the database and below.
---
The three sets are revealed on the instruction sheet that's present in a couple of the polys. They consist of cardboard play mats, presumably 32x32 studs in size, plus plates and bricks to connect them together by way of some 2x2 holes in the corners.
Each pack comes with two mats, printed with either roads, water or grass, plus suitably colored 8x8 and 2x8 plates. I don't think they have been found anywhere yet so it remains to be seen how much they'll cost but I'd guess $7.99 / £7.99 or so.
View image at flickr
So, great for kids, then, and a great way for them to get started with a play layout, but of limited interest to AFOLs
Let's take a closer look at the contents of the five polybags.
---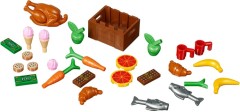 40309 contains food: two of everything except the turkey and crate. The most interesting parts are the 1x2 brown tiles printed with a chocolate bar pattern which first made an appearance in 2016 and can be found in 14 sets.
---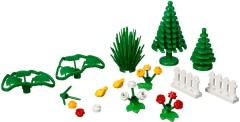 Botanical Accessories
40310
40310 Botanical Accessories provides trees, flowers and foliage, including plenty of the new flower head piece.
Two yellow frogs add an extra bit of colour.
---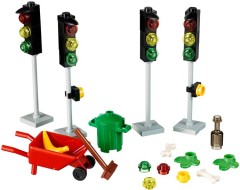 Traffic Lights
40311
40311 Traffic Lights is perhaps the least interesting of the five but it does contain useful street furniture for your City layout.
---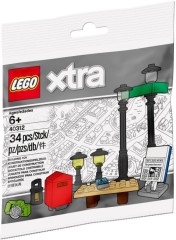 Streetlamps
40312
40312 Streetlamps includes two tall black lamp posts which are surprisingly uncommon, having appeared in just 7 sets.
The black lamp seen on the left is new in this set but will make an appearance in Harry Potter sets later this year.
Two small lamps, suitable for clipping to a wall, a news stand, bench, camera and postbox round out the bags's contents.
---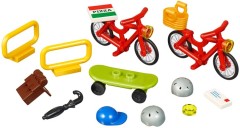 Bicycles
40313
In addition to two Bicycles, 40313 contains an umbrella and a 2x2 pizza box tile.
---
Have you been able to find them in your brand store? What else would you like to be able to buy in small bags lke this? Let us know in the comments.