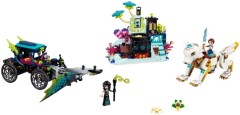 The second part of our annual holiday gift guide is focused upon sets which are priced between $25 and $50 in the US. You can view a list that contains every 2018 set within this price bracket here.
Find out what the Brickset team has chosen after the break...
---
CapnRex101
60202 People Pack - Outdoor Adventures ($39.99, £34.99, 39.99€)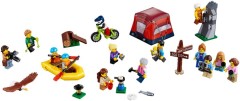 People Pack - Outdoor Adventures
60202
Numerous magnificent sets are available within this price bracket, including 70652 Stormbringer and 75932 Jurassic Park Velociraptor Chase which both contain some excellent minifigures and look fantastic on display.
However, I have chosen 60202 People Pack - Outdoor Adventures. This set includes a wonderful selection of fifteen different minifigures, almost all of whom feature brand new elements and cover a broad range of different subject matters. Furthermore, the set comes with a unique tent, a new lime green mountain bike and a wonderful bald eagle which is exclusively available here.
You can read our review here.
---
iso3200
31079 Sunshine Surfer Van ($34.99, £24.99, 29.99€)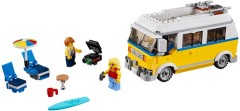 Sunshine Surfer Van
31079
I've plumped for a Creator 3 in 1 set in this price bracket. The main build has some nice little details and accessories in it and being a vehicle means it's playable in almost any setting. With two alternative builds it's versatile and is just the thing to keep the children amused on Christmas Day for a few hours. 3 in 1 sets are great as they encourage reinvention and play, and the builds available here will also work for City fans too. It's a great all rounder.

This set has regularly seen some heavy discounts both online and in bricks and mortar stores - in fact it would almost fit in the next price bracket down if pounced on at the right time. All things add up to this being a winner.
---
TheBrickPal
76103 Corvus Glaive Thresher Attack ($39.99, £34.99, 39.99€)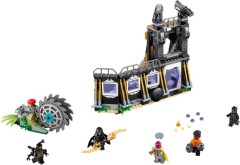 Corvus Glaive Thresher Attack
76103
Avengers: Infinity War and Black Panther are two of the biggest films of the year, both from Marvel Studios, and 76103 Corvus Glaive Thresher Attack offers Wakandan elements from the MCU in a sizable, fun-filled package. The gate model features small but welcomed details, and some nice play features to boot. I greatly appreciate the grand color scheme, unique architecture, and selection of desirable minifigures, as well. Shuri, a fan-favorite character, looks marvelous and is exclusive to the set - as is the brilliantly-designed Corvus Glaive himself. What's more, you can buy multiple copies of the set to form an even bigger fortress!
Not a super hero fan? Maybe Star Wars tickles you or a loved one's fancy, in which case I would recommend 75200 Ahch-To Island Training or 75215 Cloud-Rider Swoop Bikes - both of which are absolutely fantastic. Or perhaps NINJAGO is an option, where I found 70639 Street Race of Snake Jaguar quite appealing.
You can read our review here.
---
MeganL
41195 Emily & Noctura's Showdown ($49.99, £44.99, 49.99€)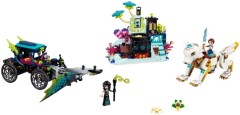 Emily & Noctura's Showdown
41195
Elves has consistently had some of the best and imaginative sets, and this year is no exception. 41195 Emily & Noctura's Showdown is a terrific set for this price. There are three solid builds in this set - the brick-built Lumia, the bat laboratory and Noctura's carriage. The moving functions are ingenious (I'll elaborate more about them in the upcoming review), and you really can't go wrong with a carriage that has its own bat wings!
In case Elves sets are a little difficult to find, from the Friends line I very much like 41343 Heartlake City Airplane Tour which is another Olivia and Zobo set. The biplane is terrific and I love that the slide in the control tower. I would also recommend 31083 Cruising Adventures. Its MSRP is slightly above this price range, but I've often seen the set offered at Costco and Amazon for less than $50.
---
FlagsNZ
60182 Pickup & Caravan ($29.99, £24.99, 29.99€)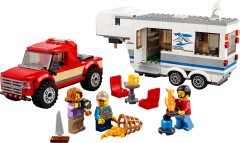 Pickup & Caravan
60182
I prefer unlicensed Creator or City sets and this year's 60182 Pickup & Caravan could easily fit within either of these themes. The set includes a well-designed pickup truck as well as a nicely-appointed caravan. The caravan open up to reveal a detailed interior.
There is an amazing amount of play features and all the necessary camping accessories have been included. Furthermore, the three minifigures in this set first appeared as a young family in 60134 Fun in the Park: City People Set from 2016.
---
Huw
41597 Go Brick Me ($29.99, £25.99, 29.99€)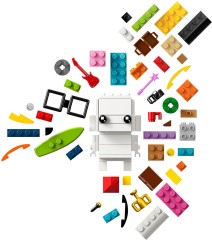 Go Brick Me
41597
BrickHeadz have divided opinions this year: you either love them or loathe them, it seems. However, I think everyone will agree that this particular one, with which you are encouraged build yourself or someone you know, is both great fun and also tremendous value for money. It therefore makes the perfect Christmas gift, perhaps particularly so to someone who appreciates LEGO but is not (yet) a die-hard AFOL.
You can read our review here.
---
Are you hoping to receive any sets within this price range and what would you recommend to others? Let us know in the comments.