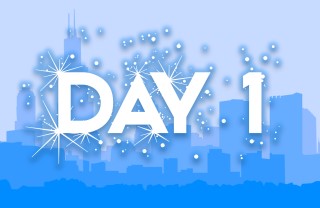 LEGO has produced a new City Advent Calendar every year since 2005. The latest version, 60201 City Advent Calendar, captured my attention as its packaging exhibits some miniature toys and they have frequently been among my favourite gifts in previous years!
Discover what lies behind door number one after the break...
Many different renditions of the Space Shuttle have been produced during the last three decades and this model holds the distinction of being the smallest. It contains just eighteen pieces but is still immediately recognisable, due primarily to its distinctive black and white colour scheme which looks marvellous. The model can stand on its solid rocket boosters and fuel tank which is ideal for display but their appearance could probably be improved.
View image at flickr
I like the trans-orange 1x1 round tiles at the end of each booster but the central structure also includes a trans-orange 1x1 round plates which seems out of place. Furthermore, all three cylinders are light bluish grey rather than the traditional combination of orange and white. Perhaps this little model is intended to represent a fantasy spacecraft, in which case these inaccuracies may be excusable, but I suspect not.
Overall - 3.5 - This is a reasonable rendition of the Space Shuttle, although it lacks some important details which is unfortunate.