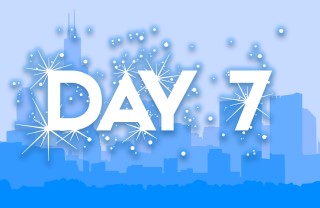 A varied selection of items have appeared in the 2018 LEGO City Advent Calendar during the first week, although there have been few consistent themes thus far which is slightly disappointing.
However, that does ensure an absolute surprise every day as predicting what will emerge next is very challenging!
Day seven brings our second minifigure. This character wears a comfortable medium blue jacket with a lavender scarf as well as a pair of white gloves and matching trousers. The metallic silver belt buckle is excellent and this torso design is brand new, although it bears a close resemblance to an element that has appeared in four other sets.
View image at flickr
The minifigure's smiling head, on the other hand, is extremely common. This element appears in some 115 different sets and is therefore used more frequently than any other female minifigure head! There is no alternative expression, unfortunately, but the minifigure does feature a blonde hair piece along with a dark bluish grey shovel.
View image at flickr
Overall - 3.5 - Minifigures are always a welcome addition to the LEGO City Advent Calendar but this example is somewhat plain in my opinion.