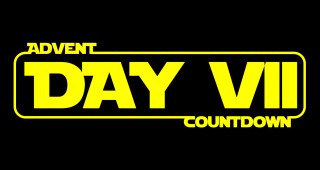 Star Wars Episode V: The Empire Strikes Back has provided inspiration for the last couple of gifts in this year's LEGO Star Wars Advent Calendar.
Let's open door number seven and see whether that trend continues today...
The miniature Naboo N-1 Starfighter from 9509 Star Wars Advent Calendar remains among my favourite smaller scale models that LEGO has produced. I am accordingly delighted to see it return here, including some outstanding building techniques and accurately replicating the organic shape of these elegant craft. I like the combination of light bluish grey and yellow bodywork while the trans-black cockpit canopy looks marvellous.
View image at flickr
No alterations have been made to this model when compared with the version from 2012, following the example of the Y-wing which appears in 7958 Star Wars Advent Calendar and 75056 Star Wars Advent Calendar, released in 2011 and 2014 respectively. A couple of minor changes would have been welcome as the engines could include finials, represented by 4L bars, but the starfighter looks brilliant in its present form.
Overall - 4.5 - This is a magnificent rendition of the Naboo N-1 Starfighter and it is sturdily constructed so offers excellent play value.