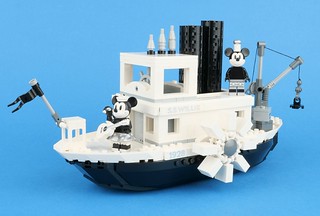 The announcement that szabomate90's Steamboat Willie project passed review was made only last month so clearly there was a lot of activity going on behind the scenes beforehand because the resultant LEGO Ideas set, 21317 Steamboat Willie, will be on the shelves in a couple of weeks.
I have to say, I felt the model submitted originally was crude and blocky and while subsequent updates improved on it slightly it was not something that I felt was particularly appealing.
However, clearly LEGO thought it was a sound idea that could form the basis of a decent set so let's see how the finished model turned out.
---
Here's the original model which, as you can see, is small, blocky and unattractively covered in studs. And, as you will also have seen in the pictures published with the press release earlier today, the finished model is none of these things.
---
Packaging and contents
The box is square and quite deep, and thankfully is a flip-top one that doesn't need to be destroyed on opening.
The front of the box features metallic silver printing of the Ideas logo, around the yellow Mickey Mouse logo, and waves under the boat.
View image at flickr
The back shows closeups of the model's details, reveals that the set also includes a minifigure stand, and indicates that the paddles rotate and funnels oscillate up and down.
View image at flickr
When I opened the box I had quite a surprise. All that colour! Was it packed with the wrong pieces?
View image at flickr
As it turns out, no of course not, because as you'll see the interior of the vessel uses a multitude of different coloured parts to differentiate between them, as is often the case.
Parts are packed in bags numbered 1 to 3, with most of the coloured ones in the #1s.
View image at flickr
The perfect bound instruction manual contains information about the fan designer Mate Szabo; the LEGO designers, John Ho and Crystal Bam Fontan; and also about the Walt Disney cartoon.
View image at flickr
View image at flickr
---
Minifigures
Not only does the set contain Mickey, as suggested in the original proposal, but Minnie, too. I guess that makes sense given both have been produced before.
However these monochrome versions are of course unique to this set and both have brand new hats. I believe this is the first Ideas set to introduce new moulds, although it's possible that they were designed for the rumoured second series of Disney collectable minifigures that are allegedly being released later this year.
Mickey's legs are dual-moulded silver and black and has silver printed feet.
View image at flickr
Minnie has a silver skirt and also has printed feet. Her acoustic guitar first appeared in series 16 collectable minifigs but this white one is new. She's also equipped with a sheet of music for Turkey in the straw, printed on a 2x2 tile.
View image at flickr
Here's the monochromatic pair with their Technicolor counterparts:
View image at flickr
The Mickey Mouse ears plaque / minifig stand was a nice surprise that I was not expecting. It can be stood upright or used to display the rodents on. The '1928' tile at the bottom is printed in silver. In fact, all decorated parts in the set are printed.
View image at flickr
View image at flickr
View image at flickr
View image at flickr
---
Construction
The boat's hull is 3 times wider than that in the original submission which has enabled the designer to include a mechanism for rotating the paddles and moving the funnels up and down as it's pushed along the floor.
The first stage of construction, then, is concerned with this and as you can see it looks as if the designer has gone out of his way to use as many different coloured parts as possible.
View image at flickr
View image at flickr
The bow and stern sections of the hull are built upside down and connected to the central section using ball joints, which is both clever and secure.
View image at flickr
View image at flickr
By the end of bag 1 the internals are complete, ready for cladding with black and white.
View image at flickr
The tops of the ends of the hull are formed using the 12x10 stern piece and it is probably this which set the scale for the boat.
View image at flickr
Once the funnels have been mounted in such a way that they can move up and down but not side to side, the remainder of the vessel comes together quickly and easily.
View image at flickr
---
The completed model
Initially I took the completed model photos on my usual grey background but they looked really odd with no colour in them at all so I re-took them on blue. Photographing predominantly white models is quite tricky, which might be why the official LEGO images are all renders.
View image at flickr
The parrot perched at the front is a monochrome Friends bird.
View image at flickr
View image at flickr
View image at flickr
View image at flickr
The rear of the vessel is equipped with a working crane with which Mickey can load the potato bin, a 2x2 printed brick.
View image at flickr
The roof of the bridge can be removed to insert the mouse although he looks a bit lost in it and would struggle to see out of the window.
View image at flickr
---
Verdict
After the slight disappointment of 21316 The Flintstones being significantly inferior to the original Ideas submission, that's certainly not the case here. It's bigger and better in every way, and far more detailed and functional. Designer John Ho has done an admirable job of turning a lacklustre submission into a model that's appealing and desirable.
It's a very decent model but something just does not look right to me and that of course is that it's devoid of colour. I get that it's based on a black-and-white cartoon so has to be, but I can't help wondering how much more attractive it would look had it been built with a normal palette of hues.
View image at flickr
I think you'll either love it or hate it because of this. I can see that it will appeal to Mickey and Disney fans but I'm not sure it has much to offer others.
You will also be disappointed if you were hoping for a small, inexpensive set that you could buy on impulse, as might have been surmised from the original submission's size. As it is, there are dozens of sets that you're more likely to want to spend $90/£80 on...
---
Thanks to LEGO for providing this set in a very timely manner for me to review. All opinions expressed in it are my own.