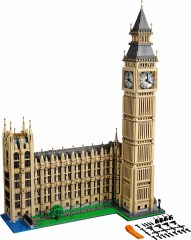 The direct-to-consumer sets keep on coming... here's the press release for the 6th one of 2016, to be launched on July 1st:
10253 Big Ben, 4,163 pieces.
US $249.99, CA $299.99, DE 219.99€, UK £169.99, DK 1999 DKK.
VIP Early Access from June 15th
Build the world's best-known clock tower!
Get up close to Big Ben! The clock was first started on May 31st 1859, and Big Ben's first chime rang from the 96-meter Elizabeth Tower on July 11th of the same year. This over 23" (60cm) high LEGO interpretation of the iconic structure is a tribute to its engineering and architecture.
It features a detailed facade with statues, shields and windows, and a clock tower with 4 adjustable clock dials and a removable roof allowing access to the belfry, plus buildable exterior elements including a sidewalk, lawn and a tree depicting the building's location. This model makes a great display piece for the home or office.
Big Ben features a detailed section of the Westminster Palace and the adjoining Elizabeth Tower, 4 detailed clock dials with movable hour and minutes hands, and a sidewalk, tree and grass area depicting the building's location.
Remove the top of the tower to access the Big Ben bell.
Put your LEGO building skills to the test!
Special elements include 4 printed clock faces.
Rare elements include ski poles, flowers and corner plates in molded gold color, and tinted-translucent elements.
This set includes over 4,000 LEGO pieces.
This set offers an age-appropriate building experience for ages 16+.
Big Ben measures over 23" (60cm) high, 17" (44cm) wide and 7" (20cm) deep.
---
For once the applied $:£ exchange rate is spot-on and £170 for a 4000 piece set seems very reasonable indeed. Tower Bridge, for example, has a similar number but is £40 more.
A full set of images showing the building's exterior and Big Ben itself are available on the set details page. The designer video has been uploaded too and you can view it below.
Mark at Bricks Magazine has built a pre-release version and has posted this video of doing so:
Thank you to the dozens of you that emailed us about the illicit images that appeared on imgur yesterday. We were under embargo until now so, like all reputable fan sites, we couldn't do anything with them.