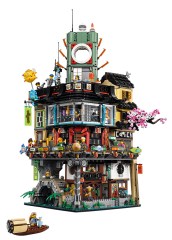 The stunning 70620 NINJAGO City was revealed nearly two months ago but LEGO has only now published the designer video on YouTube, which you can watch after the break.
It's interesting to see just how modular it is and how much detail has been packed into the interior: from sushi conveyer and 'working' crab grill, to action figures in the comic shop and the latest millinery fashions in the shop.
VIP access is due this week, I believe. We'll let you know when you can order it.
Sponsored content