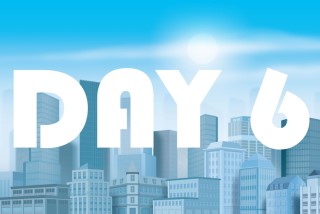 I think the 2017 City Advent Calendar has been excellent so far, including a splendid selection of distinctive models. However, we have not seen a minifigure since day two so perhaps we will find another one behind door number six.
In fact, today's gift is a delightful toy plane! This model looks superb in red and black, resembling 60144 Race Plane and including all the details one would expect to find on a real propeller aircraft. The tapered wing configuration is very realistic and the trans-clear dish that forms the propeller, captured in mid-rotation, looks marvellous.
View image at flickr
The fuselage consists primarily of three black headlight bricks. This construction technique narrows the profile of the aircraft as the cockpit and tailplane are sunk into the fuselage, just like on most real planes. I like the trans-medium blue cockpit canopy, formed using two 1x1 slopes, in particular and was pleasantly surprised by the sturdy design of the model. It can certainly be flown around without fear of easy breakage.
Overall - 5.0 - This tiny plane looks brilliant and offers considerable play value so receives full marks from me!
Sponsored content