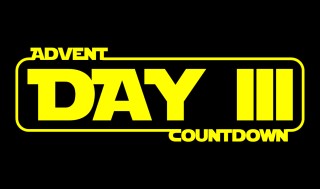 The opening days of this year's LEGO Star Wars Advent Calendar have been fantastic, offering a superb rendition of a popular vehicle along with an excellent minifigure. My expectations for day three are therefore extremely high.
Let's see what the calendar has to offer today...
This tiny model takes inspiration from 75186 The Arrowhead, a vessel which forms the focal point of The Freemaker Adventures season two. It is instantly recognisable for those who are familiar with the source material and accurately captures the shape of its larger counterpart, although some important details have been omitted. The cockpit canopy and battering ram are particularly notable by their absence.
View image at flickr
However, I like the light bluish grey, dark red and black colour scheme and the trans-light blue highlights look fantastic. An enormous kyber crystal is mounted at its centre and the black laser cannons on either side are excellent, despite being represented by simple 1x2 plates with bars.
Overall - 3.5 - I am fairly satisfied with this rendition of the Arrowhead, although its curved nose is rather bland.