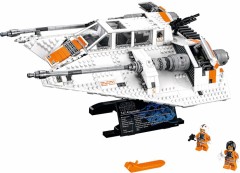 The stunning new 75144 Snowspeeder is now available from shop.LEGO.com to VIPs. If you haven't already done so, be sure to read our review of this superb set, which many are saying is the best UCS set since the Slave I.
Furthermore, in the UK and Europe, you'll receive a free 30611 R2-D2 with your order, and there are discounts on other Star Wars sets available, too. See the other article for more information.
Please use these links to place your order and help keep Brickset online:
USA (£199.00) | Canada ($229.99)| UK (£169.99) | Germany (€199.00) | France
2 comments, latest one posted 26 minutes ago.
8 likes